You guys know I love me a restaurant supply store for my kitchen supplies, right? I also love finding offbeat uses for stuff I find there. FUN!
I also am a frequent shopper at Costco and Sam's. Shopping at these establishments has saved us untold green backs over the years, but has also presented interesting storage dilemmas. Buying in bulk means oversized packaging.
Recently my two loves collided.
Costco had a sale on Dawn liquid dishwashing soap. Green Apple is my absolute fav. Of course, the bottle is ginormous and nobody wants to keep picking up and putting down that monstrosity.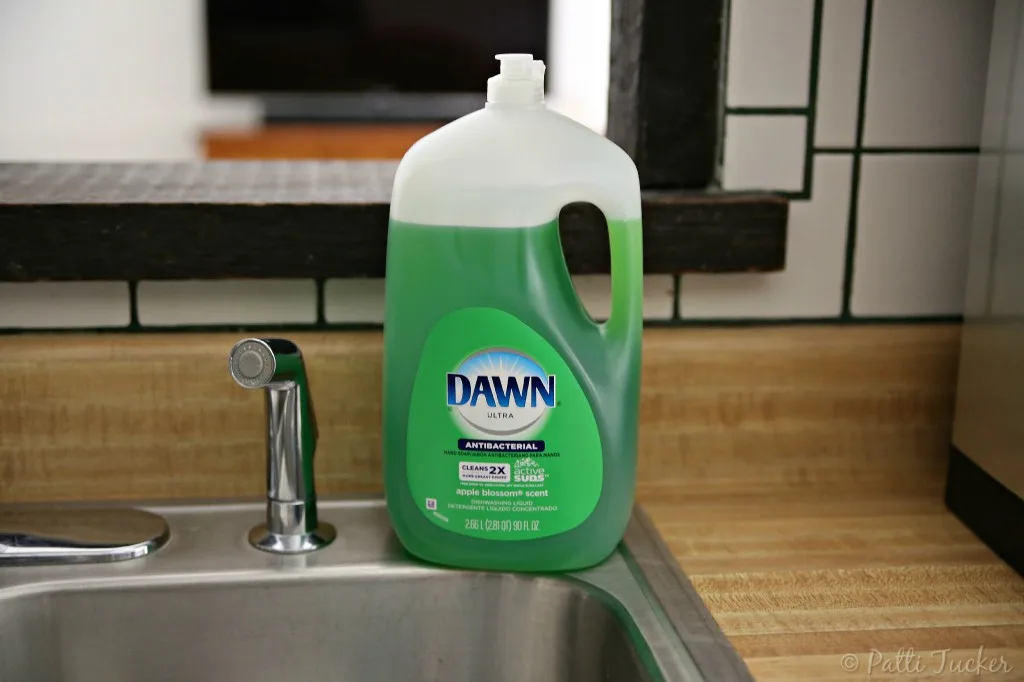 What to do? What to do?
I searched through my kitchen paraphernalia in hopes of finding a lightweight, yet functional alternative to the wrist-busting bottle.
Luckily for me, I had recently been to the restaurant supply store.
I filled a clear squeeze bottle with Dawn and BAMMO! problem solved.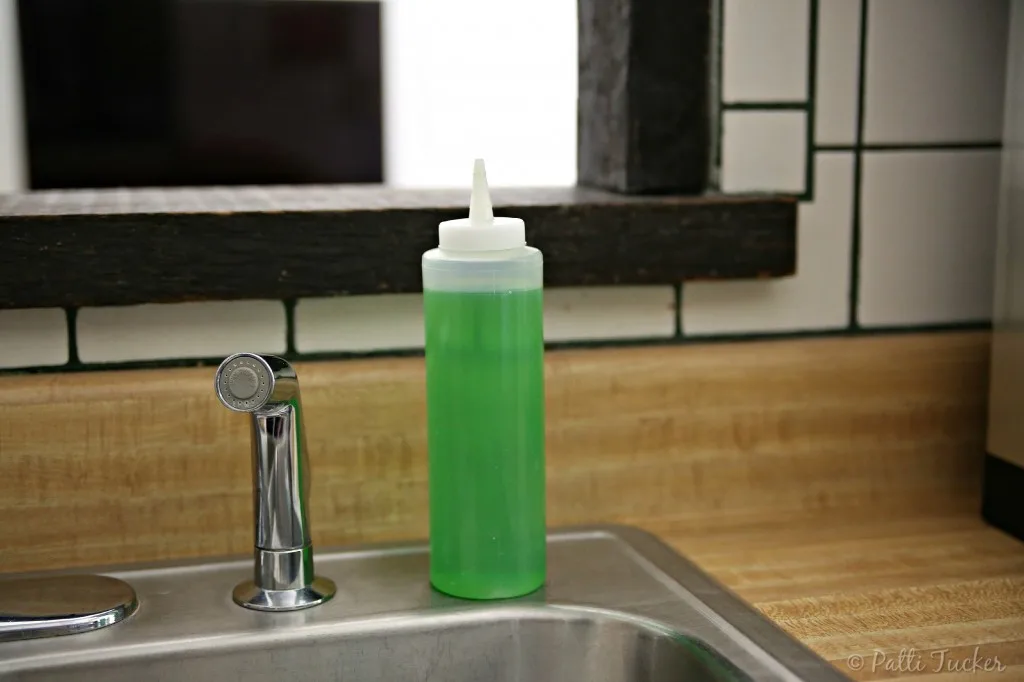 Truthfully, this was simply meant as a temporary fix until I could find something a bit more suitable, but as we used the squeeze bottle we found that we. loved. the. squeeze. bottle.
It was incredibly lightweight, the tiny opening allowed us to easily regulate how much soap we were using (Dawn in concentrated, so a dab will do ya) and it was FUN!
Here's the size difference: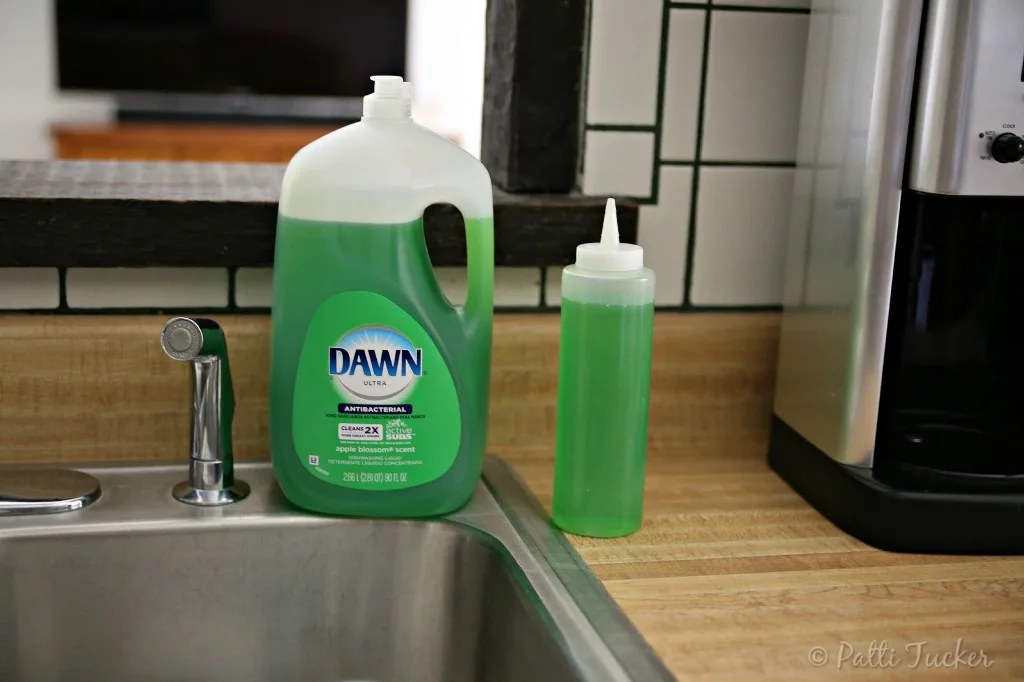 Big difference.
Two things I learned from this pic.
#1) I need to clean that spot off the tile (I think it's spaghetti sauce) behind the Dawn.
#2) It may be a few years before I have to replace my dishwashing liquid, because we've been using that squeeze bottle for about three weeks and that's all we've managed to use, plus there's another ginormous bottle under the sink.
Two huge bottles?! It was a good sale.
Back to the squeezebottles: wanna know just how amazing they are?
I switched my face cleansing concoction to one and put it in the shower.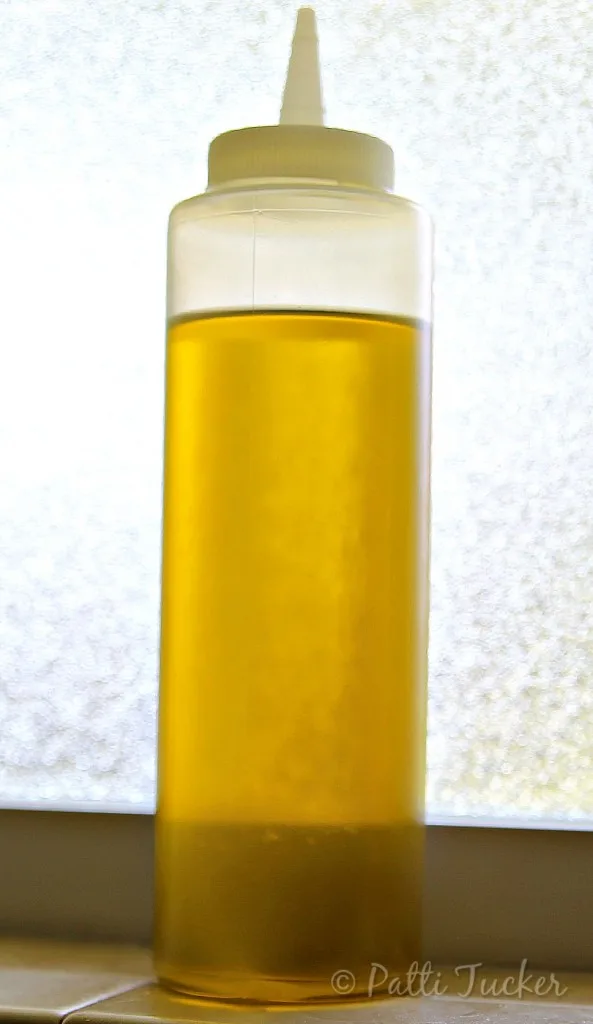 Pretty!
The small opening is perfect for both applications and allows negligible evaporation. There are caps available for these bottles, but I find them tedious.
NO CAPS FOR ME!
~ A gentle reminder: OMT! uses Amazon referral links. When you do your shopping through the Amazon links on this page, you support the blog at no cost to yourself. It's much appreciated!~
Don't have a restaurant store near you? You can order your own inexpensive bottles by clicking THIS LINK.
What's your offbeat use for something? Tell us!