Husband's birthday rolled around and I asked him what kind of cake he'd like me to make. His usual pick is a Manhattan Cheesecake. This time around, he gave me nothing.
~crickets~
Seriously, if anyone ever asks me what kind of cake I'd like them to bake, you can believe I will THINK OF SOMETHING!
His day o'birth arrived and I asked again. He thought for a minute and said, "It's too much trouble to bake a cake. Just go and buy me one."
~blink~ ~blink blink~ ~blink blink blink~
DO YOU NOT EVEN KNOW ME , MAN?!
There would not be a store-bought version of cake on this day. No sir.
He went off to work and I plotted.
What are Husband's favorite things to eat, sweet-wise?
* Cream Cheese Icing.
* Caramel
* Brownie
* Cake
Some of y'all see where I'm headed. For the rest of you, let me tell ya what I did: I made a birthday cake that incorporated ALL THE THINGS!
So many caps today. So many exclamation points!
I made a cake that was layered thusly, from the bottom up: cake, caramel, brownie, caramel, cake, frosting.
Sweet sweet Lord above, that cake was one of the best taste explosions I've ever eaten.
Husband approved, no less!
Looky: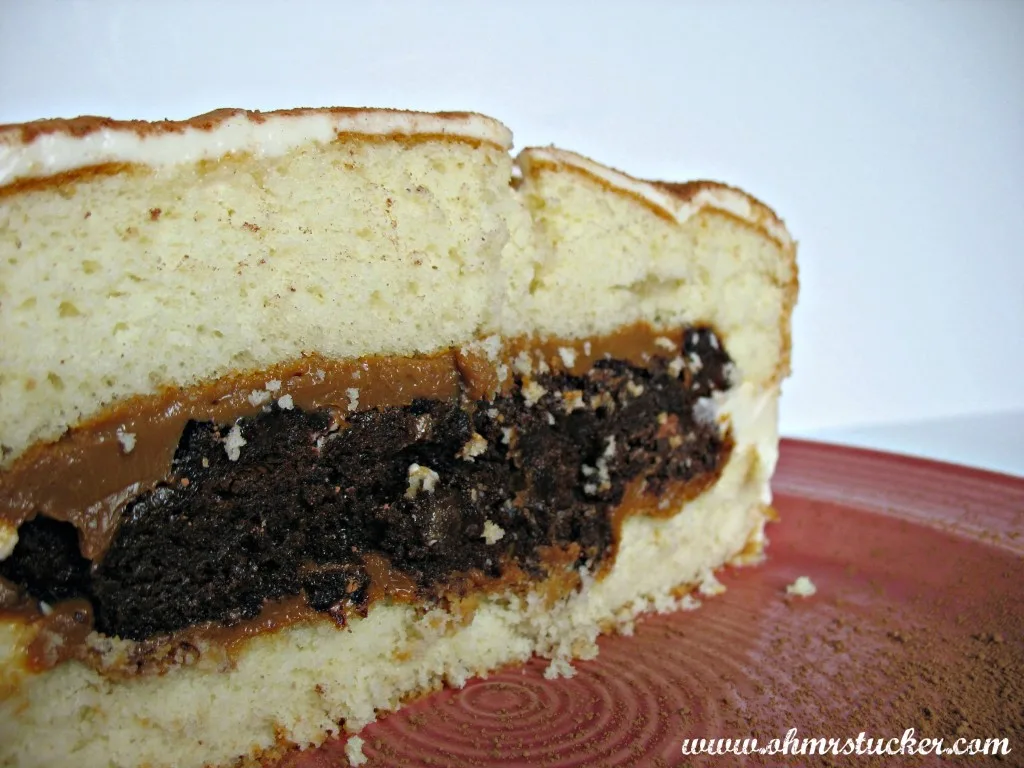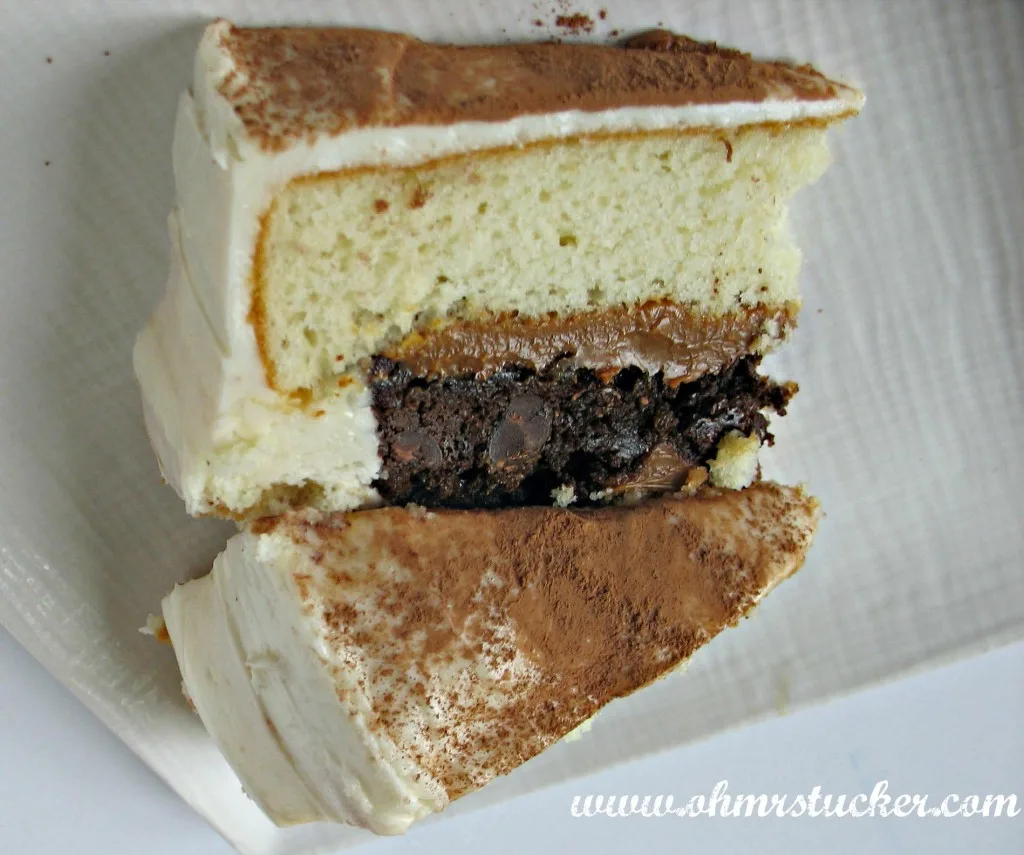 Now for my Sandra Lee-approved confession: While the cake was homemade, the only thing from scratch was the icing.
~FAINT~
Those who know me, know I rarely bake from a box. I'm not passing judgement on those who do, I simply prefer the taste of non-boxy things. If I'm gonna throw big calories down my piehole, I want them to be as yummy as possible. Given the amount of processed items I used, this cake was pretty dadgum yummy.
What I used:
1) One package white cake mix.
2) One package Ghirardelli Triple Chocolate mix.
3) One can Dulce de Leche Caramel.
4) Cream Cheese Frosting (you can use your family fav)
What I did:
1) Baked two 8″ cake rounds.
2) Baked one pan of brownies (slightly undercooked for moistness).
3) Opened one can of the caramel.
4) Made a standard cream cheese frosting.
Construction:
1) Once all components are completely cooled, cut the rounded tops off the cake rounds (eat them before you're caught!).
2) Place first cake round on platter.
3) Pipe icing around the edge of cake round to contain caramel. (Here's a video that I made to show you)
4) Spread about 1/2 can caramel within piped edge.
5) Cut a circle of brownie from brownie pan and placed on top of caramel layer. If your brownie doesn't quite fit, squish to size! As you can see from the pics, my brownie layer was smaller in diameter than my cake rounds. If I make this again, I will definitely make sure the brownie is bigger because the cake was falling in a bit. Not that it changed the taste, just the presentation.
6) Layer top of brownie with caramel (you can also pipe around the edge of brownie with icing for continuity).
7) Place second cake round on top.
8) Crumb coat that badboy. Put in fridge for 10 minutes to set.
9) Frost the entire cake. In restrospect, I would also use MORE ICING! Eve the pics are like, "MORE ICING!"
10) PREPARE FOR A TASTE EXPLOSION (and possibly a diabetic coma)!
Decadent. Rich. Worth the calories.
When Husband got home that night, he was glad I had decided to disregard his store-bought suggestion; he loved his cake. I think he thought it was a little kooky, but nevertheless it was a success.
What about you guys? Do you do this sort of thing? Do you wake up one day and decide what's the weirdest thing you can bake, and then BAKE IT?!
I would highly recommend that route. Fun Times Hwy here you come!
Happy Baking!
P.S. I'm the Featured Blogger all month long (!) over at Texas Women Bloggers. My Q&A is posted today, so pop on over and check out the site, purdy please!