For those with great memories, you'll remember the Pineapple Honey Glaze I originally used on a spiral ham at Easter, but then wanted to put on everything.
Mmmm, Pineapple Honey Glaze…
Here's the resulting outcome of the original ham. What meat-eater wouldn't love to see this on the holiday table?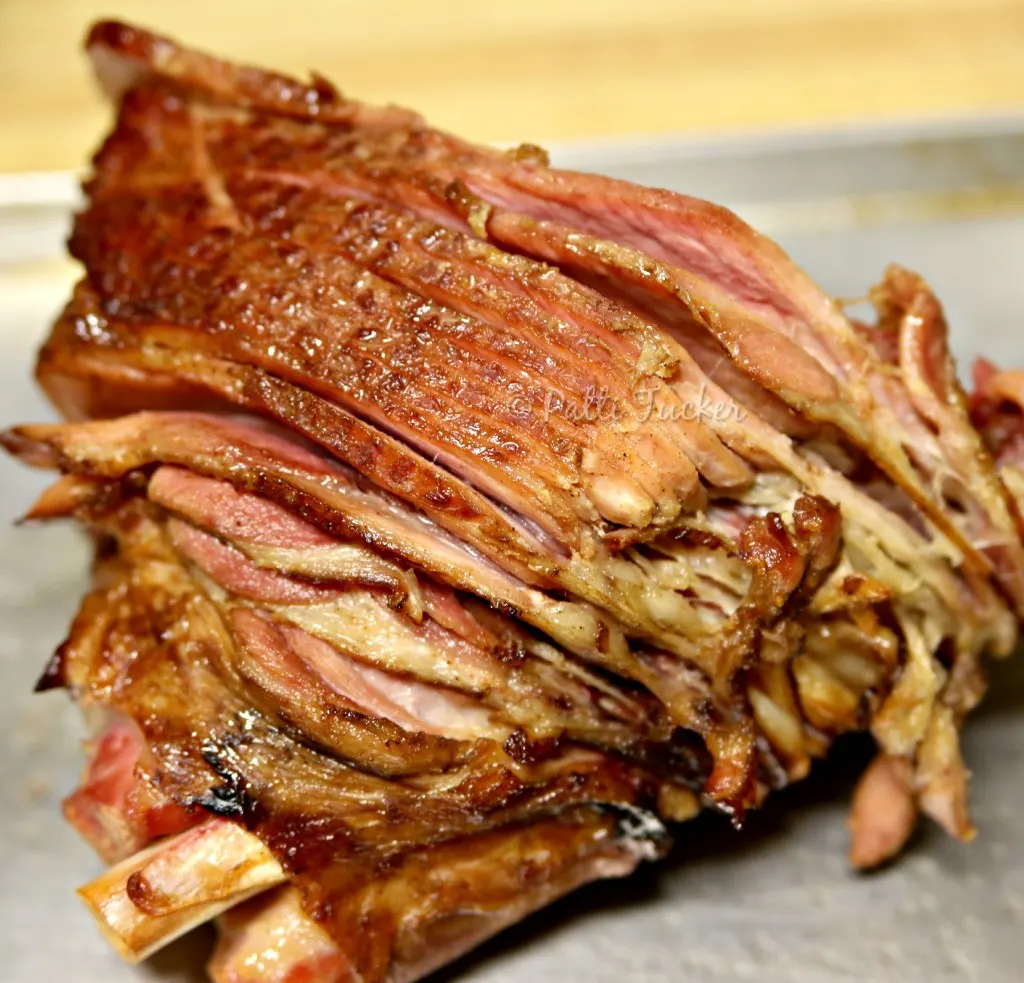 Look at that delicious ham! Can't you just taste it?
I know many new cooks are intimidated by ham. DON'T BE! The method I'm sharing today is almost fool-proof to producing a simple moist masterpiece that will seem like you've been cooking for days.
Basically, you're gonna buy a FULLY COOKED, pre-cut, spiral ham. You want the one that DOESN'T come with that packet of glaze, cause you're gonna use my recipe that will put the packet to shame. You do want socks to be knocked off, right? NO PACKETS!
The ham comes wrapped in plastic (I always get the hams I can see through the plastic, so I know what I'm buying). It looks like this before you take your plastic off: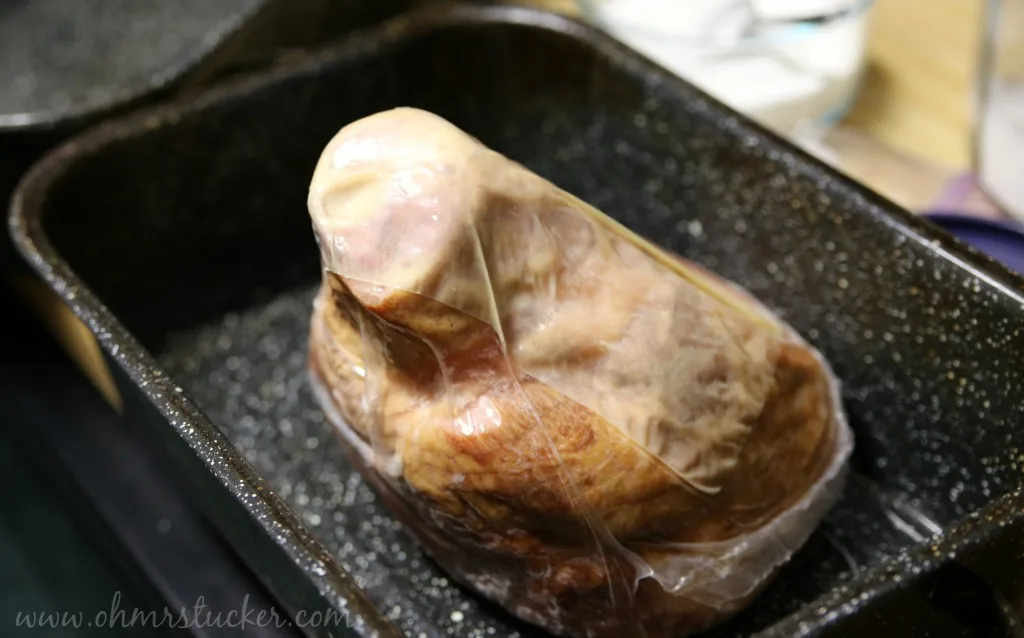 I had already taken off the plastic netting that covered the plastic wrap. Whew. What you want to do at this point is cut the plastic wrap off and place the ham in a large pan that has a securely fitting cover.
If you don't have a pan big enough #1: you should totally buy one of these. I've used this inexpensive pan more times than I can count. This particular roaster is about 30 years old. BAM! Useful! #2: You can use a large oven bag (I'm not a fan of the plastic bags, but if it makes you more comfortable…USE IT!)
When you've cut the wrapper off, don't forget to inspect the ham for any plastic disks that might be covering the bone. Discard anything other than ham.
After you've got your ham in the roaster? Cover with lid and heat through (instructions below). In the last 30 minutes you'll baste with the glaze.
Like this: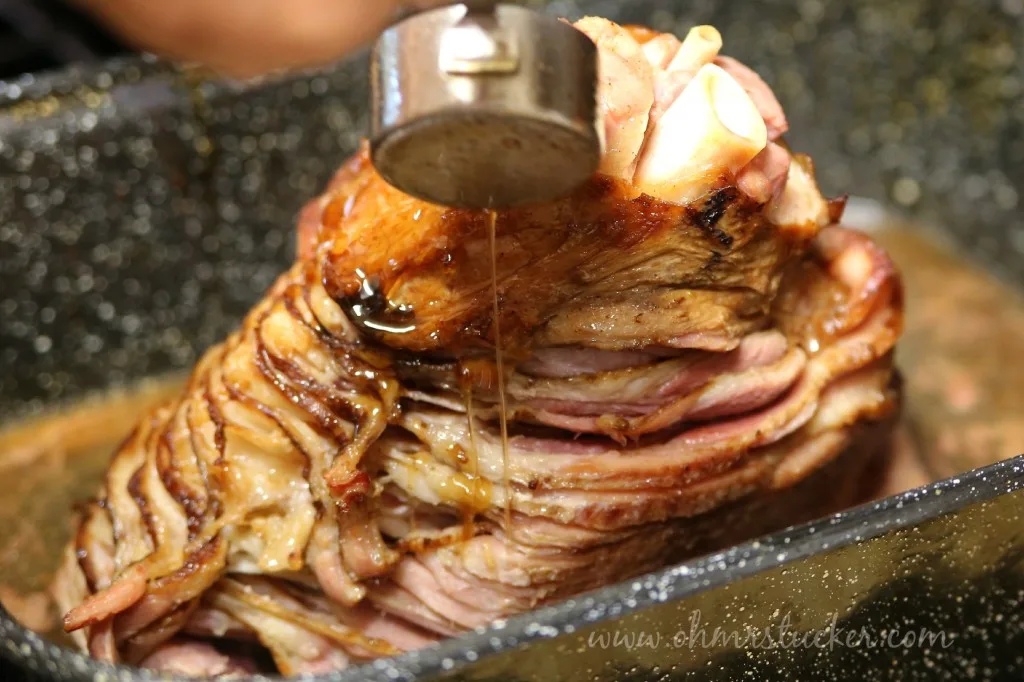 THAT'S IT!
When I say easy…I mean easy!
When it's done, your pan and ham will look something like this: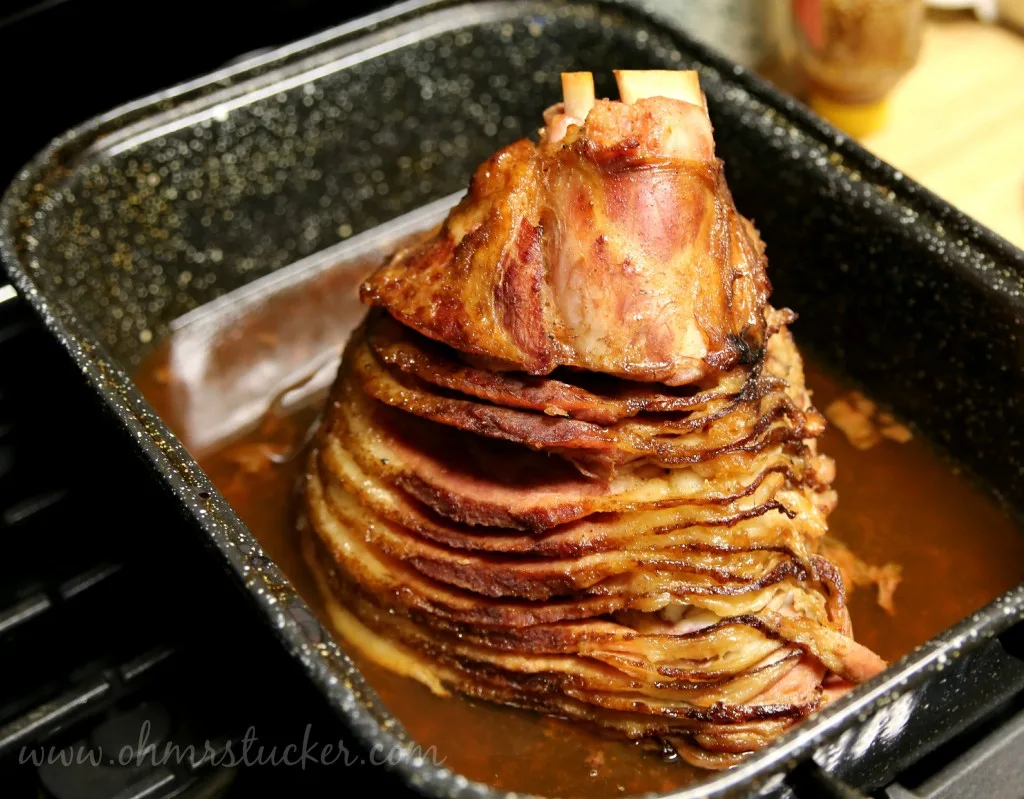 And this: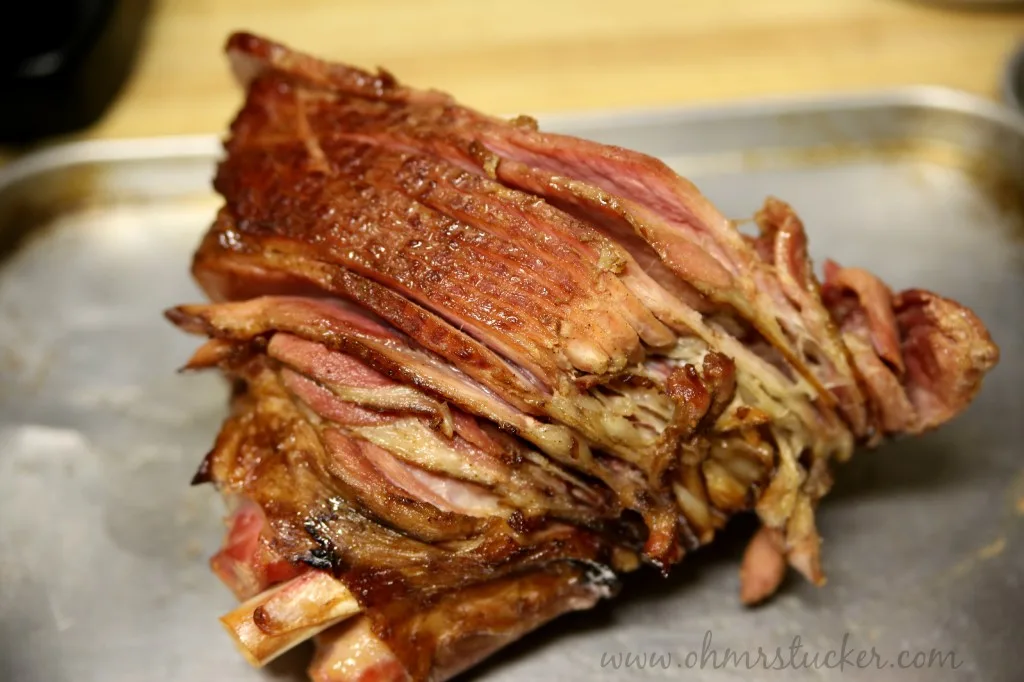 This is some serious food, y'all.
Once you take the ham off the bone, don't forget to save that flavor-packed ham bone (I put mine in a ziplock bag and throw it in the freezer for another day) for a giant pot of pinto beans.
See how easy all of this is? Being a good cook, creating something gastronomically memorable for those you love, doesn't mean you have to spend all your time in the kitchen. Nope. Cook smart, not hard, my babies!

Easy Spiral Ham with Pineapple Honey Glaze
Ingredients
1 pre-cooked spiral ham, 8lbs or larger
Pineapple Honey Glaze
Instructions
Pre-heat oven to 250°.
After discarding plastic wrap, juices, and any plastic disks covering bone, place ham in a roaster that has a tight-fitting lid (or place in a large cooking bag. gather the bag tightly around the ham, tie off, and cut four small slits in top of bag).
Heat until internal temp reaches 100° (apprx 10 minutes per pound)
Remove ham from oven (if using bag, untie and push sides down).
Increase oven temp to 350°.
Pour 1/4 cup of glaze over the top of ham.
Return to oven for 10 minutes.
Repeat two more times.
After the final glazing, remove ham from oven and place on a serving platter or surface to separate ham from bone.
Let rest 20 minutes before serving or removing meat from bone.
Use remaining glaze to pour on ham as it's served.
Notes
* When checking internal temp on the ham, do not let your thermometer touch the ham bone. This will give a false high reading. Place about an inch or two deep in the meat.
* The glaze is started in the last 30 minutes because it has a sugar base which burns quickly.
* Letting the meat rest allows the juices to retreat deep within the muscle instead of spilling out when cut, resulting in a juicy moist ham!
https://ohmrstucker.com/easy-spiral-ham-with-pineapple-honey-glaze/
Happy Hamming!
If you're interested in having the Top 10 OMT! Recipes in one place (no searching!), click anywhere on the image below ▼