This smoothie is berry delicious.
Not to mention punny.
Not to mention a nutritional powerhouse.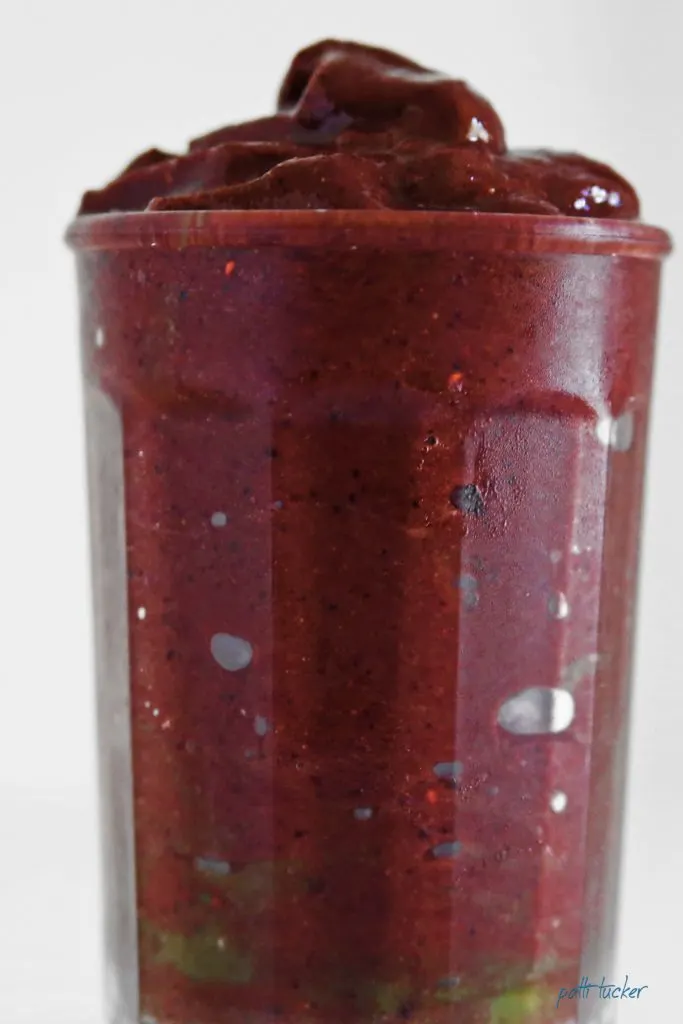 First: let's talk about the giant green spot in the pic – let's just get it over with, shall we?!
GAA!
I was in a hurry (per usual), and it wasn't until I went to edit the pic that I realized when I poured my smoothie into a glass, it took some of the blender splatter with it.
GAA!
No worries – it really was berry delicious. #pinkyswearz
This smoothie is one of my go-to smoothies because it's packed full of nutrition AND it's delish. 'Cause let's get on thing abundantly clear – if it no tasty good, OMT! ain't gonna eat it.
Can I get an AMEN!
Typically, when I'm in a hurry at lunch (almost ever'day), I just start grabbing ingredients at hand and hoping it comes out tasty. I usually win at that game, mostly because the only thing that still weirds me out a bit, is putting greens in my smoothie.
This glass of berry yum has roughly 7 servings of the 9 fruits and veggies you should get per day…in one yummy smoothie!
Man, I love when things work on more than one level.
OMT!'s Berry Delicious Smoothie
(makes about 16-18 ounces)
Ingredients:
1 pear, seeded with skin on
1 apple, seeded with skin on
2 cups of frozen fresh spinach
1-1.5 cups of frozen mixed berries
1/5 cup frozen pineapple
1/4-1/2 cup of water
Directions:
Place cut up apple, pear and spinach into mixer with enough of the water to get things mixing.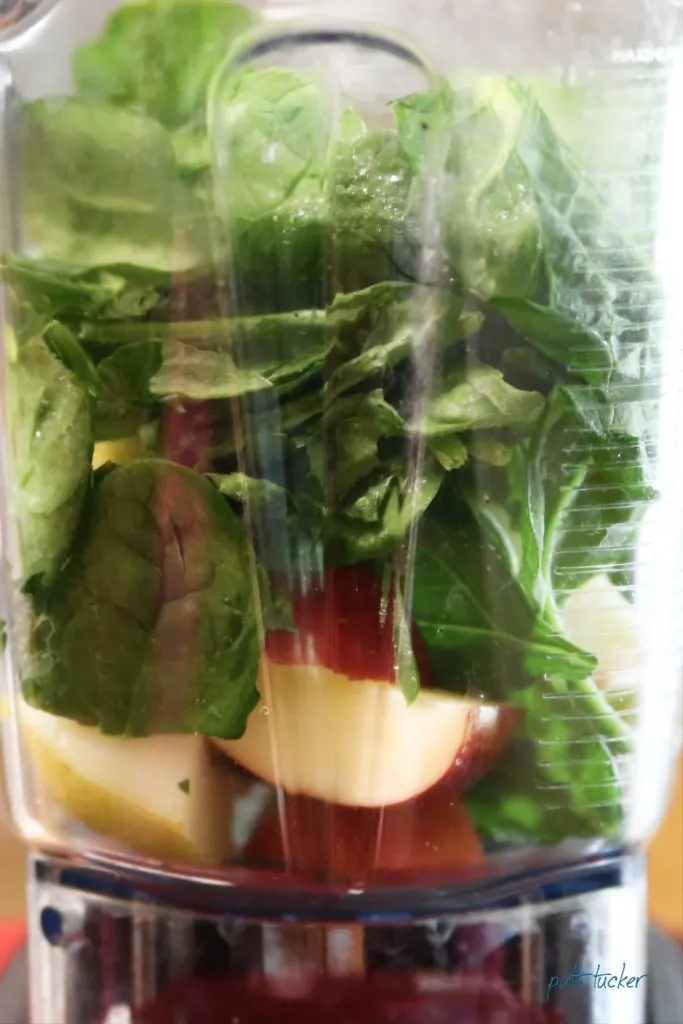 Once very smooth (you can add more water as needed), add frozen berries.
Blend until smooth, continuing to add enough water to keep blending.
Lastly, add frozen pineapple and blend until smooth.
Consistency will be almost like a sorbet, or, if you prefer more water, like a fancy frozen drink.
Enjoy!
Notes:
~ You CAN'T taste the spinach. If you could, I'd never drink it.
~ Adding greens is the easiest way to bump up your veggie intake for day.
~ You're gonna feel smug after drinking. It's only lunchtime and you've gotten in 7 outta your 9 reqs for the day. Smuggy McGee, that's us.
PRO TIP:
Should you want to photograph, wipe the edges of the blender down before pouring ~or~ spoon out into glass.
GAA!
Don't be a lazy lazerton like OMT!
That's it!
That's how to get your berry smoothie on.
Happy Blending, Y'all!