Hot chocolate benefits abound, y'all!
I'm going to break the benefits down for you, so you no longer have any guilt when drinking this cup o'yum!
Ooooowhee, Oh, Mrs Tucker! loves her some delicious homemade hot chocolate.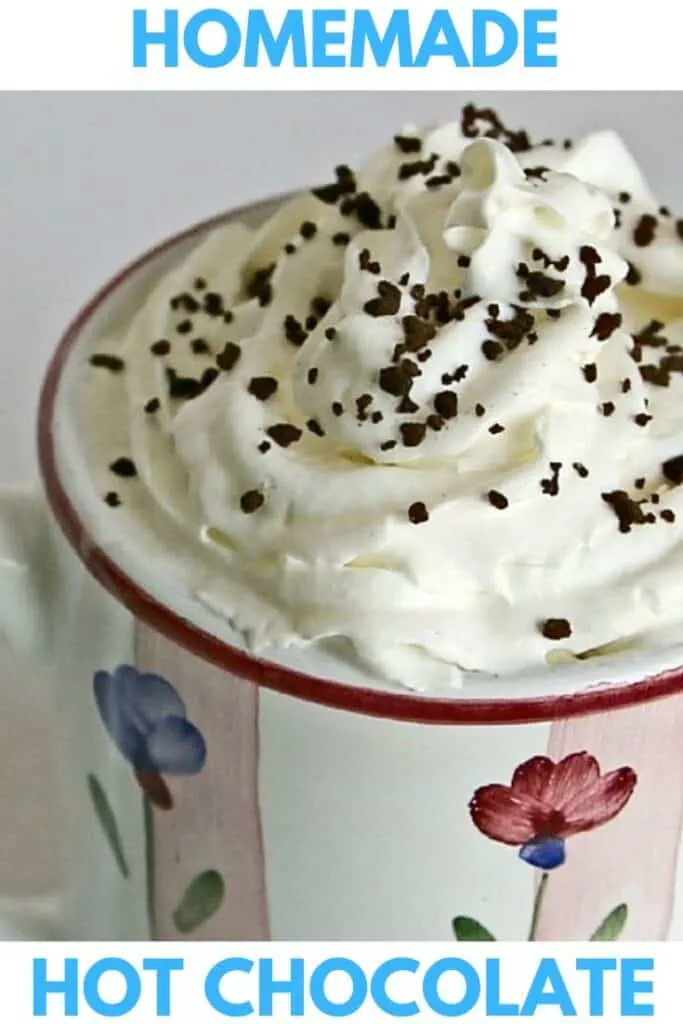 Today, I'm gonna give you the top 10 reasons for you to love homemade (not Swiss Miss) hot chocolate.
Think of this post as your bonafide permission slip to drink more…MORE!…hot chocolate.
The biggest reason, surprisingly, is there are antioxidant health benefits to this chocolate-lover's dream (we'll get to that below).
Pair with a slice of Scottish Shortbread (or dark chocolate shortbread – yum!) and it's a dream day of snack heaven.
Is hot chocolate good for you?
TL;DR: YES!
With one caveat: you make it with natural ingredients and not from a powder packet.
Is hot chocolate bad for you?
This is basically the same question as: is hot cocoa bad for you?
Cocoa…chocolate…same diff.
It can be, yes.
Again, stay away from the premade powders and you're good to go. They are full of fillers and homemade simply is the best in taste, texture, and depth (yes, there's a depth to homemade hot chocolate – is so…)
Once you make homemade hot chocolate you'll just never want anything else.
Since it's that time of year when we're generally freezing our fingers and toes and sanity off, I thought it would be good to revisit the healthy goodness that is homemade hot chocolate.
It's nice to know something we love loves us right back, right?
Right-O!
As I made me a creamy cup, it got me to wondering if there was any new info I could offer you guys in relationship to cocoa powder being a swell thing to add to your diet.
Interesting facts about the benefits of cocoa powder.
First of all, what the heck am I talking about?
Hot chocolate, my loves. Mama's love elixir. The tummy-warmer.
I'm talking the kind that you heat on the stove and uses milk, vanilla, a teeny bit of sugar, and pure unsweetened cocoa powder.
Or, cacoa powder, which is the non-processed sister of cocoa powder.
Oh, yeah. I see you nodding in agreement.
Yet, while you like it, or love it, do you also think it's more of a treat than a healthy alternative to other things you may be drinking?
You do?
Let's see if I can't change your mind.
First, let's look at what happens once you ingest that yummy powder:
How cocoa is digested:
Cocoa contains so-called antioxidant polyphenol compounds, such as catechin and epicatechin, and a small amount of dietary fibre.
Both components are poorly digested and absorbed into the body, but are readily processed by the friendly bacteria in the colon.
In our study we found that the fibre is fermented and the large polyphenolic polymers are metabolised to smaller molecules, which are more easily absorbed,' said Dr John Finley, who led the Louisiana research team.
These smaller polymers exhibit anti-inflammatory activity. When these compounds are absorbed by the body, they lessen the inflammation of cardiovascular tissue, reducing the long-term risk of stroke.
OMT likey!
You're familiar with the Perimenopause Can Suck It series, but check this out for those on the other end:
Studies of cocoa are mixed, however, in terms of the potential benefits for different age groups and for persons with and without existing chronic disease. For example, postmenopausal women with high cholesterol seem to obtain significant cardiovascular benefits from the consumption of cocoa.
Good to know.
Enough jibber-jabber! Let's get to the delicious top 10 reasons you should be drinking more hot cocoa!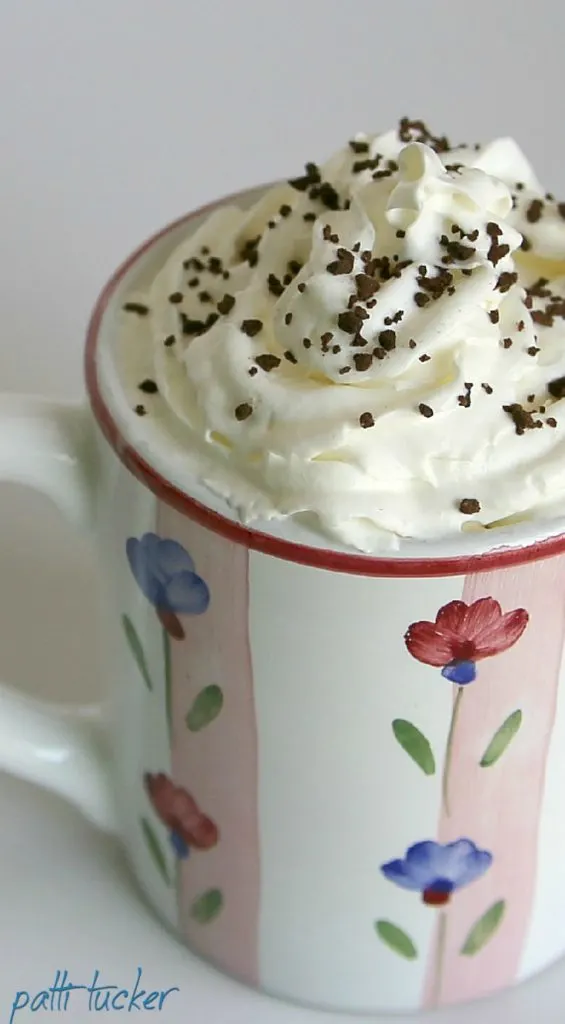 Ten Reasons Homemade Hot Chocolate is Good For You
Whipped Cream
Healthier than red wine or tea
Low in calories
Satiating
Possible improves kidney function
Possibly lowers risk for certain diseases
Elevates mood
Improves brain function
Flavonoids
Punch of fiber
10: It's got a punch of fiber.
One tablespoon has 1.8 grams of fiber. When I make my hot cocoa, I typically use two tablespoons, so 3.4 grams in my cup deliciousness.
9: Flavonoids.
What what?!
Flavonoids are mind-blowing compounds and cocoa has two amazing flavonoids: epicatechin and catechin. The first one, epicatechin, relaxes blood vessels and lowers blood pressure. The second, catechin, acts as an antioxidant and reduces inflammation in the body.
It's the reason your doc tells you to eat dark chocolate, except that unsweetened cocoa powder has over twice the flavonoids per milligrams as dark chocolate.
8: A cup of hot chocolate improves brain function.
Remember our friend, epicatechin, from #9? Turns out it improves various aspects of cognition in animals and humans.
7: Elevates your mood.
It's a long known fact that chocolate lifts your spirits and makes us happy.
6: Lowers the risk for certain diseases.
It just keeps getting better, doesn't it. Studies have shown that cocoa powder can lower the risk for developing Alzheimer's disease and decrease the risk of stroke.
5: Possibly improves kidney function.
Know anyone with diabetes? Or reduced kidney function? A study was done that suggests for the first time an increase of renal medullary oxygenation after intake of dark chocolate.
Further studies are being conducted, but this is HUGE people.
4: Satiates your desire for a sweet snack.
Eh, you say. Why would this be important?
Well, what if you're on a restricted diet and you neeeeed something sweet? Having hot chocolate instead of a piece of cake, may be enough to stave off a candy bar binge.
Not to mention gaining all the benefits mentioned above.
3: Unsweetened cocoa power is low in calories.
1 tbsp. = 10 calories.
2: Hot chocolate health's benefits are better than red wine or tea.
WHAT?!
This is great news if you're like me and find most red wines bitter. No? You like red wine? Cocoa still beats it.
It even beats tea!
Cornell University researchers found that the powerful antioxidants in hot chocolate was almost twice that of red wine, two to three times stronger than green tea and four to five times stronger than black tea.
1: Whipped cream.
Do I need to elaborate?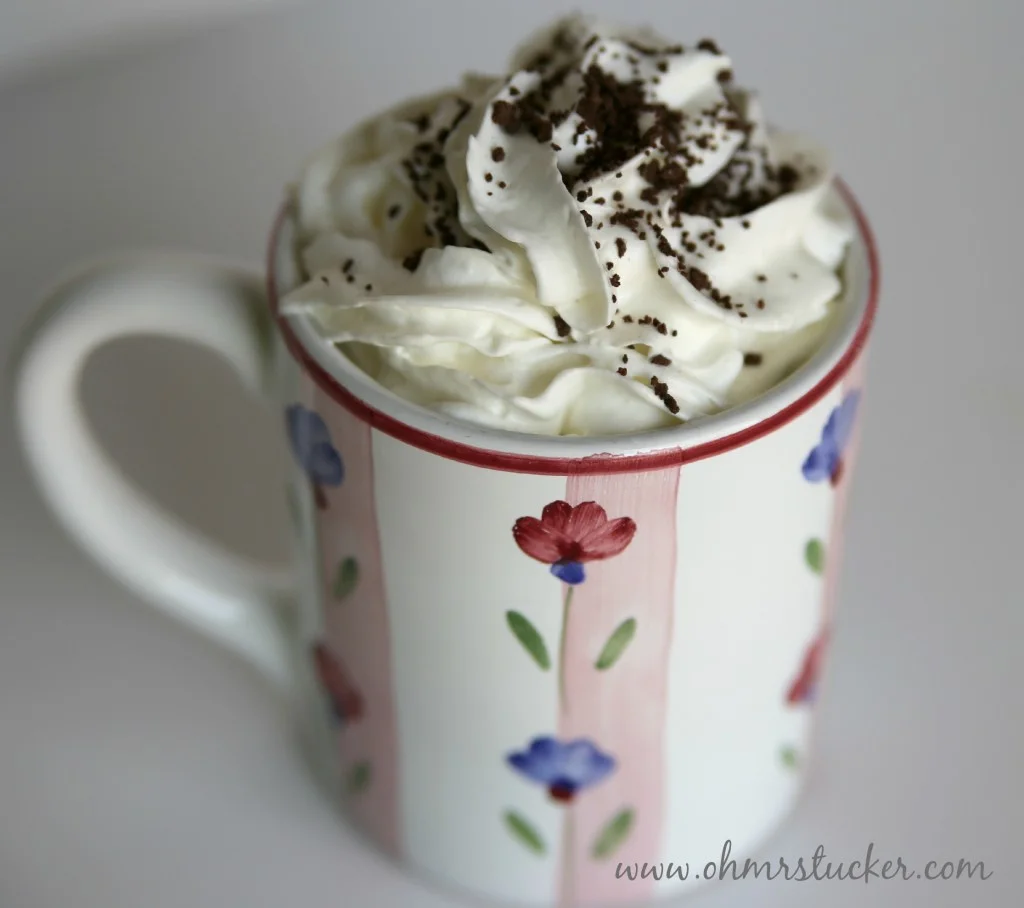 Is hot chocolate fattening?
Well, this depends on:
Fullness of milk used
Amount of sweetener
How much you're drinking
Using full fat cream instead of milk
My personal opinion is this: enjoy your hot chocolate any way you like to make it. Fattening or not.
I would never ever use a milk other than a full fat variety, but that's just how I like it.
You do you, baby!
How do you make hot chocolate?
Easy peasy!
Follow this creamy hot chocolate recipe and you'll soon be feeling smug about yer drink choices!
OMT's Hot Chocolate
(if you'd like a printable recipe of hot chocolate, scroll to bottom of page)
Ingredients:
2 cups milk
2 tbsp. unsweetened cocoa
2-4 tsp. sugar – to taste
1 tsp. vanilla – optional
Whipped cream – optional (snort – as if).
Instructions:
In a sauce pan over medium heat, whisk together milk, cocoa, and sugar to taste.
Heat through, while continuing to stir or whisk to prevent scorching.
Turn off heat and stir in vanilla.
Pour into cup.
Top with whipped cream.

BONUS COCOA DELICIOUSNESS:
Some of you may be thinking, because of diet or time, that you can't imagine drinking homemade hot chocolate every day (I'm in your camp!).
There's gotta be an easier way to get the goodness of cocoa, or better even cacao, in your diet.
THERE IS!
Incorporate cocoa's amazing nutrients into your diet:
I add a tablespoon to my morning cup O'Joe. (1 tablespoon to 2 measured cups of coffee).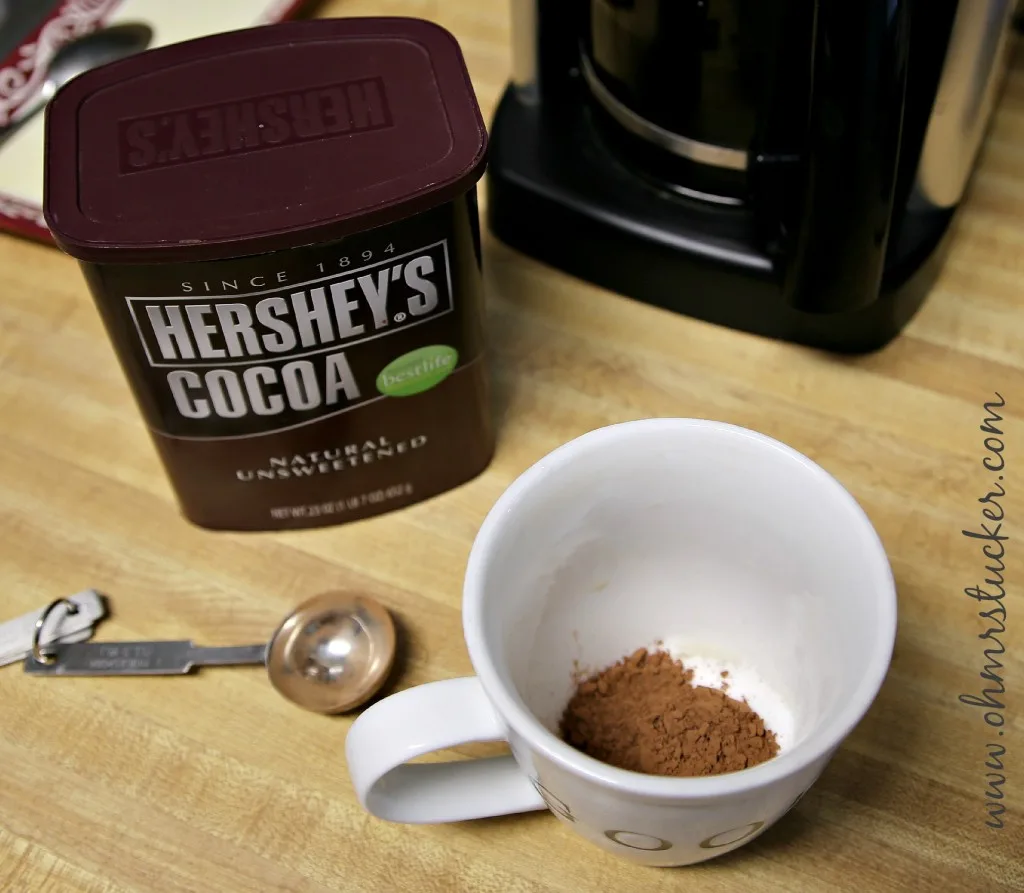 Add whatever sweetener you use, a splash of cream and BAMMO! delicious coffee with a punch of antioxidants.
Since I discovered the goodness of cocoa (years now), I still drink my first cup of coffee with cocoa, or cacao, depending on what I have on hand, hedging my health benefit bets.
Hot chocolate for ever'one!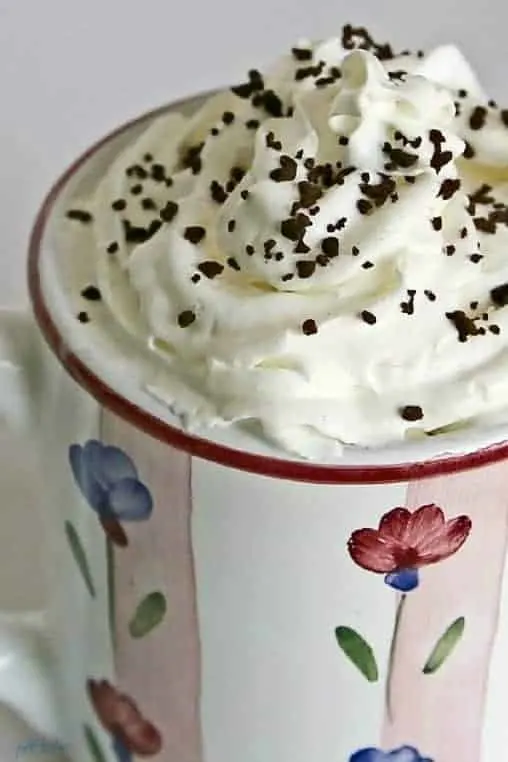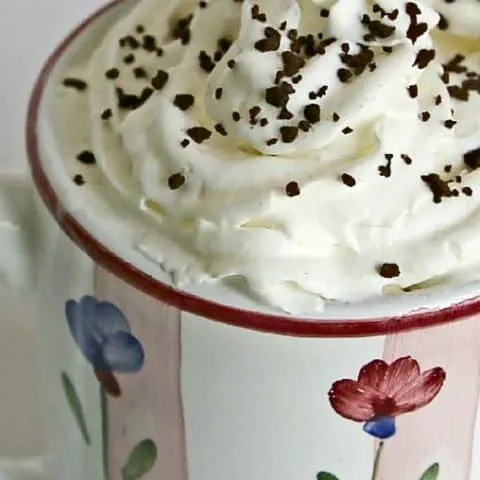 OMT's Hot Chocolate
The ONLY hot chocolate I'll drink has to be homemade. This is my favorite recipe.
Ingredients
2 cups milk
2 tbsp unsweetened cocoa
2-4 tsp sugar - to taste
Whipped cream - optional (not really - ha! it's my own little joke! is whipped cream ever optional?! LOAD ME UP, BABY!)
Instructions
In a sauce pan over medium heat, whisk together milk, cocoa, and sugar to taste.
Heat through, while continuing to stir or whisk to prevent scorching.
Turn off heat and stir in vanilla.
Pour into cup.
Top with whipped cream.
Nutrition Information:
Yield:

2
Serving Size:

1
Amount Per Serving:
Calories:

232
Total Fat:

7g
Saturated Fat:

4g
Trans Fat:

0g
Unsaturated Fat:

2g
Cholesterol:

24mg
Sodium:

128mg
Carbohydrates:

33g
Fiber:

1g
Sugar:

18g
Protein:

10g
Original Post: February 10, 2017 ~ Updated Post: October 30, 2022
Did I not tell you that hot chocolate benefits abound!
Happy whipped cream mustaches, y'all!