Once a year I offer this recipe because:
#1) It's. That. Good.
#2) I love you and want you to eat only the best of what the cheesecake world has to offer.
This is the best the cheesecake world has to offer.
Trust me on this.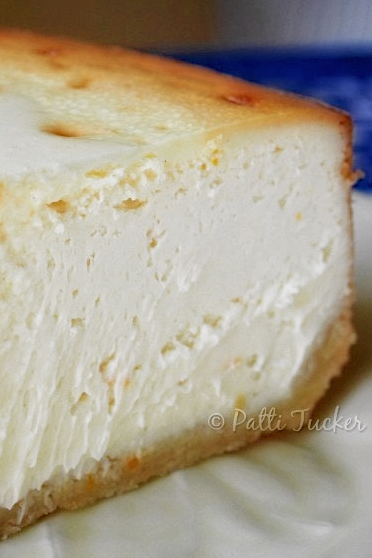 STOP DROOLING ON YOUR KEYBOARD!
To answer the question you're asking: Yes. It's as friggin' good as it looks.
Better even.
I have no idea who deserves credit for this recipe.  I cut it out of the food section of a newspaper years ago, and when that paper faded, copied it onto note cards.
I would happily give credit where credit is due, but I truly have no idea.
It's a simple recipe, but a bit time-consuming.
Don't let that stop you.
It's worth the work and the effort.  Trust me on this.
The added bonus is the arm workout you get from beating the cream cheese into submission!
Consider it calories well spent for those you about to consume.
Once you read through the recipe, you'll note that you are directed to let the cheesecake sit in the fridge overnight.
DO NOT SKIP THIS STEP.
Why?  The hours that the cheesecake sits in the fridge is allowing the flavors to marry.
Consider this their wedding night and DO NOT DISTURB.
MANHATTAN CHEESECAKE
INGREDIENTS:
CRUST:
1 cup all purpose flour
1/4 cup sugar
1 1/2 tsp. grated lemon peel
1 egg yolk
1 stick unsalted cold butter
1/2 tsp vanilla
FILLING:
5 packages (8 oz each) cream cheese – softened
1 3/4 cups of sugar
3 tbsp flour
1 1/2 tsp grated orange peel
1 1/2 tsp grated lemon peel
1/2 tsp vanilla
2 egg yolks
5 eggs
1/4 cup heavy cream
INSTRUCTIONS:
CRUST:
Combine flour, sugar and lemon peel.
Make a well in center of flour and add vanilla, egg yolk and butter.
Work quickly with a pastry blender or fingers until well blended.
Form into ball and wrap in wax paper. Refrigerate for one hour.
After one hour, preheat oven to 400°.
Roll out half of dough 1/8 inch thick. Remove sides of 9-inch springform pan.
Butter bottom of pan and place dough on it, trimming off excess. Bake about 9-10 minutes or until crust is golden.
Remove and cool completely.
When crust is cool, butter sides of pan and attach bottom w/crust.
Prepare filling, then finish crust by rolling out remaining dough.
Line sides of pan with strips of dough, making sure it does not go up any more than 3/4ths of the way up the pan.
FILLING:
Beat together cream cheese, sugar, flour, orange and lemon zest, and vanilla until smooth, using a wooden spoon. DO NOT use an electric mixer.
Add egg yolks and eggs, one at a time, stirring lightly after each addition.
Blend in cream thoroughly.
Pour filling into crust, then place in a 500° pre-heated oven. Bake 10-12 minutes. Reduce heat to 200° and bake an additional hour.
If top starts to brown too much, cover with foil. DO NOT top cheesecake with foil unless it is browning too quickly.
When cheesecake is done remove from oven and cool for one hour in draft-free place.
Refrigerate overnight.
NOTES:
OMT! EDIT: For the crust, I never fiddle with the sides of the pan. I simply roll out enough for the bottom, filling in any weak spots with extra dough, then bake per instructions.
OMT! TIP: When cheesecake is done (will still be a bit wobbly in the center if you shake the pan), I simply turn off the oven, crack the oven door and let it rest there for an hour.
This usually prevents it cooling too fast and thereby cracking.
Let me know when you make it, you know, when your eyeballs become unstuck from the ecstasy of your first bite!
Happy Baking, Y'all!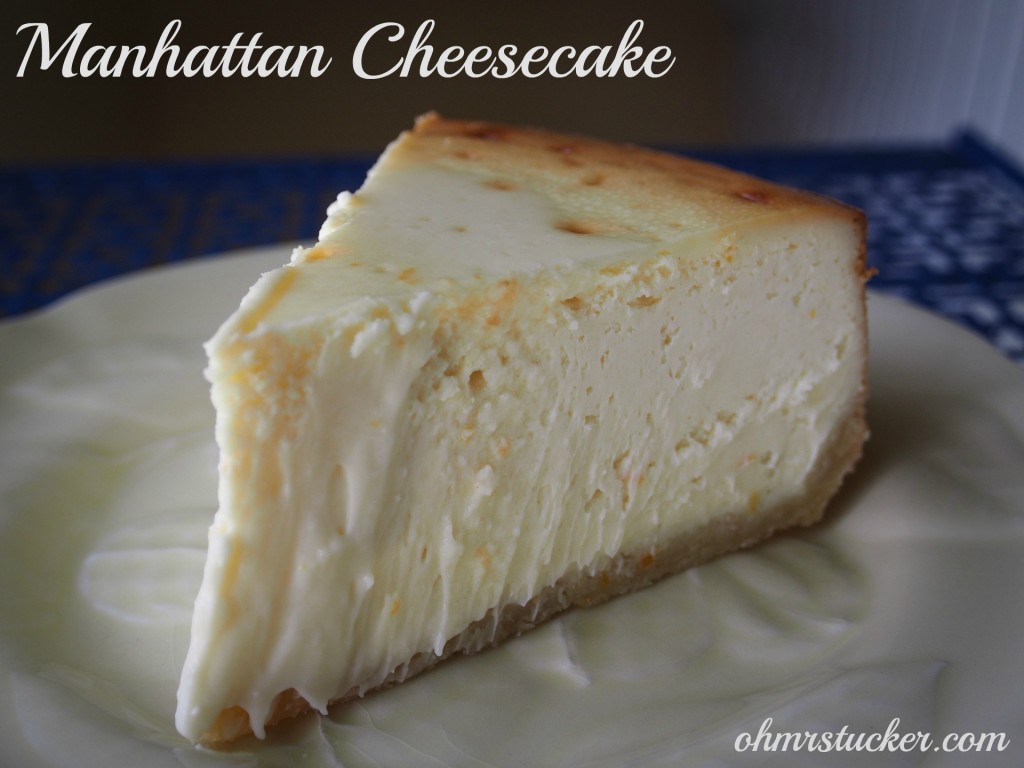 If you're interested in having the Top 10 OMT! Recipes in one place (no searching!), click anywhere on the image below ▼

Please Share on Your Favorite Social Media! ~ OMT thanks you! ~