It's always nice to see old friends.
Today it's Manhattan Cheesecake revisited.
You should note that if you're searching for the most perfect cheesecake you'll ever taste, your search ends here.
This particular cheesecake is the creamiest dream with a whisper of lemon.
The cookie-like crust isn't a bad touch either.
Ohmygosh, so much swooning over a the most delightful cheesecake!
Our love hasn't waned one bit and I thought I'd share the recipe again for anyone who missed it the first go around.
SIDE NOTE: For those of you who don't feel like baking, cause let's face it – we're busy busy people, Cheesecake Pie is an ideal alternative.
For those of you READY to bake the most amazing cheesecake you've ever put in yer piehole…
THIS: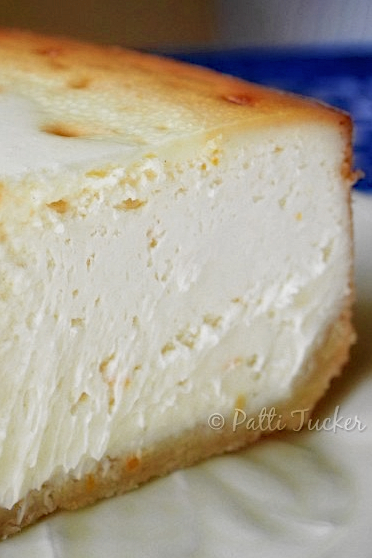 People. I almost have no words. This cheesecake is that good.
I have no idea who deserves credit for this recipe; I wish I did. They deserve a kiss.
I cut it out of the food section of a newspaper years ago, and when that paper faded, copied it onto note cards.
I would happily give credit where credit is due, but I truly have no idea.
While it's a simple recipe, but a bit time-consuming.
Don't let that stop you.
It's worth the work and the effort.
Trust me on this.
The added bonus is the arm workout you get from beating the cream cheese into submission!
Consider it calories well spent for those you about to consume.
Once you read through the recipe, you'll note that you are directed to let the cheesecake sit in the fridge overnight.
DO NOT SKIP THIS STEP.
Why?
The hours that the cheesecake sits in the fridge is allowing the flavors to marry.
Consider this their wedding night and DO NOT DISTURB.
Also, once the cheesecake has finished baking, leave in the oven, with the door ajar for about an hour or so (longer if the cheesecake is still warm to touch).
This step usually prevents the cheesecake from cooling too fast and thereby cracking.
The dreaded cheesecake crack!
A slow and steady cool down is what you're after.
What to do if it does crack?
Cry?
NO!
Simply add a topping, chocolate sauce, ganache, fresh fruit, OMT!'s pear or apple butter, or whatever you desire, over the top, thereby hiding any cracks.
HUZZAH – PERFECT CHEESECAKE!
Y'all we're baking here – it's not rocket ship building – we get to zig if the cake develops zags in the form of cracks.
Alright, my babies – if you've read this far, congratulations, you no longer have to search for the most amazing cheesecake you'll ever bake.
Save this post.
Pin it.
Print it.
Write it out longhand.
Just make sure you never lose it.
This most wonderful concoction will become a beloved family tradition.
Count on it.
While I have deprived you of the fun of baking 100 cheesecakes in your quest of a drool-worthy dessert – I have saved you time, which translates to more cheesecake eating!
If you're anything like me, you are always on the lookout for the "best" recipe for the foods your family loves.
Consider yourself done looking for the best cheesecake recipe: this one is it.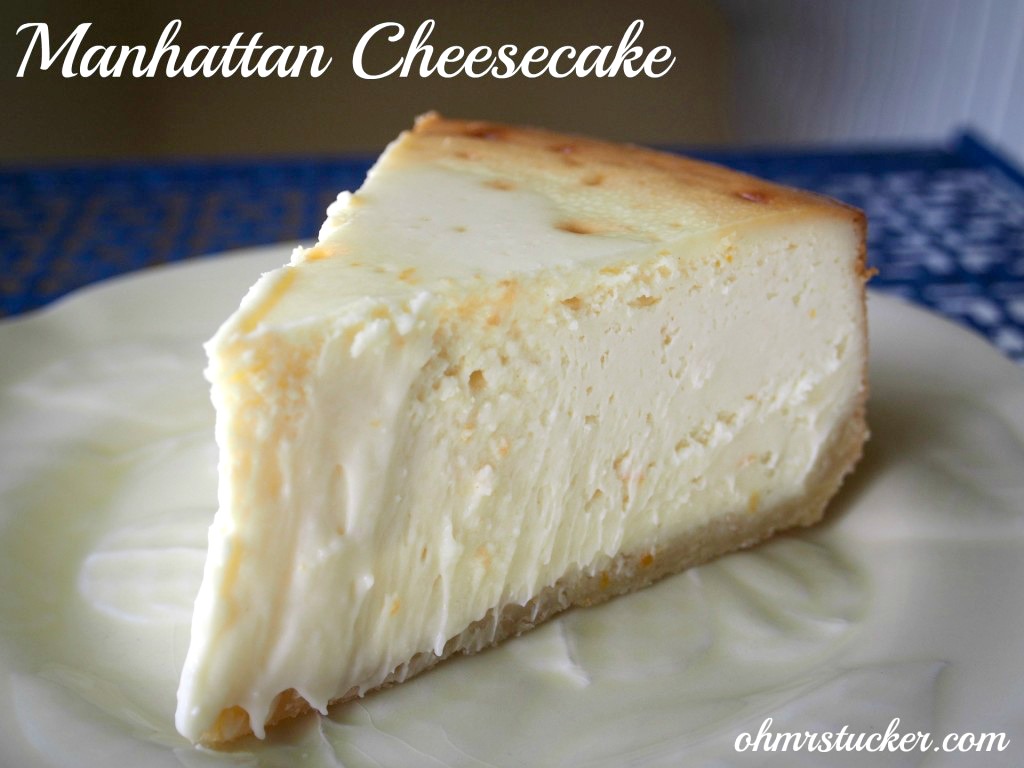 Well, what are you waiting for?
Consider this yer special invitation.
Go!
Git!
Happy Baking, Y'all!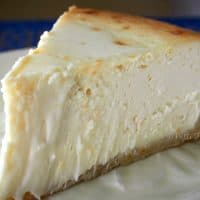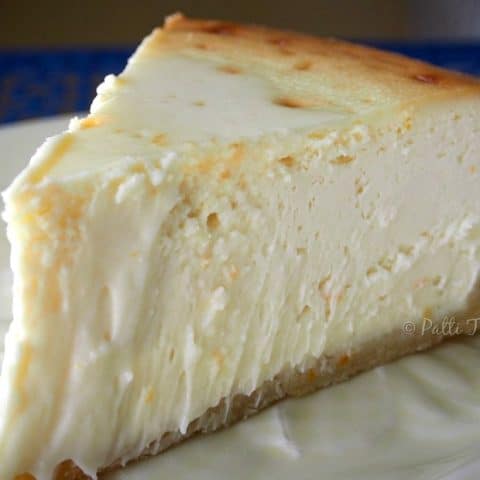 Manhattan Cheesecake
Yield: 1 cheesecake

Prep Time: 30 minutes

Active Time: 1 hour 20 minutes

Additional Time: 8 hours

Total Time: 9 hours 50 minutes

This Manhattan Cheesecake is the last cheesecake recipe you'll ever need.
Ingredients
CRUST:
1 cup all purpose flour
1/4 cup sugar
1 1/2 tsp. lemon peel zest
1 egg yolk
1 stick unsalted cold butter
1/2 tsp vanilla
FILLING:
5 packages (8 oz each) cream cheese – softened
1 3/4 cups of sugar
3 tbsp flour
1 1/2 tsp orange peel zest
1 1/2 tsp lemon peel zest
1/2 tsp vanilla
2 egg yolks
5 eggs
1/4 cup heavy cream
Instructions
CRUST
Combine flour, sugar and lemon peel.
Make a well in center of flour and add vanilla, egg yolk and butter.
Work quickly with a pastry blender or fingers until well blended.
Form into ball and wrap in wax paper.
Refrigerate for one hour.
After refrigerated for one hour, preheat oven to 400°.
Roll out half of dough 1/8 inch thick.
Remove sides of 9-inch spring form pan.
Butter bottom of pan and place dough on it, trimming off excess.
Bake about 9-10 minutes or until crust is golden.
Remove and cool completely.
When crust is cool, butter sides of pan and attach bottom w/crust.
Prepare filling, then finish crust by rolling out remaining dough.
Line sides of pan with strips of dough, making sure it does not go up any more than 3/4ths of the way up the pan.
FILLING
Preheat oven to 500°.
Beat together cream cheese, sugar, flour, orange and lemon zest, and vanilla until smooth, using a wooden spoon. DO NOT use an electric mixer.
Add egg yolks and eggs, one at a time, stirring lightly after each addition.
Blend in cream thoroughly.
Pour filling into crust, then place in the 500° preheated oven.
Bake 10-12 minutes. Reduce heat to 200° and bake an additional hour.
If top starts to brown too much, cover with foil.
DO NOT top cheesecake with foil unless it is browning too quickly.
When cheesecake is done remove from oven and cool for one hour in draft-free place.
Refrigerate overnight.
Notes
~ For the crust, I never fiddle with the sides of the pan. I simply roll out enough for the bottom, filling in any weak spots with extra dough, then bake per instructions.

~ Since oven temps vary (especially in older ovens), you may need another 10ish minutes of baking.

~ When cheesecake is done (will still be a bit wobbly in the center if you shake the pan), I simply turn off the oven, crack the oven door and let it rest there for an hour.

This usually prevents it cooling too fast and thereby cracking.
Recommended Products
As an Amazon Associate and member of other affiliate programs, I earn from qualifying purchases.
Nutrition Information:
Yield: 16 Serving Size: 1 slice
Amount Per Serving: Calories: 234 Total Fat: 10g Saturated Fat: 6g Trans Fat: 0g Unsaturated Fat: 4g Cholesterol: 114mg Sodium: 76mg Carbohydrates: 33g Fiber: 0g Sugar: 25g Protein: 4g

~~~~~~~~~~~~~~~~~~
Tired after all that peeking into the oven to make sure yer cheesecake behaves?
OH, BEHAVE!
Need a simple – no nonsense way – to gather more delicious OMT! recipes in one fell swoop?
Time to SWOOP!
May I present: OMT!'s Top 10 Recipes in one place (no searching!), click anywhere on the image below ▼