Chocolate sheet cakes are all the same, right?
WRONG!
Texas Chocolate Sheet Cake might be the most delicious addicting sheet cake you've ever eaten.
OMT don't lie, y'all.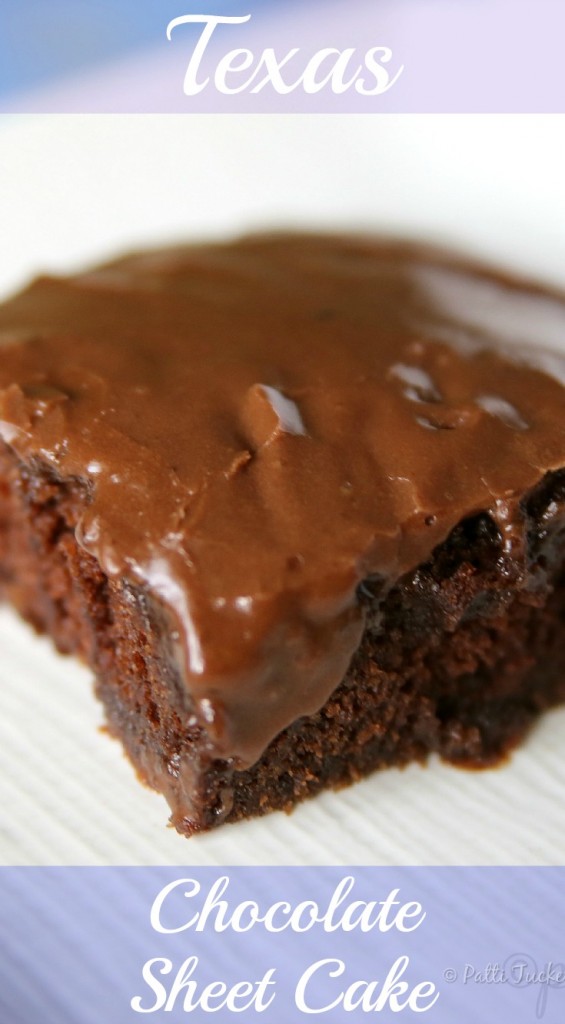 This is my go-to cake when someone needs cheering up, or if I sign-up for a pot luck, or if I need to bribe anyone for anything.
It's that good.
To the recipe!
Texas Chocolate Chocolate Sheet Cake

Ingredients:
CAKE:
2 cups flour
2 cups sugar
1 cup of butter
4 tbsp cocoa
1 cup water
1/2 cup buttermilk
2 eggs, lightly beaten
1 tsp baking soda
1 tsp cinnamon
1 tsp vanilla
ICING:
1/4 cup butter
2 tbsp cocoa
3 tbsp cream
1/2 tsp vanilla
8 oz powdered sugar
1/2 cup chopped pecans (opt)
Instructions:
CAKE:
Mix flour and sugar and set aside.
Put butter, cocoa and water in a saucepan, bring to a boil.
Pour cocoa mixture over flour and sugar. Mix until well blended.
Add buttermilk, eggs, baking soda, cinnamon and vanilla.
Pour into greased and floured 9 x 13 pan.*
Bake at 350 degrees for 30-35 minutes.
Frost cake as soon as it is removed from oven.
ICING: **
Put butter, cocoa and cream in a saucepan. Heat over low heat until butter melts.
Remove from heat and add remaining ingredients.
Mix until well blended.
Spread over hot cake.
Sprinkle nuts on top.
E-A-T!

Notes:
* When flouring a pan for a chocolate cake mix, I use cocoa instead of white flour. Cocoa won't leave a white mark on your cake. Pretty! Cause pretty matters when you're throwing it down your piehole, right?! Right!
** I ALWAYS double the icing recipe, cause, well, MORE ICING!
Just writing about this cake makes me mentally forage through my pantry to see if I have everything on hand to make it…I do!
Happy Baking, Y'all!
If you're interested in having the Top 10 OMT! Recipes in one place (no searching!), click anywhere on the image below ▼

Please Share on Your Favorite Social Media! ~ OMT thanks you! ~