I know – I KNOW! – I'm always yammering about the best this, the best that.
Today, I'm talking about a seemingly unassuming sheet cake, but I'm gonna let you decide.
Just know, my vote is that this is the best chocolate sheet cake I've ever eaten.
And, baby, I've eaten my fair share (and most likely someone else's fair share) of sheet cake in my life.
I see ya nodding.
Lots of folks think chocolate sheet cakes are all the same, right?
WRONG WRONG WRONG!
Sorry. Got a little excited there.
They are not all the same – not by a long shot.
Texas Chocolate Sheet Cake might be the most delicious addicting sheet cake you've ever eaten.
I think it's because of the secret ingredient. Fine, maybe not secret, but definitely unusual.
OMT don't lie, y'all.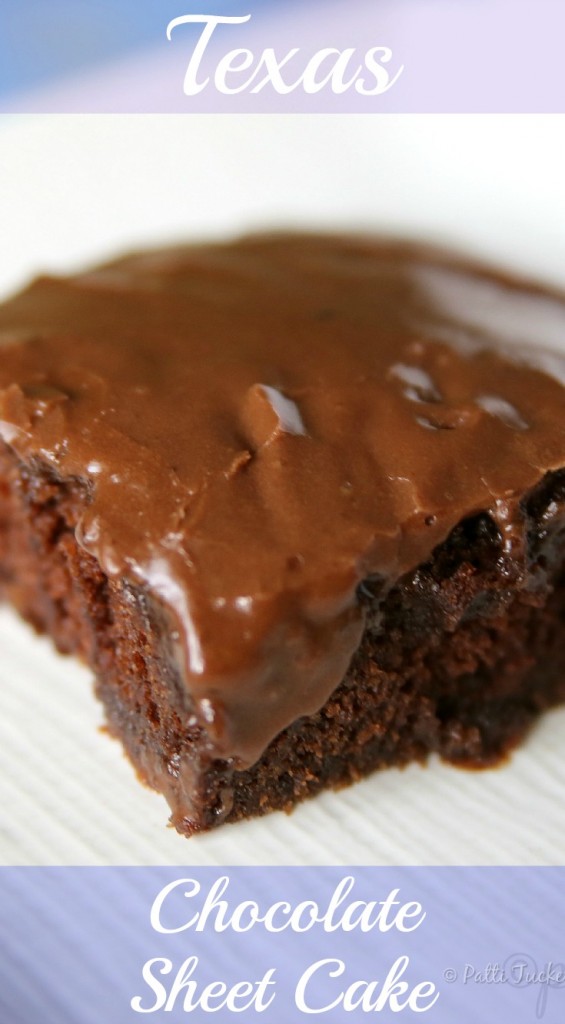 Even if you decide not to make the cake, that icing alone (OH MY LORDT!) is worth making.
I won't tell if you eat it with a spoon.
This is my go-to cake when someone needs cheering up, or if I sign-up for a pot luck, or if I need to bribe anyone for anything.
Sheet cakes are easy and mostly delicious…I say mostly because we've all had a sheet cake that was less than we'd hoped.
But, not this one.
Nope.
It's not hyperbole to say this recipe will change yer sheet cake making ways.
It's that good.
OMT wouldn't kid ya. Nope.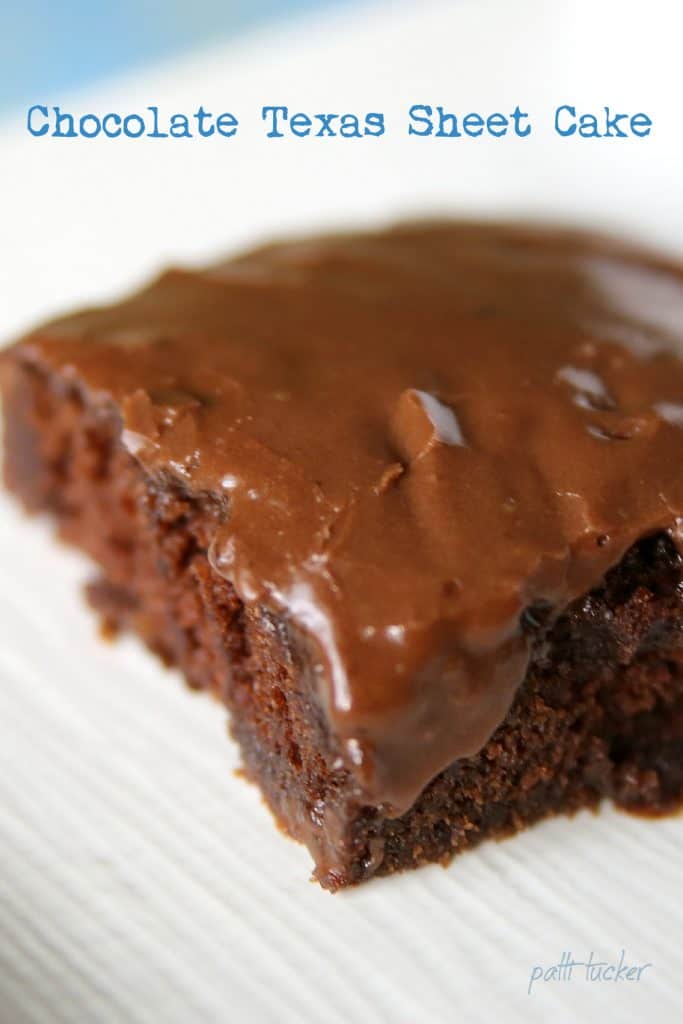 In the recipe card below, I offer a few tips.
One being: dust the pan with cocoa before baking.
Why?
Cocoa won't leave a white mark on your cake.
Pretty!
'Cause pretty matters when you're throwing it down your piehole, right?!
Right!
There's also that aforementioned secret ingredient in the recipe.
Shhhh, so secret.
The secret ingredient – did ya spy it?
I'll give you a minute to scroll down to the recipe.
♫ Jeopardy Music ♫
Butter?
No. That's a given in my baking recipes.
Buttermilk?
Nope. Try again.
Cinnamon?
DING DING DING!
Adding cinnamon to the batter is a like stealth ninja waiting to pounce: Gets you by surprise!
You take a bite.
You wonder, "What is that taste?"
You try and figure it out, you try to place that taste, but to no avail…that is until someone (Oh, Hai! – that's me!) tells you that the unusual deliciousness is brought to you by cinnamon.
You wouldn't think a teaspoon of anything would make that much of a difference, but it does.
To say the cake is addictive is playing it down.
Addictive!
I leave you to it.
Just writing about this cake makes me mentally forage through my pantry to see if I have everything on hand to make it…I do!
Do you?
If not – get thee to the grocery store.
Shop.
Buy.
BAKE!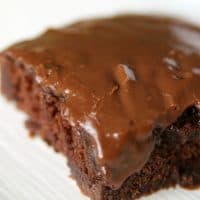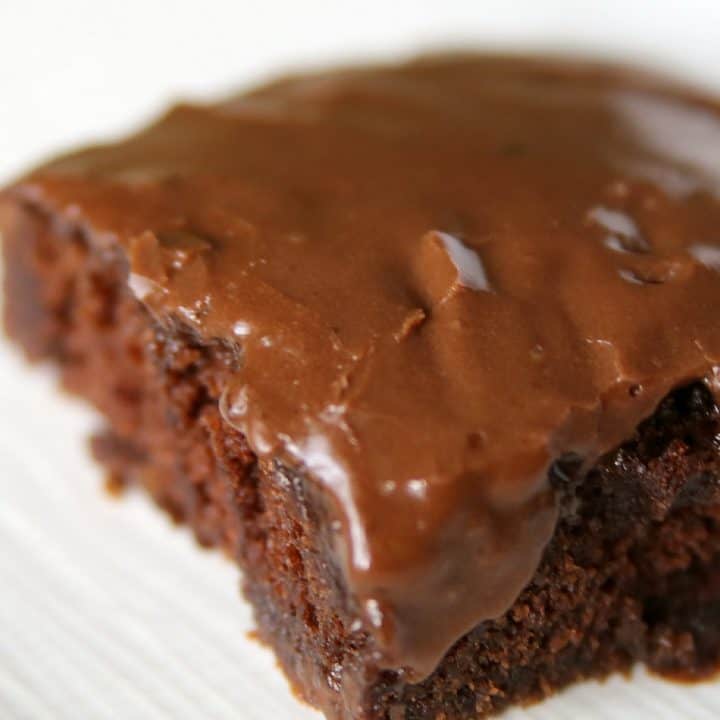 Texas Chocolate Chocolate Sheet Cake
Texas Chocolate Sheet Cake might be the most delicious addicting sheet cake you've ever eaten.
Ingredients
CAKE:
2 cups flour
2 cups sugar
1 cup of butter
4 tbsp cocoa
1 cup water
1/2 cup buttermilk
2 eggs, lightly beaten
1 tsp baking soda
1 tsp cinnamon
1 tsp vanilla
ICING:
1/4 cup butter
2 tbsp cocoa
3 tbsp cream
1/2 tsp vanilla
8 oz powdered sugar
1/2 cup chopped pecans (opt)
Instructions
CAKE:
Mix flour and sugar and set aside.
Put butter, cocoa and water in a saucepan, bring to a boil.
Pour cocoa mixture over flour and sugar. Mix until well blended.
Add buttermilk, eggs, baking soda, cinnamon and vanilla.
Pour into greased and floured 9 x 13 pan.
Bake at 350 degrees for 30-35 minutes.
Frost cake as soon as it is removed from oven.
ICING:
Put butter, cocoa and cream in a saucepan. Heat over low heat until butter melts.
Remove from heat and add remaining ingredients.
Mix until well blended.
Spread over hot cake.
Sprinkle nuts on top.
Notes
~ When flouring a pan for a chocolate cake mix, I use cocoa instead of white flour.

~ I ALWAYS double the icing recipe, cause, well, MORE ICING!
Recommended Products
As an Amazon Associate and member of other affiliate programs, I earn from qualifying purchases.
Nutrition Information:
Yield: 16 Serving Size: 1
Amount Per Serving:Calories: 390 Total Fat: 19g Saturated Fat: 10g Trans Fat: 1g Unsaturated Fat: 7g Cholesterol: 65mg Sodium: 218mg Carbohydrates: 53g Fiber: 1g Sugar: 40g Protein: 4g

EAT!
Happy Baking, Y'all!
Tired of searching for a popular OMT! recipe?
Rest yer weary fingers.
Except to click on the image.
You still have enough strength for that.
COME ON!
Please Share on Your Favorite Social Media! ~ OMT thanks you! ~