I've written about drowning before and how the actual process of drowning doesn't look like you might think it would (if you missed that important post, you can read it HERE). Today, let's take a look at secondary drowning.
If you're like most of the world, when it gets hot, you want to cool off with a swim, as do your itty-bitties. Children love to be in the water, even if they're not very good at the actual swimming part.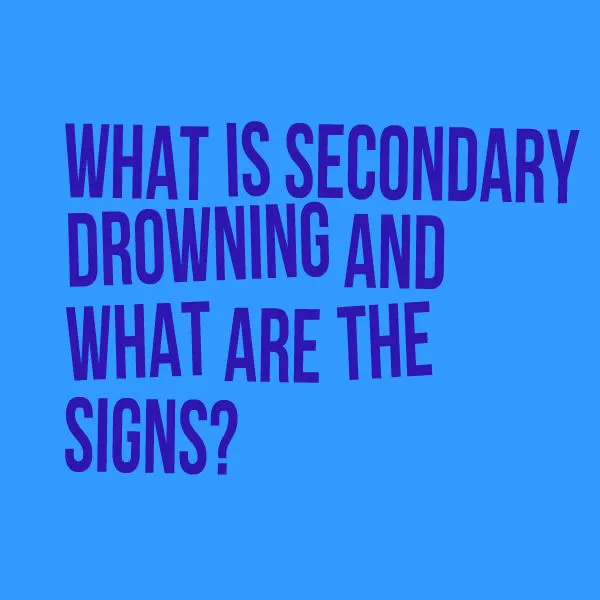 What is Secondary Drowning?
* Water or other fluid enters lungs during a struggle, which in turn triggers the muscles in their airway to spasm and makes breathing difficult…fluid builds up in the lungs, called pulmonary edema, after a near-drowning incident. The fluid causes trouble breathing.
NOTE: This can happen in any body of water, bathtub included.
* Person is conscious.
* Person may insist after much coughing that they are fine, may walk around and behave normally, but the fluid may stay in their lungs and impair breathing and cause drowning a few hours later, IE secondary drowning. Onset is usually rapid and characterized by a latent period of one to 48 hours of relative respiratory well-being.
What are the Signs of Secondary Drowning?
* Coughing after ingesting water.
* Possible pain in chest upon inhaling.
* Trouble breathing or catching their breath. Can be characterized by fast and heavy breathing.
* Lethargy and extreme fatigue
* Change in mood or behavior.
Wow, right?
While secondary drowning is not common…it amounts to only 1%-2% of all drownings…you should be aware and proactive whenever you and your loved ones are swimming.
Small children will be harder to "eye-ball diagnose" because after a full day of fun and sun their mood usually changes no matter if they have been swimming or not. If you know they have ingested water and they exhibit other symptoms, an ER visit is not out of the question. Secondary drowning is treatable, but can be deadly if you wait too long.
Knowledge is indeed power, my babies. Let's share this info and make sure we're safe when enjoying the pleasures of a cool dip.
Put those floaties on, get the noodles, slather on the sun screen, and have some swimmin' fun!