Hard-boiled eggs, I love them.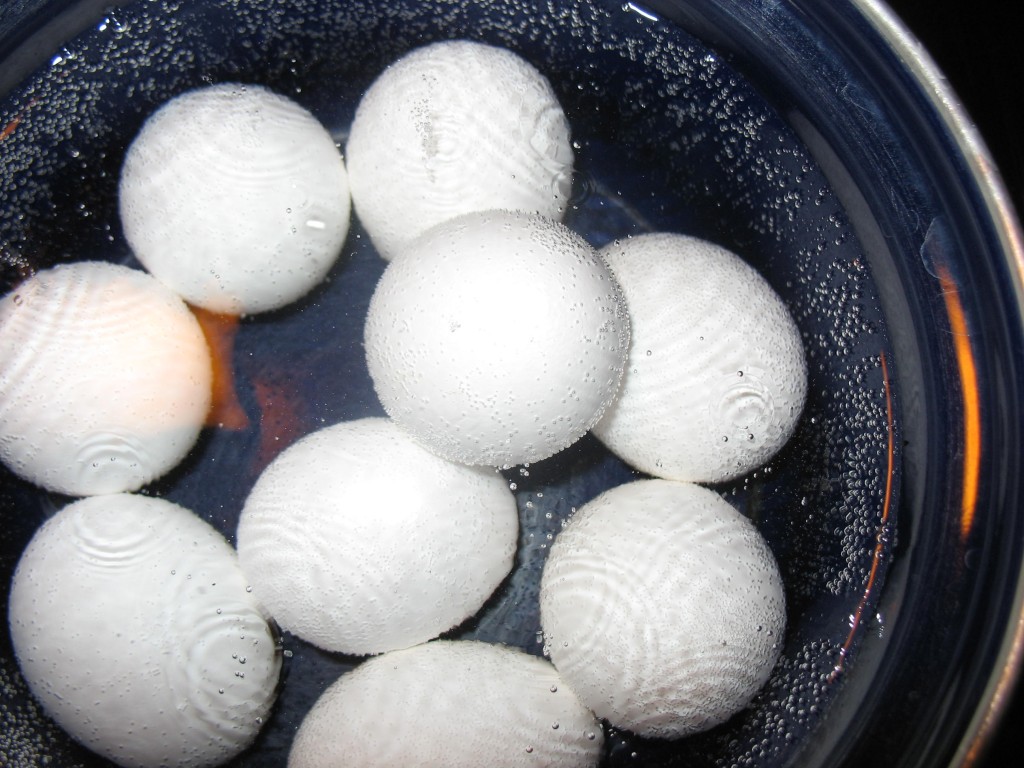 I usually have a container of them in the fridge because #1) they are a great source of quick protein when a gal is training and #2) they remind me of Easter.  But, mostly because of #1.  Mostly.
Here's how I make them:
* Put cold water in a pot.
* Place cold old(er) eggs in water (I place eggs after the water cause I'm kinda a klutz and don't want to break any.  The water should cover the eggs by an inch).  This should be done in one layer, yet as you can see, I threw in one extra.  REBEL!
* Bring pot to hard boil.
* Remove pot from heat and cover.
* Let stand for about 12 minutes.  The eggs will cook in the hot water.  I swear, they will!  This will also prevent that greenish tinge of the yolk indicative of an overcooked egg.  Although, that has never stopped me from eating those bad boys (the color is harmless, yet points to this fact: Hard-Boiling eggs.  You're doing it wrong!).
* Rinse with cold water.  For good measure, I usually throw some refrigerated water in the pot after the first rinsing and then if I'm feeling saucy, some ice. INNOVATOR!
* Wait until cooled completely to peel, so the egg membrane (or as I think of it: mem-brain) has time to contract from the shell, thereby making peeling easier (in theory.  this doesn't always work).  Also, older eggs produce better results than newer eggs.  It has to do with air transfer of older eggs.  SCIENCE!
* Cuss a blue streak when SCIENCE! fails me and the egg shell stays glued to the egg, producing a sad mangled misshapen egg as a result of gouging the shell off.
* Store in fridge.  Some folks store in the shell;  I peel them and store in a tightly sealed container.  That way, I can grab and go as needed.
* Optional Instructions: When grabbing a peeled egg from the container, crack a "who farted?!" joke.  IF YOU SMELT IT, YOU DEALT IT!
Class dismissed!
Please Share on Your Favorite Social Media! ~ OMT thanks you! ~