Mrs. Tucker is a sunny gal, y'all.  Easy to get along with.  Full of happiness and optimism.  Silly².  Except when she ain't.  Witness Part One, Part Two, Part Three and Part Four of my perimenopause journey.
Perimenopause is the bitchiest of bitches.  She will cut you.  Can I get an AMEN?!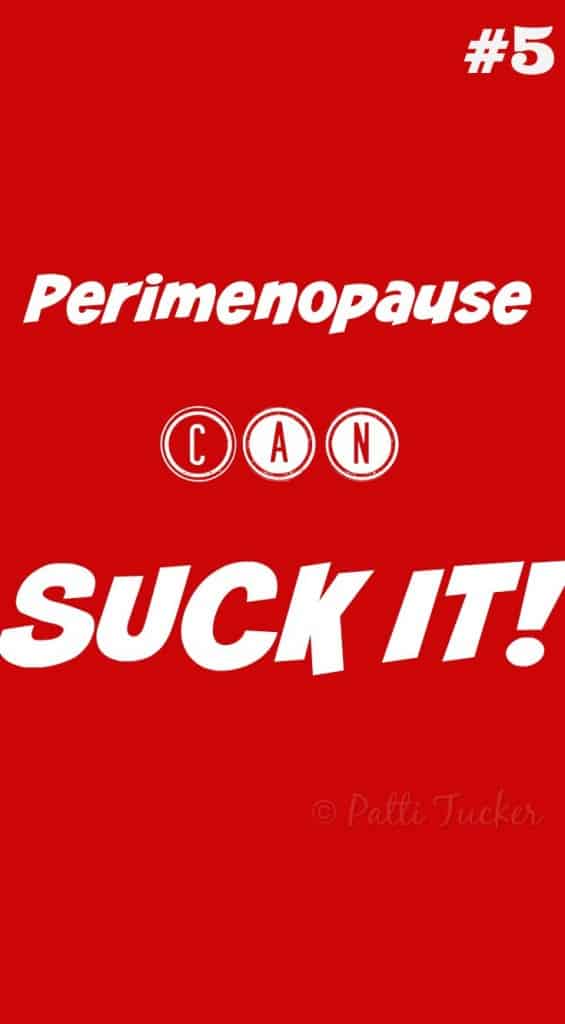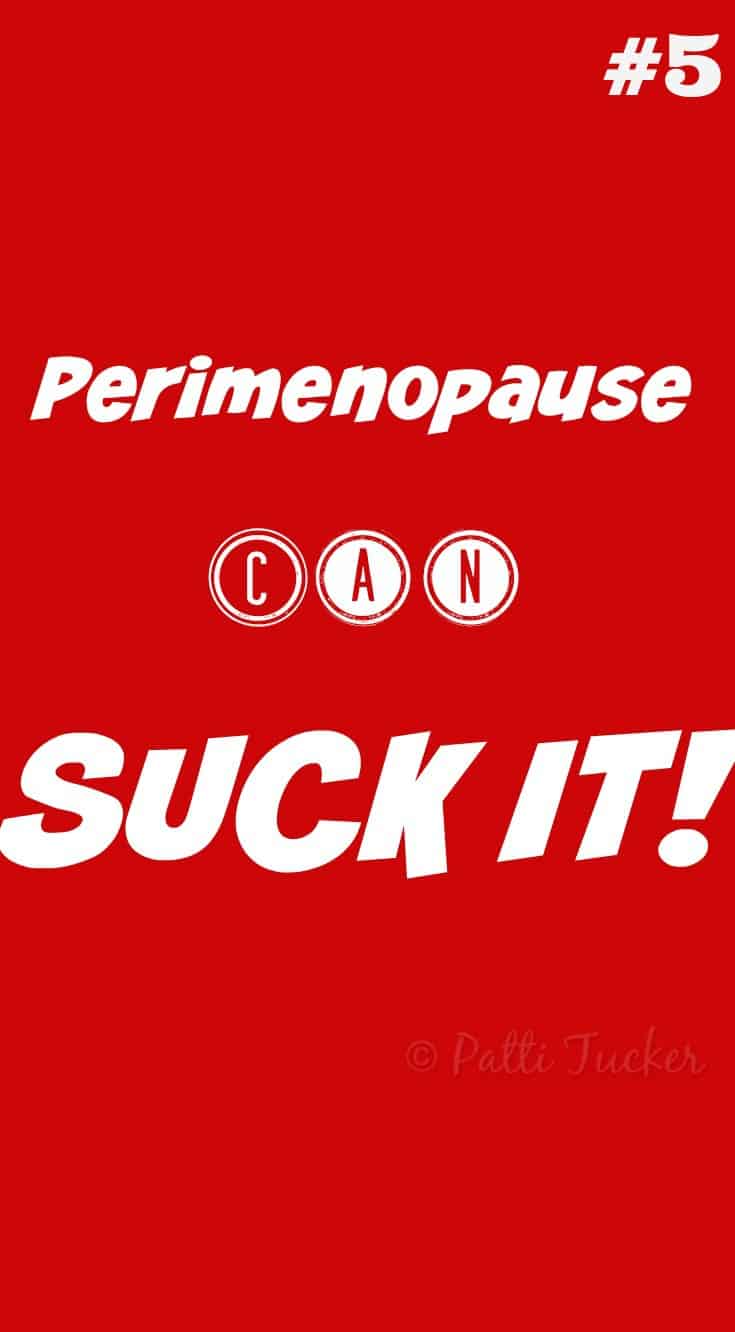 I just recovered from one of the absolute worst days I've had so far with the beast of biblical proportions known as perimenopause.  The mythical rage of hormones I have heard whispered about, yet have never experienced, dropped by for a smack down.
During visitation hours, all I wanted to do was beat the holy hell out of something/someone and then sleep it off, like a bad hangover.  Oh, and cry.  I wanted to cry.  A lot.
What exactly is going on when this hormonal rage happens? (For those of you who haven't experienced this mofo, using the word "rage" doesn't adequately express the transformation.)  I know the following is politically incorrect and a tad shocking, but it's hammer-to-the-nail truth: I wanted to break bones.  Bust teeth.  Kick in doors.  Dare someone to get.in.my.way.
Me.  The optimist and annoyingly happy/silly/laughy gurl.
WHAT THE HELL JUST HAPPENED?
~researchresearchresearch~
Turns out that perimenopausal rage is a thing. 
YAY!  Aren't we lucky?!
* Little thangs become BIG THANGS.  Yep.  I have that.  Hormonal dips and imbalances are likely the culprit.  One minute the blue bird's song is endearing, the next it's so grating you're looking for your shotgun.
* Anxiety x 100.  Yeah, got that too.  You know the mommy-disaster-visions you are used to having? Child is late getting home by 10 minutes = they are dying in a ditch, bleeding out, all alone.  During perimenopause it's the same, but waaay more twisted.  The ditch is a living burning inferno and their souls are in danger of crisping around the edges and it's all because you SUCKED as a mother.  One more popsicle!  That's all they wanted.  Would that have been so bad?!  Yeah.  Like that.  Everything illogical, pressing and expanded.  Over and over.  Again, hormones.
* Turns out if you suffer/suffered from bad PMS, the likelihood of you having postmenopausal rage is high.  Salt meet wound.
* Did you experience postpartum depression?  Women who suffered with postpartum may have brains that are more sensitive to hormonal imbalances and therefore will get the double-whammy in perimenopause.  Seems so cruel, doesn't it?
Basically, the hormones that have made me such a happy gal my whole life are now waning, or are disproportionate to the other hormones running roughshod throughout my veins.
There are lots of solutions available to ease this transition, including exercise, good health habits (no smoking, less sugar and caffeine), drugs, creams, bio-identicals, alternative meds and plain old nutrition.
Personally, I've advised Husband to hang on, baby!  OMT is going native.  No drugs, no creams, no antidepressants.  Just plain old digging in and moving through.  Maybe, with a knife between my teeth and a hand grenade on my belt, but plain old gutting it out.  God-willing, I'll make it to the other side and one day laugh about it.  Remember that time I wanted to BEAT ALL THE THINGS?!  Oh, hahahahahaha!
Important Note: Each of us must educate ourselves and make decisions that are in our best interests.  While I have researched the dog out of perimenopause and have decided to ride out the storm sans drugs doesn't mean that's the right decision for you, nor should we judge each other for our decisions.  HELL NO!  Let us band together, as the fierce women we are, and get to the other side of this bitch with our sanity and good humor…no matter what path we take.
Speaking of Husband, or more to the point husbands, I read a shocking stat about women older than 50 (just about the age perimenopause rages) and divorce: A half-century ago, only 2.8 percent of Americans older than 50 were divorced. By 2000, 11.8 percent were. In 2011, according to the Census Bureau's American Community Survey, 15.4 percent were divorced and another 2.1 percent were separated. Some 13.5 percent were widowed.
Whoa.  It made me think about my awful no good day from Husband's perspective.  The person he was having dinner with that night certainly wasn't the gal he had married.  Poor man.  The upshot to this is we talk about it openly.  There are no egg shells to be afraid of here.
Him: Having a bad day?
Me: YEAH, WHAT'S IT TO YA?! WANNA GO?!  ~head fake~  DO YA?!
Both of us: Holy crap!
Me, the next day: ♫ sorry…love you!  smooch smooch kissy kiss ♫
I try like hell not to let the skewed emotions get the best of me and most days I succeed.  But, for the moments I don't, we simply move on, knowing tomorrow will be better.  So far, so good.  Thank God.
Husband is understanding and accepting that this is life right now.  We'll get through it like everything else that has come down the road.
Yet, the stats made me wonder if the divorce rate is higher in the 50-year-old and above category because people shy away from talking about the hard stuff.  I'm not saying there weren't other problems in those marriages, or that we don't live in a different time where divorces are easier, but if folks talked openly about how hard some days would be and no one took the extreme crankiness personally, would the rates be the same?
Knowledge is power.  One day, when perimenopause is bursting through your door, raging up the joint, this little bit of info will help.
You're not going crazy.
This is normal.
You will live through it.
Your Husband will take off his flak jacket one day.
Until then, man alive, hang on.  Let's get through it.
Perimenopause can SUCK it.
* Disclaimer: All information in this series is based on my personal experience and is not intended to take the place of your doctor's advice.
~If you liked this post, please help me spread the SUCK IT love by sharing on your favorite social media. Thank you!~
Please Share on Your Favorite Social Media! ~ OMT thanks you! ~