Natural peanut butter peanut butter cookies.
That title is a mouthful, right?
So are these cookies:
Think "natural peanut butter" used in peanut butter cookies!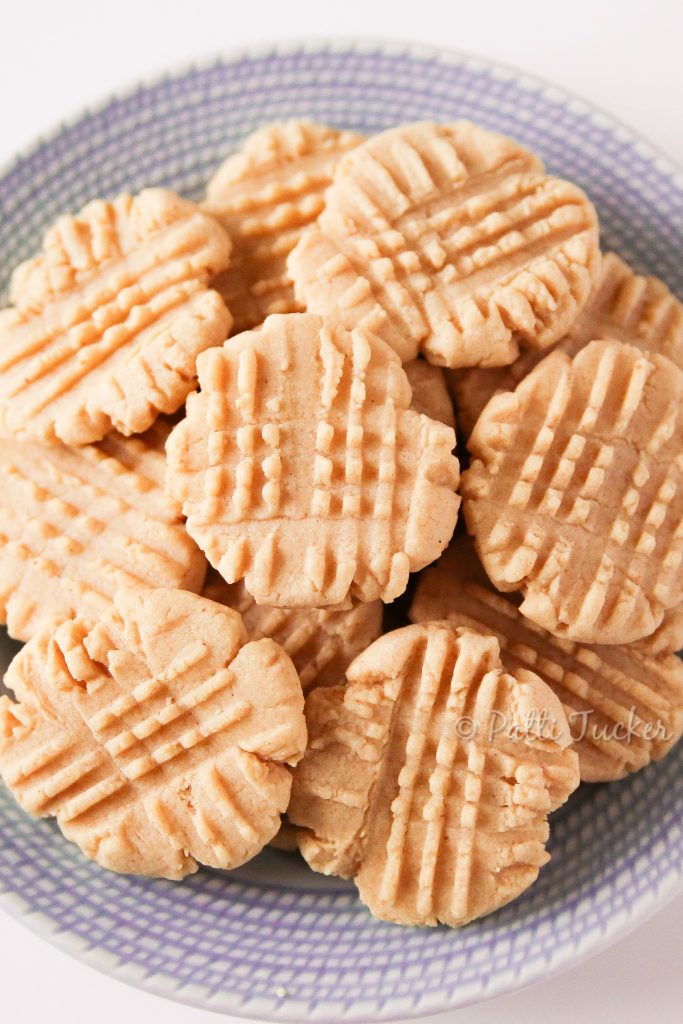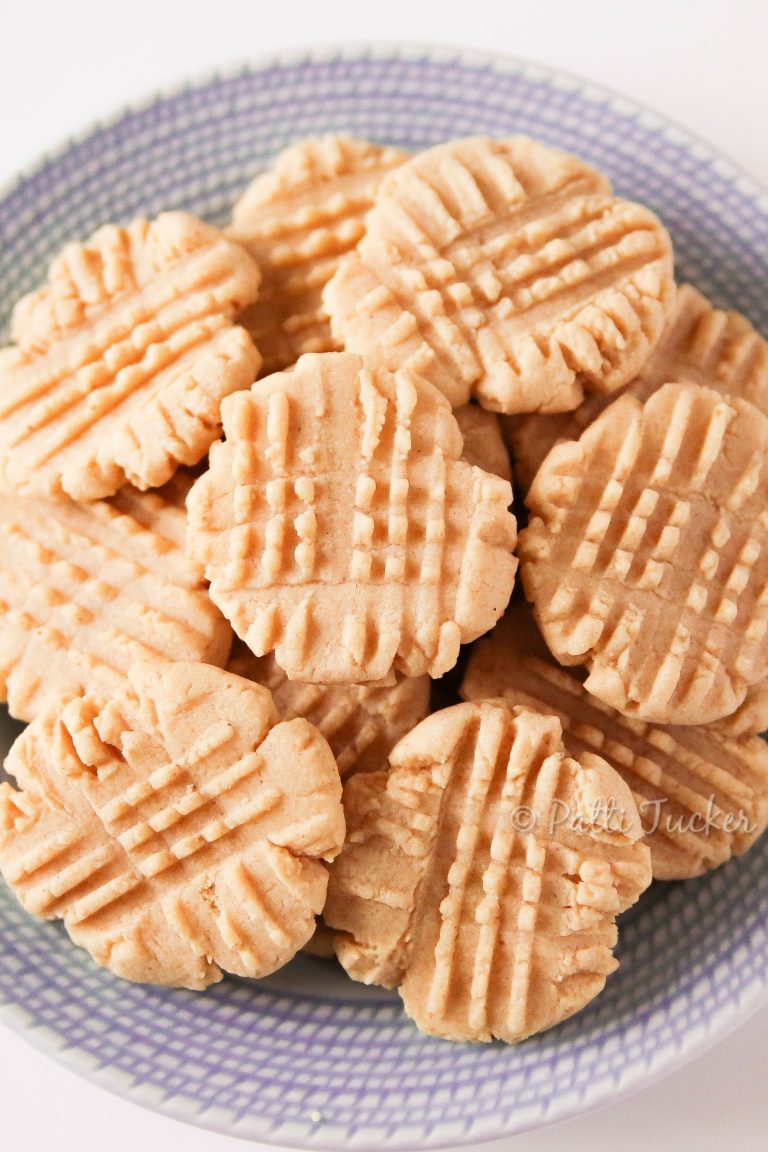 What I mean to say, however oddly stated, is that I made traditional peanut butter cookies with non-traditional peanut butter, aka natural peanut butter.
You know, the stuff you gotta stir.
The stuff with two ingredients: ground peanuts and salt.
The stuff with no sugar added.
The stuff that has been banned from our pantry because of its disappointing charade of trying like hell to be peanut butter.
QUICK SIDE STORY:
We are peanut butter eaters/lovers/nommers. We can go through a jar like nobody's biznezz.
Therein lies our problem (#peanutbutterloversproblems).
It's not so good for you in the quantities we consume, so I had the bright/horrible idea to replace our sugar-laden peanut putter with the natural stuff.
The stuff that's really nothing like traditional peanut butter other than the color.
What a disaster.
I also made the mistake of purchasing two jars, two GIANT jars, because hey! Costco had a great deal on theirs.
For a solid month after purchasing, I kept selling the idea of our new found healthy peanut butter to Garry.
His reaction was to smile weakly in my direction, with a healthy dose of toddler side-eye.
In other words, he wasn't buying what I was selling.
I had it on crackers. I had it on bread. I spread it on toast. I dipped apples in it.
And every time I ate it, I told Garry that it would take some getting used to, but this was a good change to make.
I was a big fat liar.
And one day, as I was curling my lip at the mess of brown "butter" on my bread, I decided to have a peanut butter intervention with myself.
STOP LYING TO EVERYONE YOU LOVE! STOP LYING TO YOURSELF! THIS IS NOT GOOD! YOU HAVE TO LEAVE THIS LIFESTYLE CHANGE BEHIND YOU! IT'S TIME TO GET CLEAN!
…and so I did, and there was great rejoicing throughout my house and with those I loved.
The End
Trouble is, I hate to waste anything.
So, what the hell was I going to do with my leftover natural peanut butter (I just came thisclose to calling it peanut sludge)?
MAKE COOKIES!
…and so I did.
Truth is the cookies were good; I ate quite a few of them and so did Garry.
I'm not a fan of peanut butter cookies, but these were perfect.
Light. No heavy peanut butter taste. Way less greasy.
A definite hit.
I was concerned that the lack of sugar in the natural peanut butter would leave the cookies lacking.
I even thought about fiddling with the recipe to add a bit more sugar, but left it as is for a fun-time experiment.
The verdict?
I would happily make these again if I'm ever in the position to use up a giant jar of natural peanut butter. Right. I can't see that ever happening again.
But you guys may be in that boat, or natural peanut butter may be a staple in your pantry.
This recipe worked great.
I took these to Sweet E's birthday celebration and even he liked them.
Cute kiddo approved!
You can't argue with cute.
Happy Baking (or eliminating the sludgy peanut butter from your lives), Y'all!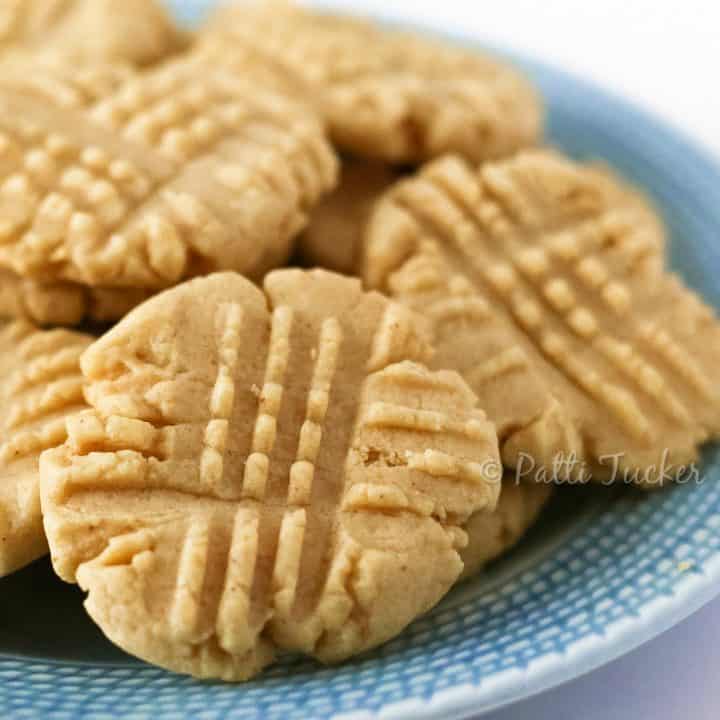 Natural Peanut Butter Peanut Butter Cookies
Yield:
3 dozen 2 1/2 inch cookies
Additional Time:
15 minutes
Total Time:
1 hour
3 minutes
A twist on an American classic Peanut Butter Cookie,
Ingredients
1/2 pound (2 sticks) unsalted butter, at room temperature
1 cup white sugar
1/2 teaspoon salt
1 large egg yolk
1 large egg
2 teaspoons vanilla
2 1/2 cups all-purpose flour
2/3 cup natural peanut butter
Instructions
In a large bowl, on medium speed, beat butter, sugar, and salt until fluffy and well blended.
Beat in egg yolk and peanut butter.
Add egg and vanilla and beat until well combined.
Reduce speed to low and beat in flour until just blended.
Divide the dough in half and wrap in plastic.
Refrigerate until firm, at least 1 hour.
Preheat the oven to 375°.
Roll into 1 inch balls and place on parchment-lined cookie sheets, spacing about 2 inches apart.
Flatten each ball with a fork, making a criss-cross pattern.
Bake until the cookies are evenly golden brown, 6 to 10 minutes.
Notes
Adapted from Joy of Cooking
Nutrition Information:
Yield:

36
Serving Size:

1 cookie
Amount Per Serving:
Calories:

134
Total Fat:

8g
Saturated Fat:

4g
Trans Fat:

0g
Unsaturated Fat:

4g
Cholesterol:

29mg
Sodium:

52mg
Carbohydrates:

13g
Fiber:

1g
Sugar:

6g
Protein:

3g
Now that you have this recipe – did ya know I created a PDF for others?
Tired of searching for a popular OMT! recipe?
Rest yer weary fingers.
Except to click on the image.
You still have enough strength for that.
COME ON!
YOU CAN DO IT!