DIY your own backyard fire pit in three easy steps!
#1: Have a dead or dying tree that must be taken down.
This is/was our beloved giant ash tree, or as we lovingly referred to it: the Big Ass Tree (clever, bordering on the profane is a gift…).  Ash trees typically have a lifespan of about 30 years and that's pushing it.  This one was 35-years plus and it was throwing off branches the size of mid-sized cars; it was time for it to come down.  Our arborist said it was a testament to our care that it had lived so long and looked so good, but that once the giant limbs start breaking off, it's time to bring down the entire tree, or risk it coming down during a storm.
The tree shaded most of our house, but the nail in its coffin was that it was located in close proximity to our bedroom.  I'd get out of bed during every violent storm to see if it was gonna come crashing down and crush us. Can't be having that kind of nonsense.
We said our sad goodbyes and took down that mammoth badboy.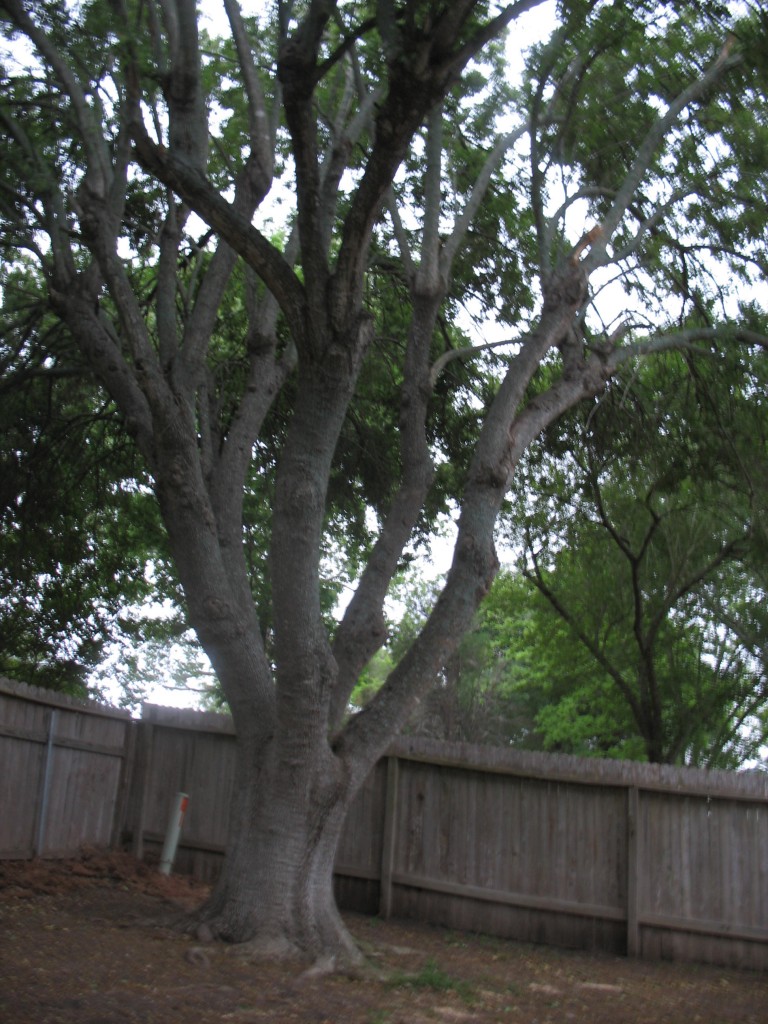 #2: Have the crew cut the stump low and semi-inverted (or DIY, if you're that much of a badass by cutting down your own giant trees) .
The poor crew.  The tree was bigger than anyone imagined.  They kept cutting; it seemingly kept growing new branches.  So. Much. Tree.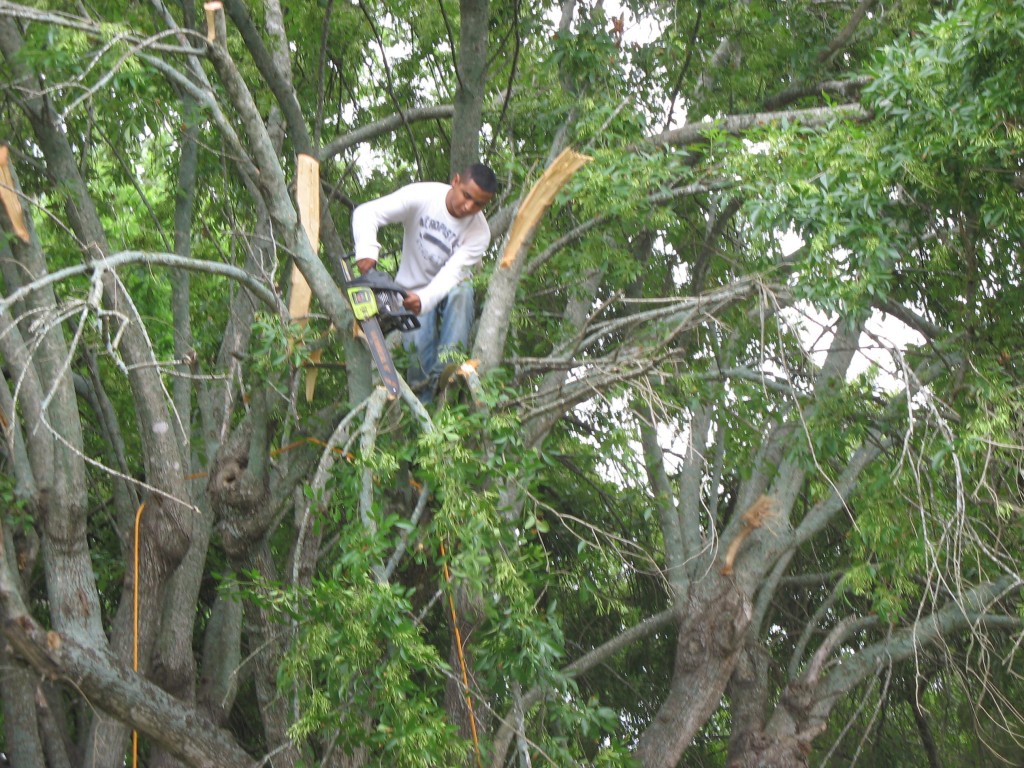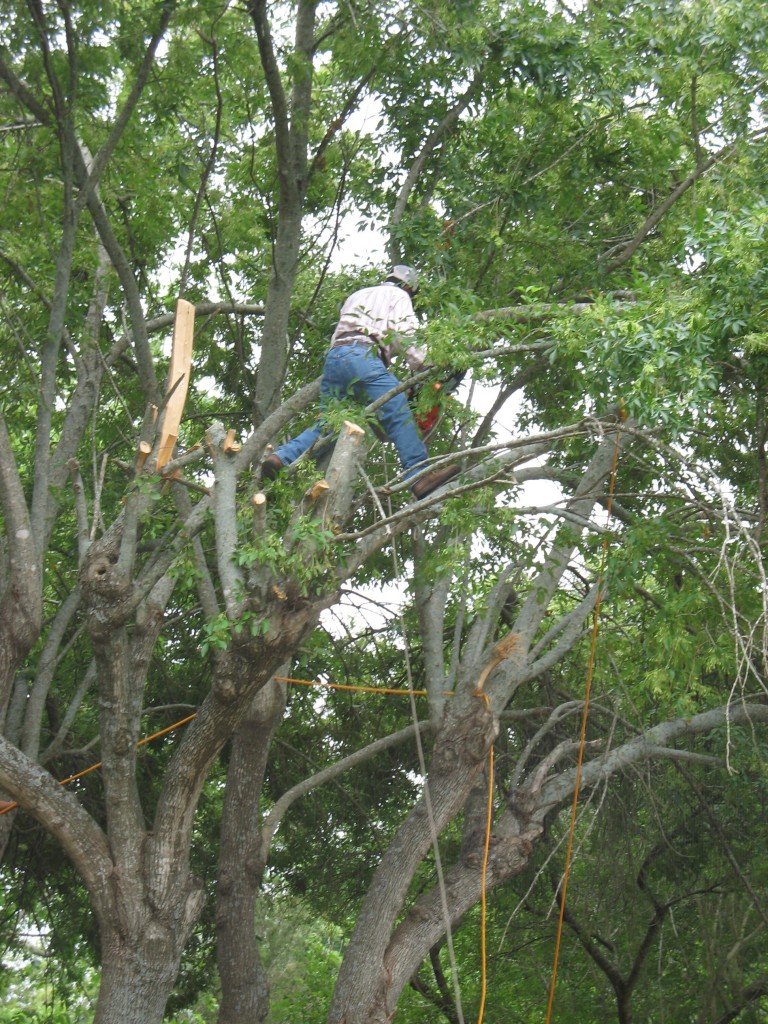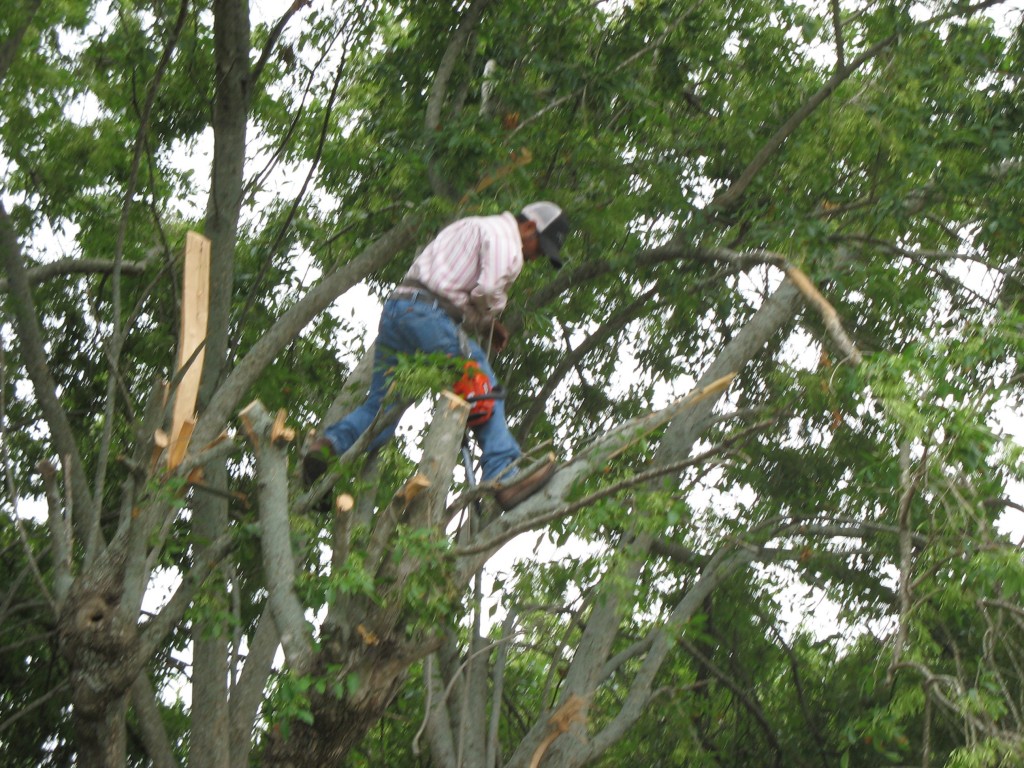 Soon, they got it down to working size.  Come on, fire pit!  Truth is, this pic still makes me sad, because it was a great tree and I hated to see it go.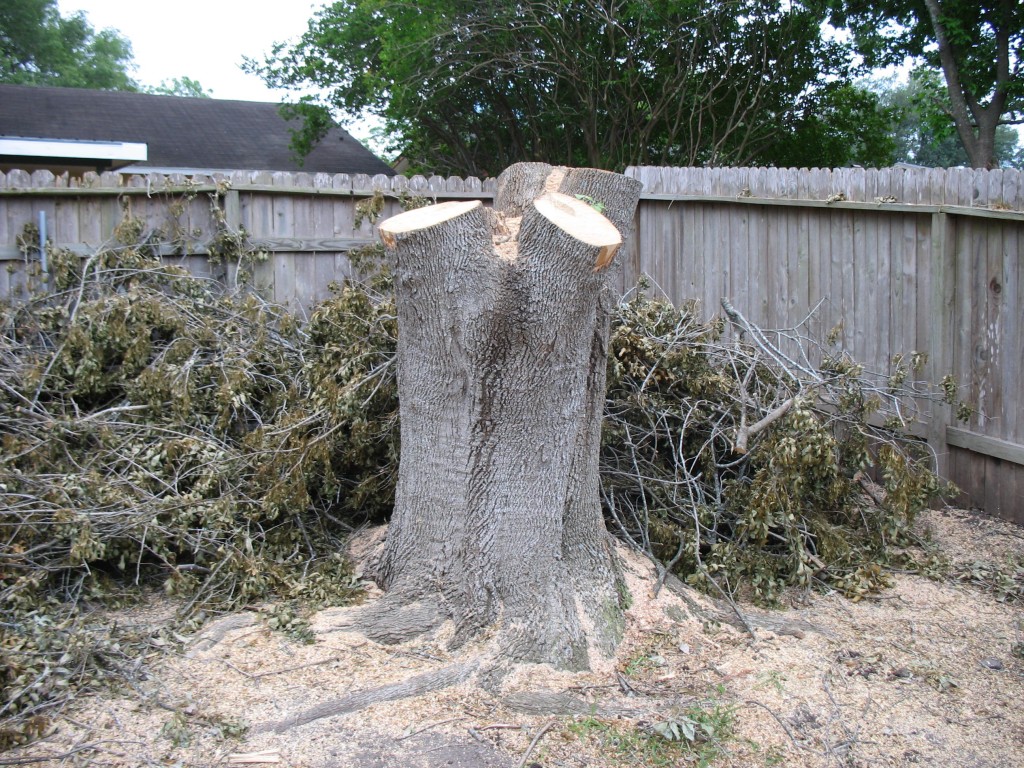 I explained what I was shooting for in the pit and the guys got to work: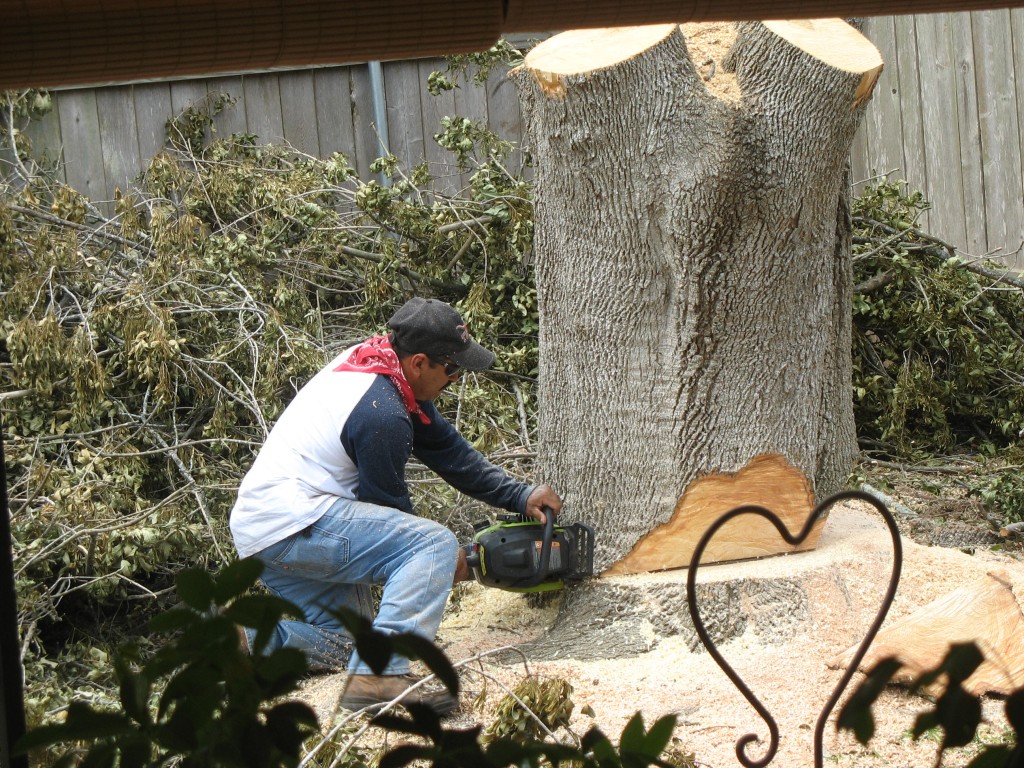 PULL! PUSH!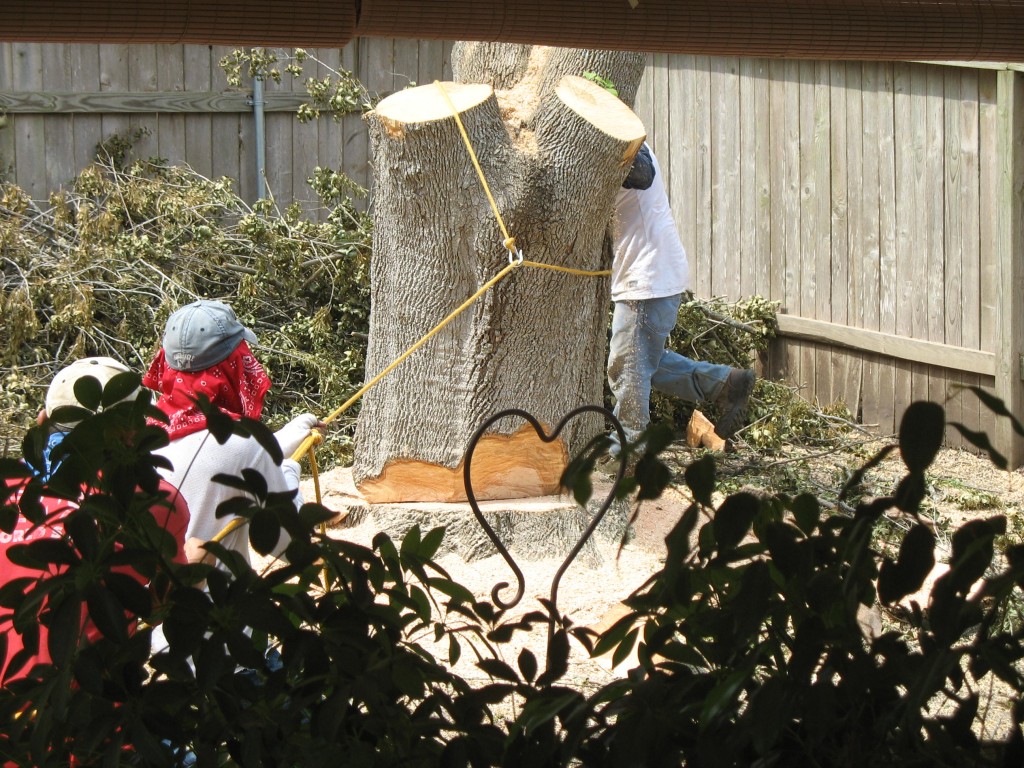 Success (took a few hours of work and discussion)!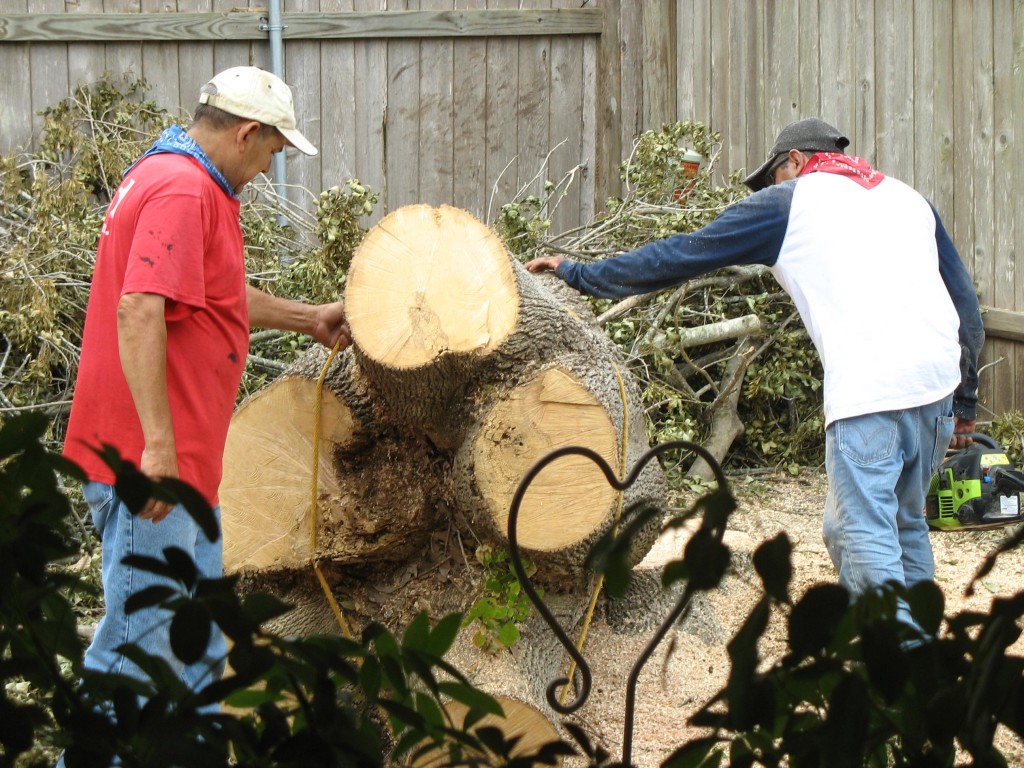 The desolate scene of the crime.  Things were looking bleak.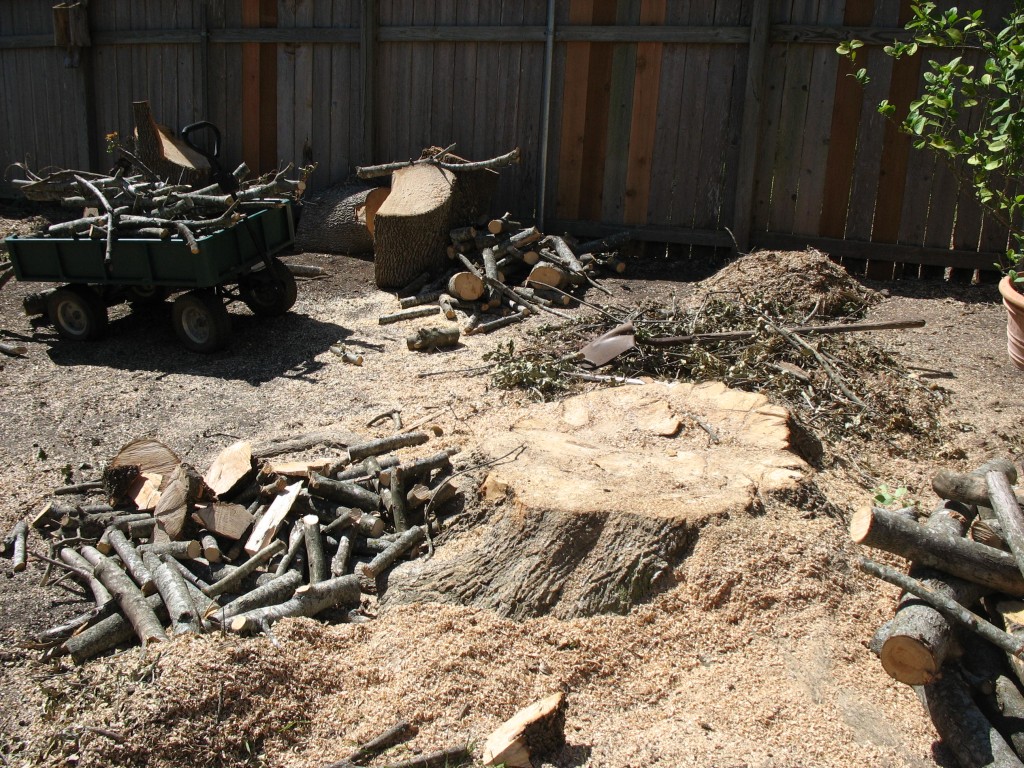 Not for Dexter: MINE!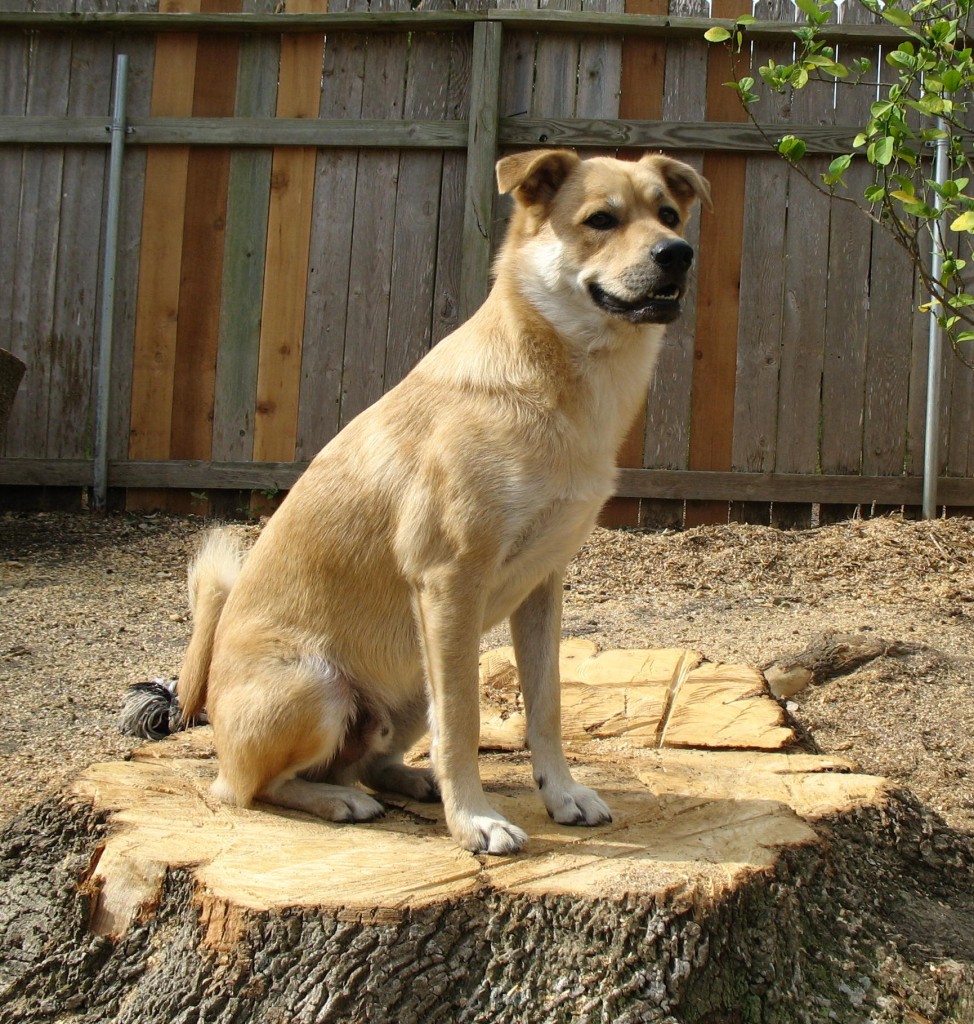 The inversion: the inside was cut in a slight V angle, so the soon-to-be burning wood would have a place to rest.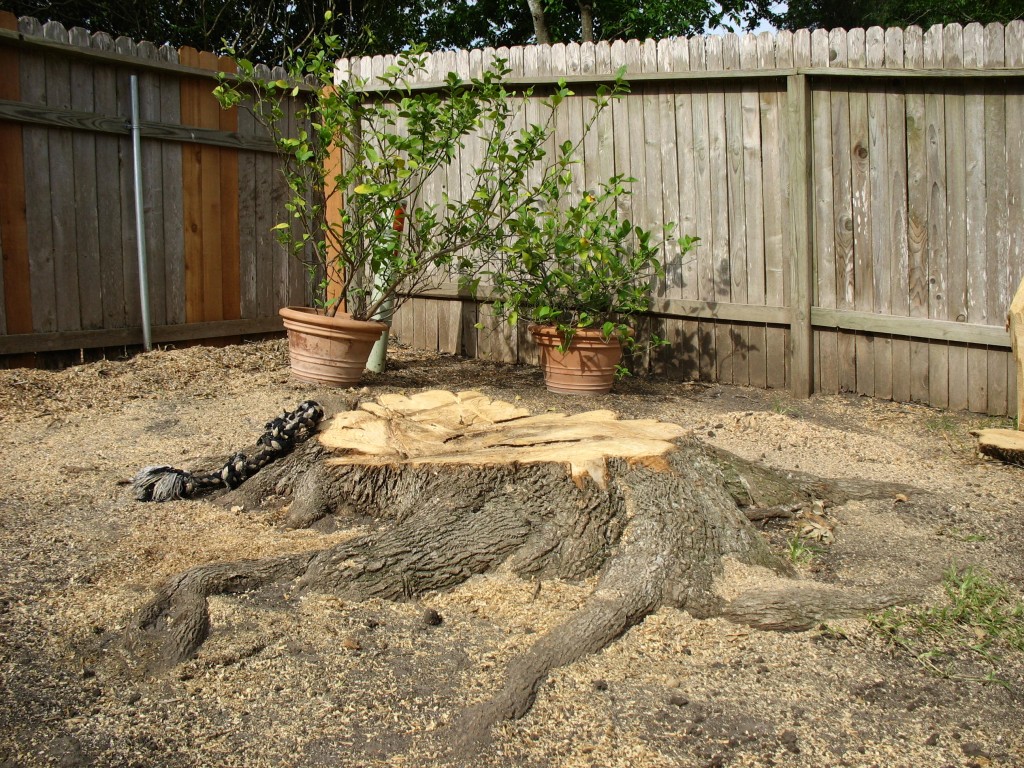 This was what the sad yard and pit looked like last summer after everything was cleaned and we were ready to burn stuff.  The tree was so dense that even shade-tolerant St. Augustine grass refused to grow underneath it.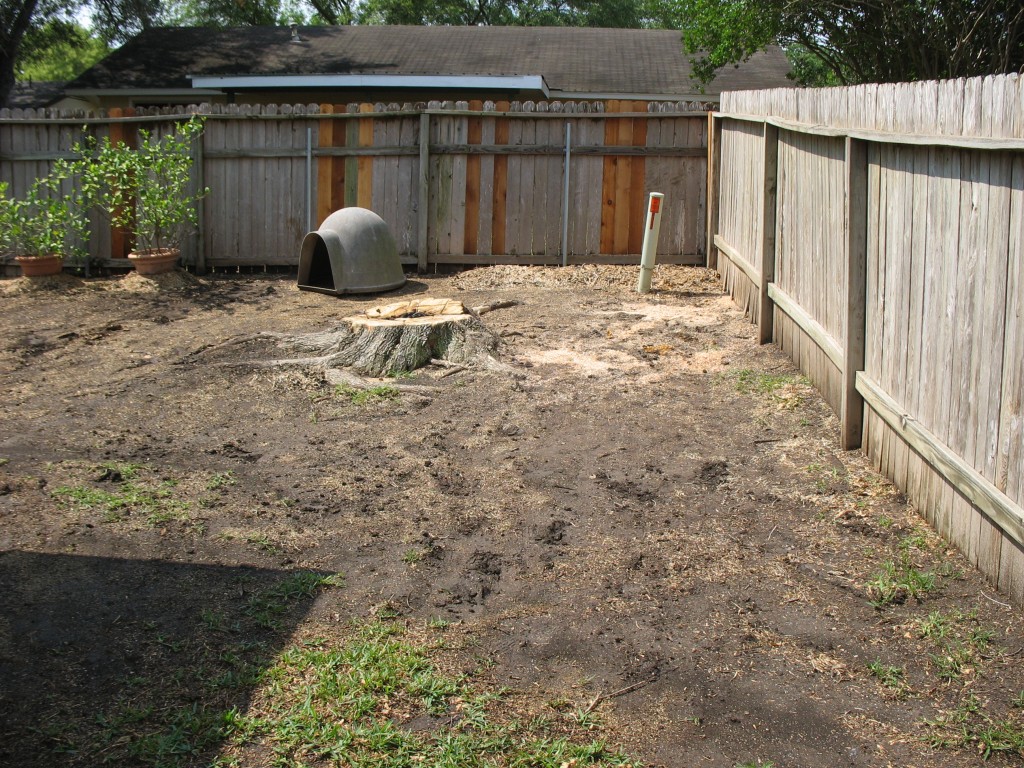 #3: Start burning ALL THE THINGS in your stump, aka, new fire-pit.
With a little TLC and some new sod, this is what she looks like this year: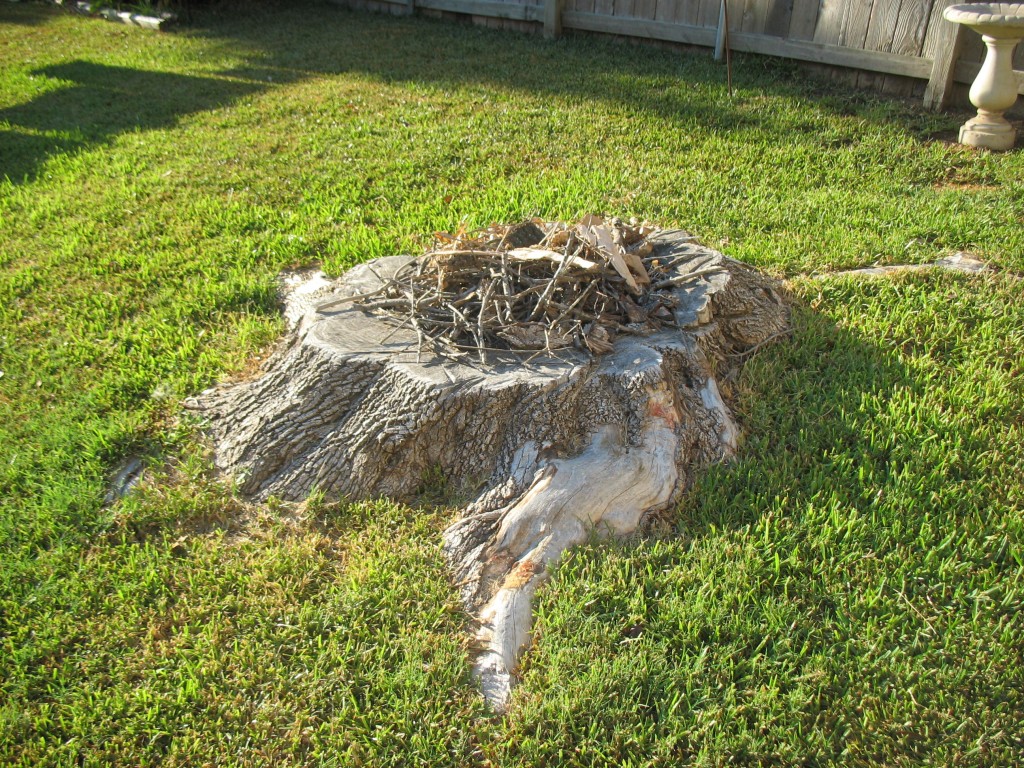 You can see that the grass has fully grown in and that the remaining tree roots add an interesting design to the hillbilly fire pit.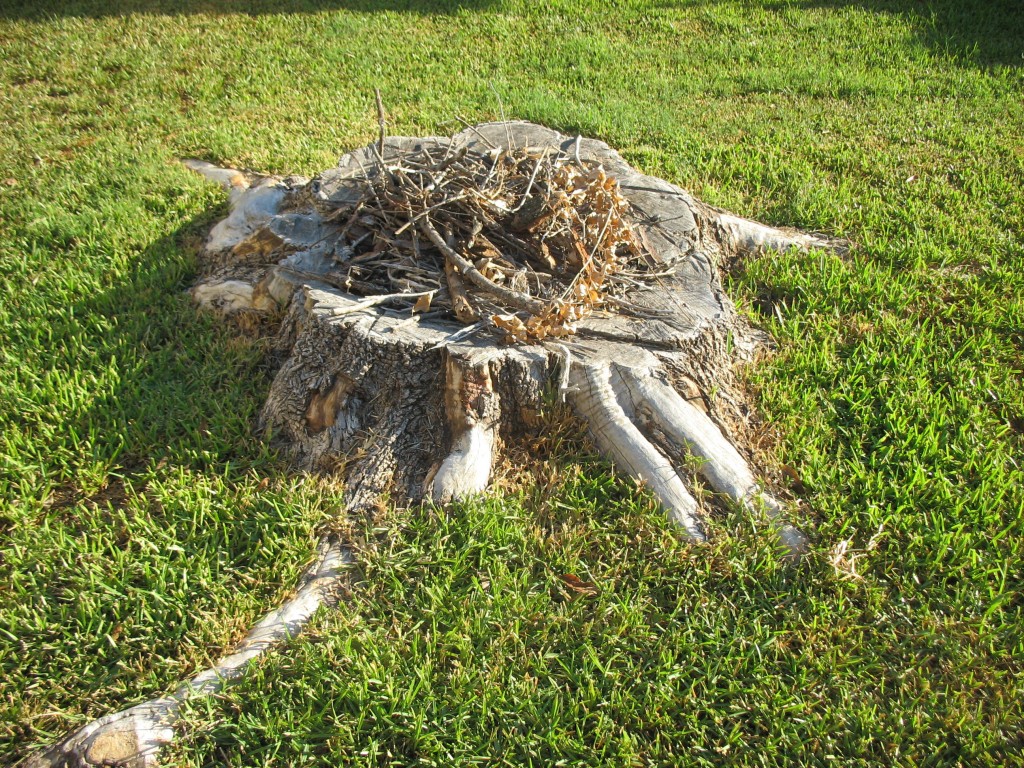 Underneath the kindling, is a burnt out spot that grows deeper with each fire.  Once the pit burns down far enough, we'll add stone around the perimeter to retain the shape: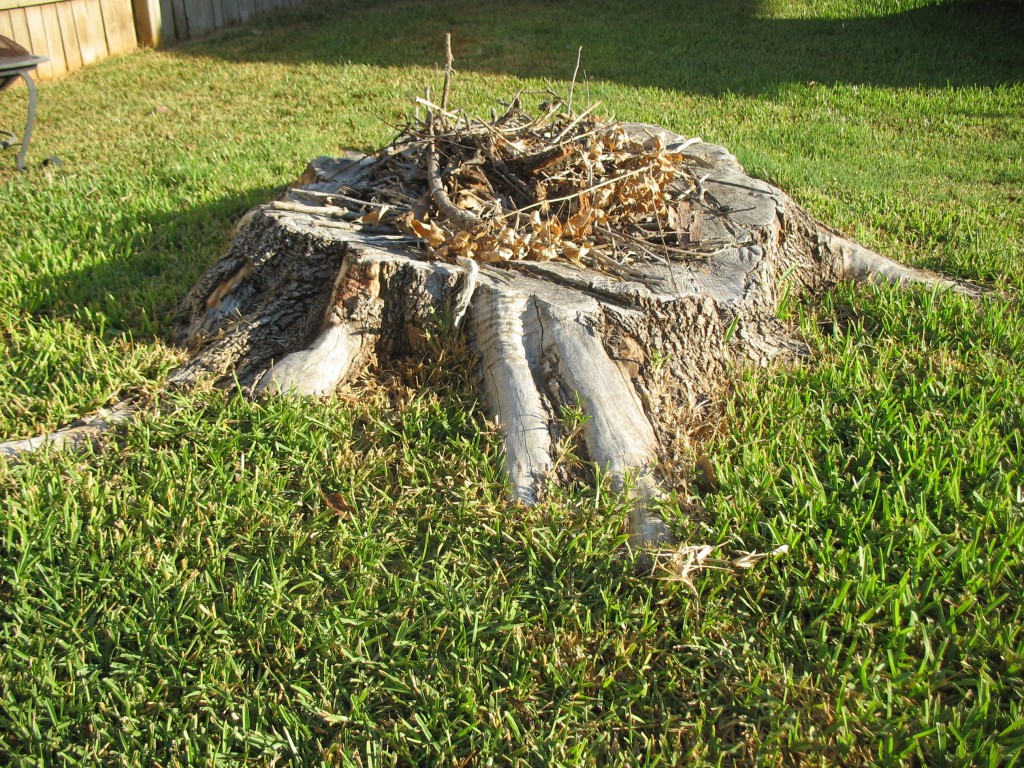 Usually there are chairs and a small table out here.  After all, one needs sustenance and adult beverages if one is going to engage in a proper fire pit conversation.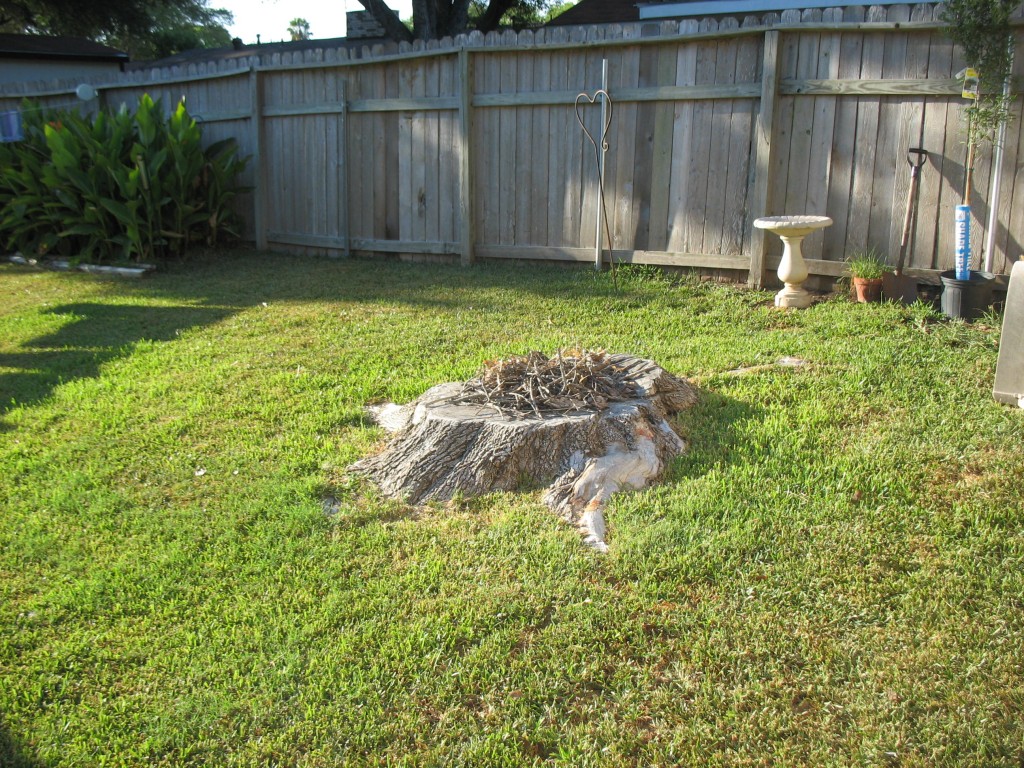 In conclusion:Making a fire pit out of your tree stump is > using your tree stump as a table for your potted plants.  (So far, so good, but as for you and your stump pit, err on the side of caution. If you think there is a danger to igniting anything other than the stump, don't do it!)
This: YES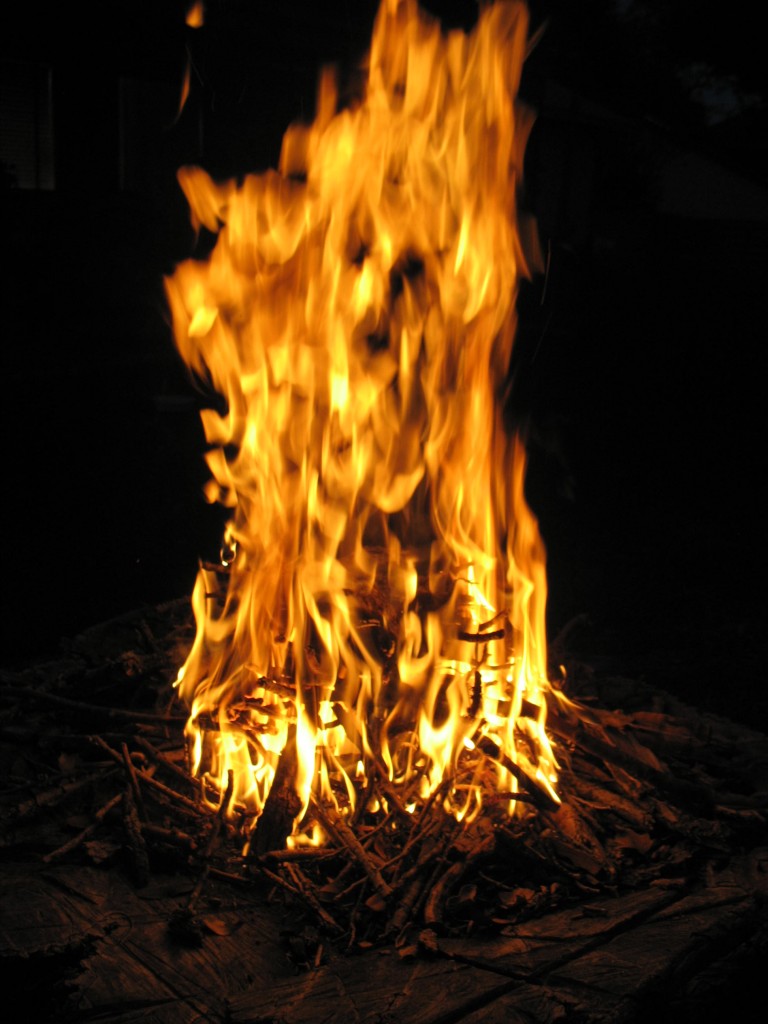 And most definitely, more of this: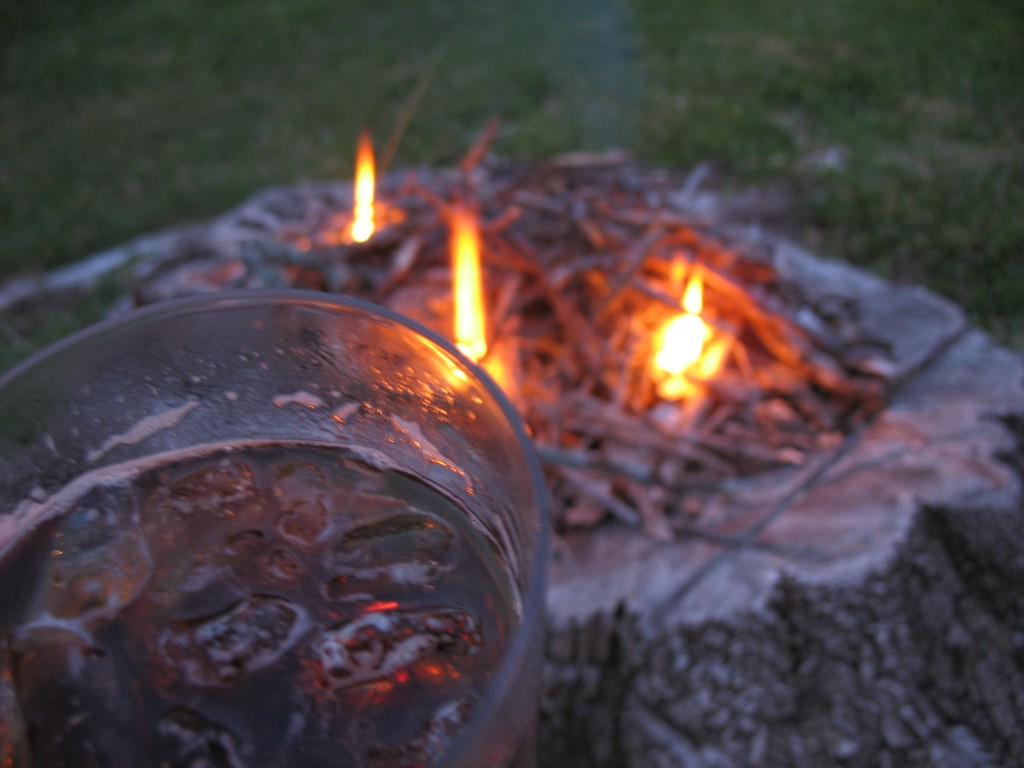 When I first ventured this idea to Husband, he was skeptical.  So Texas hillbilly! Now?  Now, he loves that pit as much as I do. Nothing better after a long day than to head out back, sit by a roaring fire (although, not in the summer. that's just torture) and let everything go.
Any one else with a DIY fire pit from a tree?  Anyone?!
~I am not a professional fire-pit maker, so know that this tutorial is purely my experience of what we did. Proceed with caution and safety for your situation.~