Have you ever wondered how to make rolled biscuits?
You know, the fluffy rolled biscuits of your dreams (don't forget the cream gravy).
Grab your apron and let's get to baking!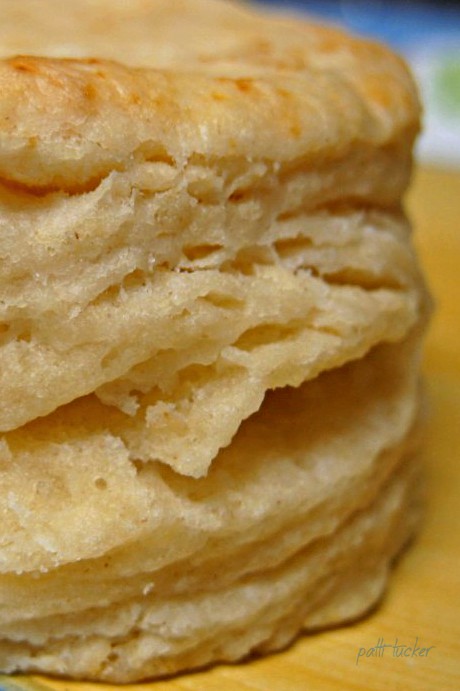 The absolute trick to these unforgettable layers of yum is: DO NOT OVER-MIX THE DOUGH.
You're gonna wanna.
You're gonna see the unincorporated butter and think you must mix just a little bit more.
DON'T DO IT!
Use a light hand, baby.
Rolled Biscuits
Yield: Makes 20 2-inch biscuits (don't believe it – go ahead and double this bad boy):
Ingredients:
2 cups all purpose flour
2 1/2 tsp baking powder
1/2 to 3/4 tsp salt
3/4 cup of milk
5-6 tbsp cold butter
Instructions:
1) Position a rack in the center of the oven.
2) Preheat the oven to 450°.
3) Have a large ungreased baking sheet ready.
4) Whisk flour, baking powder and salt thoroughly into a large bowl.
5) Drop in 5-6 tbsp cold unsalted butter, cut into pieces. ( I use all of 6 tbsp) (#1)
6) Cut in the butter with a pastry blender ( I use a large fork…easier to handle), tossing the pieces with the flour mixture to coat and separate them as you work.
7) For biscuits with crunchy edges and a flaky, layered, texture, continue to cut in the butter until the largest pieces are the size of peas and the rest resemble bread crumbs.
8) For classic fluffy biscuits, continue to cut in the butter until the mixture resembles coarse bread crumbs.
Do not allow the butter to melt or or form a paste with the flour.
9) Add all at once: 3/4 cup of milk and mix with a rubber spatula, wooden spoon, or fork just until most of the dry ingredients are moistened.
10) With a lightly floured hand, gather the dough into a ball and knead it gently against the sides and bottom of the bowl 5 to 10 times, turning and pressing any loose pieces into the dough each time until they adhere and the bowl is fairly clean.
11) To shape round biscuits: Transfer the dough to a lightly floured surface. ( I use a silicone mat for ease)
With a lightly floured rolling pin, or your fingers, roll out or pat the dough until 1/2 inch thick.
12) Cut out 1 3/4- to 2-inch rounds with a drinking glass or biscuit cutter dipped in flour; push the cutter straight down into the dough and pull it out without twisting for biscuits that will rise evenly.
You can re-roll the scraps and cut additional biscuits, but be forewarned, they are never as tender as the first cut.
13) At this point you can freeze the biscuit rounds, if you'd like.
14) For browner tops, you can brush the biscuit tops with milk or melted butter.
15) Place the biscuits on a baking sheet at least 1 inch apart for biscuits with crusty sides or close together for biscuits that are joined and remain soft on the sides.
16) Bake until the biscuits are golden brown on the top and a deeper golden brown on the bottom, 10-12 minutes.
Serve hot (#2 below)
Notes:
#1) Why cold butter? The most important reason is that the relatively large particles of cold butter leave air pockets when they melt during baking.
The result? A flaky, not crumbly, final product.
#2) …under a river of cream gravy.
Or slathered with butter and jam.
Or dipped in honey.
Recipe from: The Joy of Cooking
If you followed my tip at the beginning of the recipe to double the batch, you'll have some for freezing.
When ready to eat, simply take out of freezer and thaw.
You can then warm them through.
Nirvana!
Happy Eating!
Please share with your favorite baker!
~~~~~~~~
Tired of searching for a popular OMT! recipe?
Rest yer weary fingers.
Except to click on the image.
You still have enough strength for that.
COME ON!
YOU CAN DO IT!

Please Share on Your Favorite Social Media! ~ OMT thanks you! ~