Have you ever made Irish Soda Bread? I could eat it all day long. Right out of the oven slathered in butter. A few hours later toasted with jam. At midnight, as is. I love the stuff.
If you've never made soda bread, this recipe is a good place to start. Just be forewarned that it won't last long. Buttery goodness rarely does.
While you're making a mess in the kitchen, go ahead and double the recipe. You won't be sorry.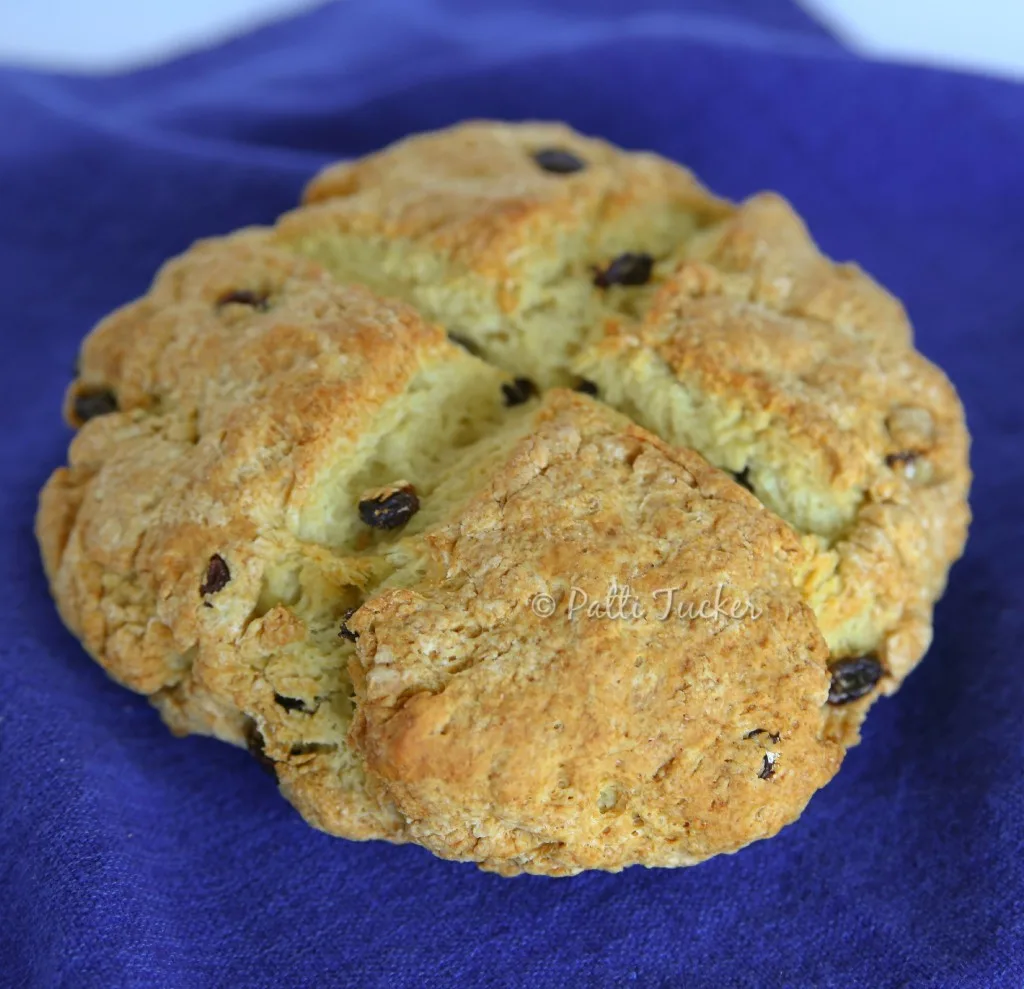 Ingredients
3 tbsp butter, softened
2 1/2 cups all purpose flour
2 tbsp sugar
1 tsp baking soda
1 tsp baking powder
1/2 tsp salt
1/3 cup raisins (opt)
3/4 cup buttermilk
Instructions
Cut butter into flour, sugar, baking soda, baking powder and salt until mixture resembles fine crumbs.
Stir in raisins and enough buttermilk to make a soft dough. (1)
Turn onto lightly floured surface; knead until smooth, 1 to 2 minutes. (2)
Shape into a round loaf, about 6 1/2 inches in diameter. (3)
Place on greased cookie sheet.
Cut an X about 1/4 through loaf with floured knife.
Bake at 375°, until golden brown, 35-45 minutes.
Notes
For Newer Bakers
1) Add buttermilk slowly, so you don't make flour mixture sloppy wet, which means you'd have to add more flour to work with it, which means the texture of the soda bread would be too heavy when fully baked.
2) Using a silicone mat helps make kneading easier and clean up a breeze.
3) I typically shape my loaf on the pan. One less step.
Recipe courtesy of Betty Crocker
https://ohmrstucker.com/irish-soda-bread/
Obviously, you can see I make mine with raisins. OMT likes her shriveled-up pre-wine receptacles grapes! If you don't, simply omit. I've made this bread both ways and it never fails to get eaten. It's perfect on a cold morning with a hot cup of coffee or tea (if that's your thang–I think you know me well enough by now to know it's not mine).
Do you have to be Irish to love you some Irish Soda Bread? No.
Will it make you talk like a leprechaun? Yes.
Do you have to wait until St. Paddy's Day to enjoy? No.
Do you have to kiss someone Irish before you partake? Why not!
I love a recipe that incites multi-cultural fun, don't you?
Happy Baking, Y'all!