Have you been looking for the elusive perfect oatmeal cookies?
Look no farther!
I have the perfect oatmeal cookies, THE RECIPE, you've been searching for – and I'm gonna share it with you!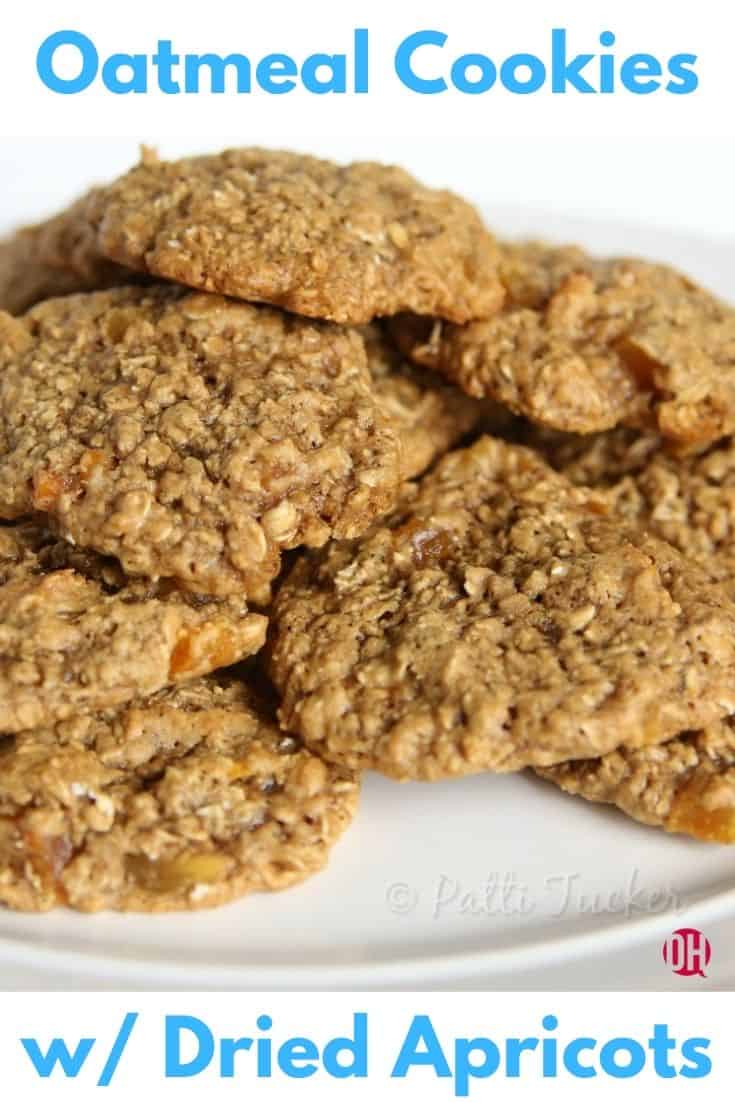 Witness why I can't get enough of fresh from the oven, warm oatmeal cookies, specifically: these perfect oatmeal cookies with dried apricots.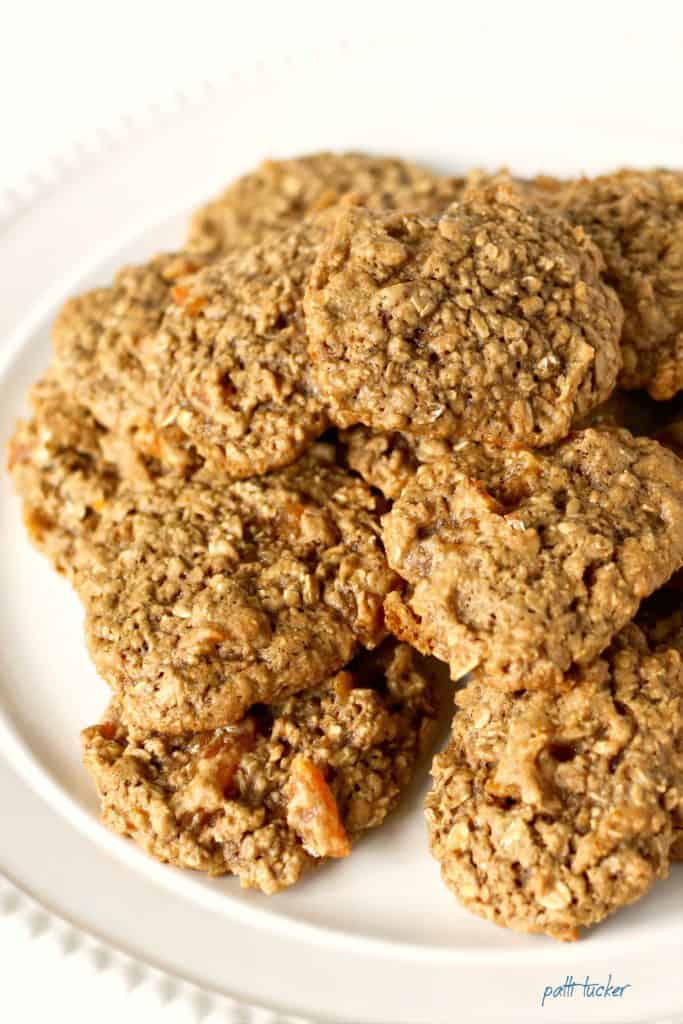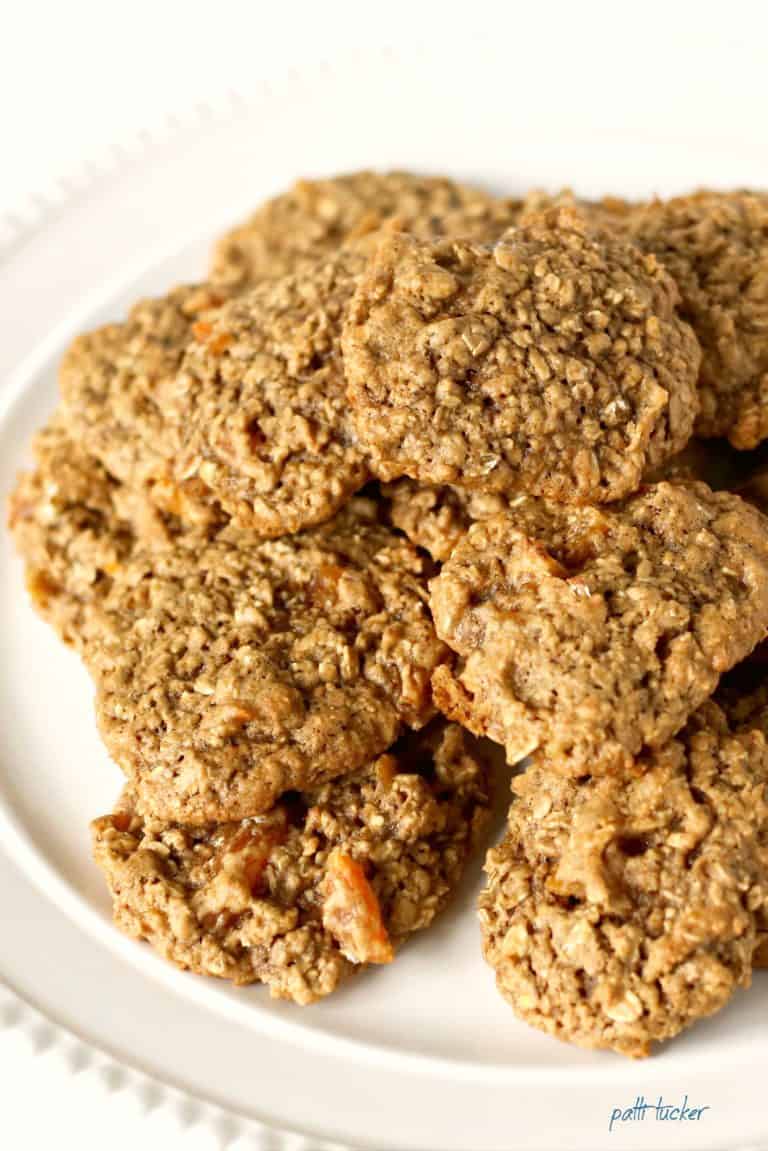 Holy smokes, can I get an AMEN!
Can you smell them?
Can you taste them?
Just like your granny or your mom used to make…tastes like home, right?
If you're a fan of regular oatmeal cookies, coconut palm sugar oatmeal cookies, or oatmeal cookies with raisins, you're gonna L-O-V-E these.
Trust, my babies.
This oatmeal cookie recipe will be the last you ever need.
Come on – take another look at 'em!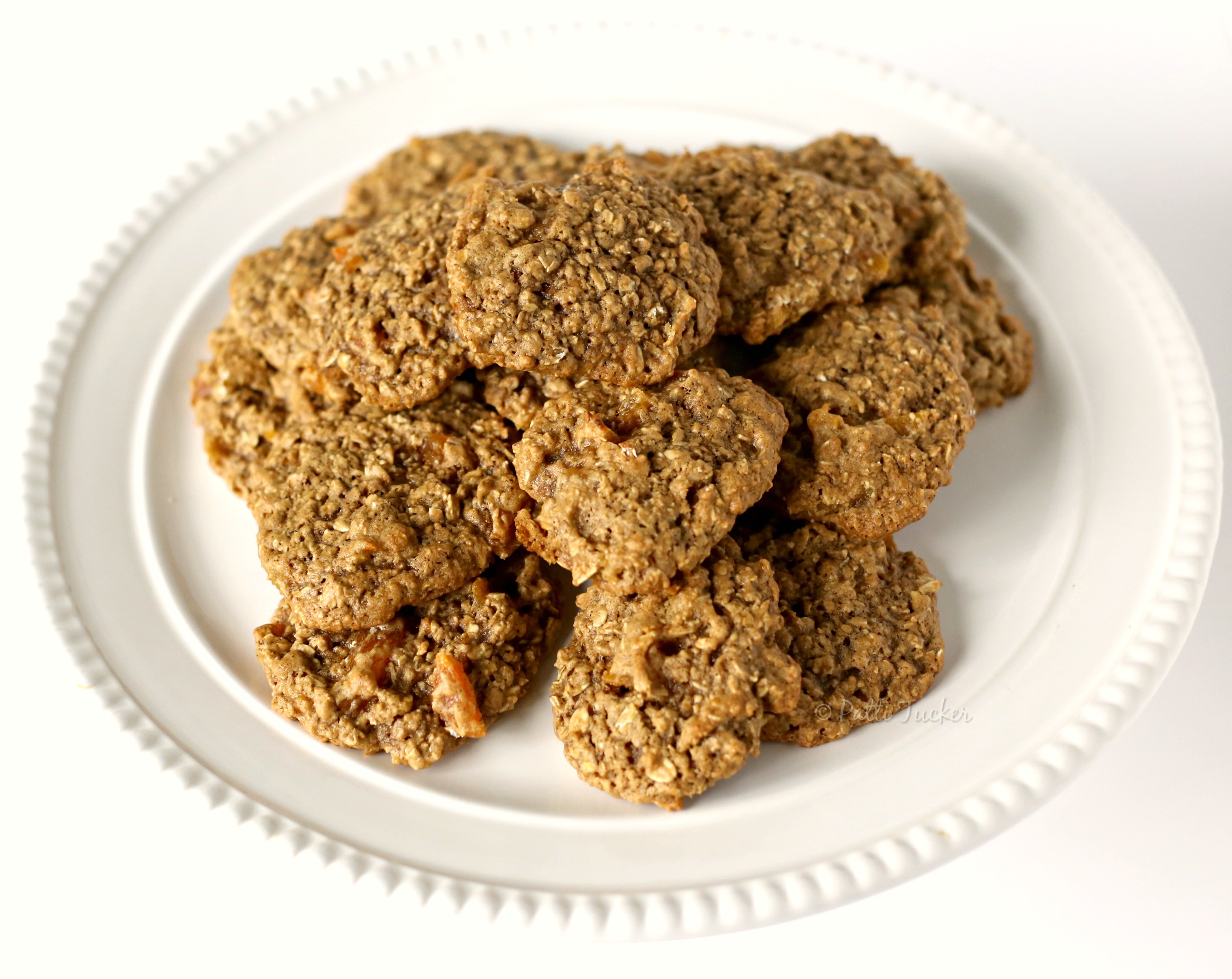 Gorgeous!
Did I mention I used dried apricots in them?
There's not a lot of dried apricot recipes I'm willing to try – but this one is a winner!
The bottom line here is that I love cookies.
My favorite cookies are…oh, who am I kidding? I love them all.
Yet, if I was forced to pick one, it would probably be these oatmeal cookies with dried apricots.
There is something about the juxtaposition of hearty oats and zingy apricots that make it hard to stop after a few bites.
Oh, momma!
So addictive.
Doesn't hurt that this recipe makes a truly perfect oatmeal cookie, with or without any fun added.
Did you know that oatmeal cookies are perfect for freezing!
I usually double the batch and after eating a few, hot from the oven, I pack the rest up in containers or simply put a single layer in a Ziplock bag and store in the freezer to be enjoyed at a later date.
Otherwise, I'd be deep in a sugar coma, as I have little self-control when it comes to cookies.
Look at those delicious chunks of sunshine!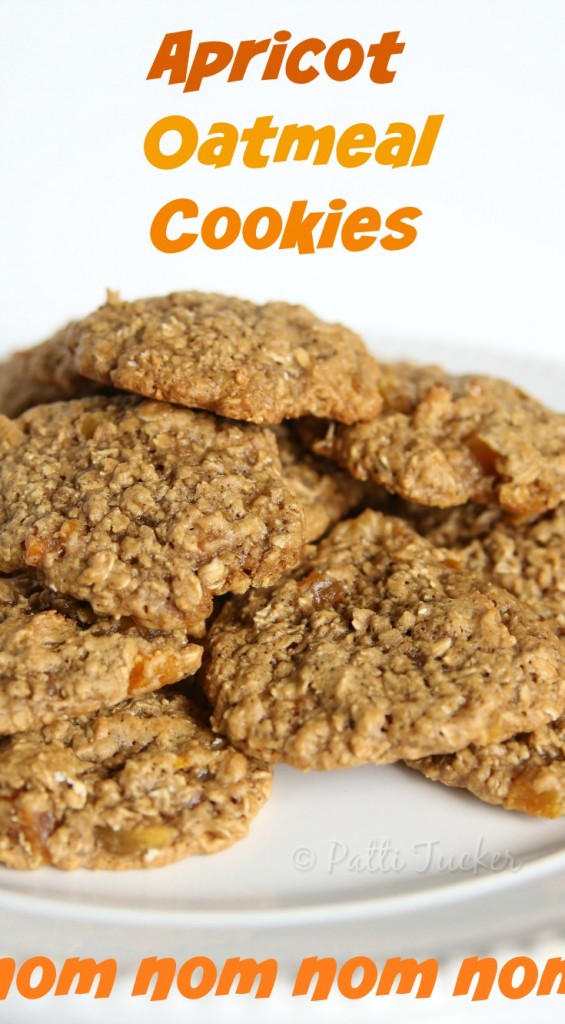 What's so special about these perfect oatmeal cookies?
Well, take out the fact that they're made with love…DON'T TAKE THAT OUT!…they are the perfect mix of soft, chewy, sweet and fruity.
The special part comes in the form of dried apricots.
Years ago, a friend gifted me with a bag of dried apricots.
~BLECH~
Yeah, not a fan of the fruits when dried. Are you?
I took that bag home, trying not to be totally skeeved out, because I KNEW I'd have to make something with them (this friend was a happy recipient of many an OMT! baking experiment), so she could try the gross whatever thing I made.
~dramatic much, woman?!~
I shoved the bag into the cabinet and promptly forgot about it.
You know, until each time I went back into the cabinet and there they were, mocking me, daring me to bake with them.
Dried apricots are annoying, y'all.
FINE!
Have it your way, dried apricots!
I rummaged through my recipes, looking for ways to incorporate them into something, anything, that my friend would love.
Oatmeal cookies fit the bill.
She loved oatmeal cookies (she has since passed – BUT NOT FROM THE DRIED APRICOTS – just thought I should be clear), she loved dried apricots, so why not the two together.
Can I tell you something?
Something shocking?
A plot twist to this story, if you will?
After I baked the cookies, I dared myself to take a bite. (yeah, I'm a weirdo like that).
DO IT!
I looked at the warm oatmeal cookie filled with dried fruit, wrinkled my nose, and took a bite.
~AND ALL THE ANGELS SANG!~
I'm not even kidding.
To this day, that bite of oatmeal cookie was one of the most memorable I've ever experienced.
These cookies were holiday worthy.
Whooooooaaaaaaaa.
Truly delicious and flavorful and addictive.
Who knew dried fruit could taste so good?!
Or be so good for you?
Marjorie, that's who.
When I related the whole embarrassing story to her, she laughed. She said she knew I didn't like dried apricots, but wanted me to try them again.
If it hadn't been for that crazy woman and her faith in my absolute weakness to never pass up a warm cookie, this recipe would not exist.
Thank you, Marjorie. Your love is the reason this oatmeal cookie recipe exists.

I love you for your faith in me and your willingness to eat whatever I brought you.
While these aren't vegan, sugar free, or gluten free oatmeal cookies, they are worth the effort if your diet allows.
Tips for the perfect oatmeal cookies with apricots.
TIP #1: I always throw caution to the wind and bake two giant sheets at a time.
This means that cookies may need the full 9 minutes.
Keep an eye on the first sheets you throw in and bake accordingly.
TIP #2: Of course you can use regular cinnamon and nutmeg, but these two particular ingredients, as detailed in the recipe, are the secrets to these cookies being perfect…step outside your comfort zone and try it!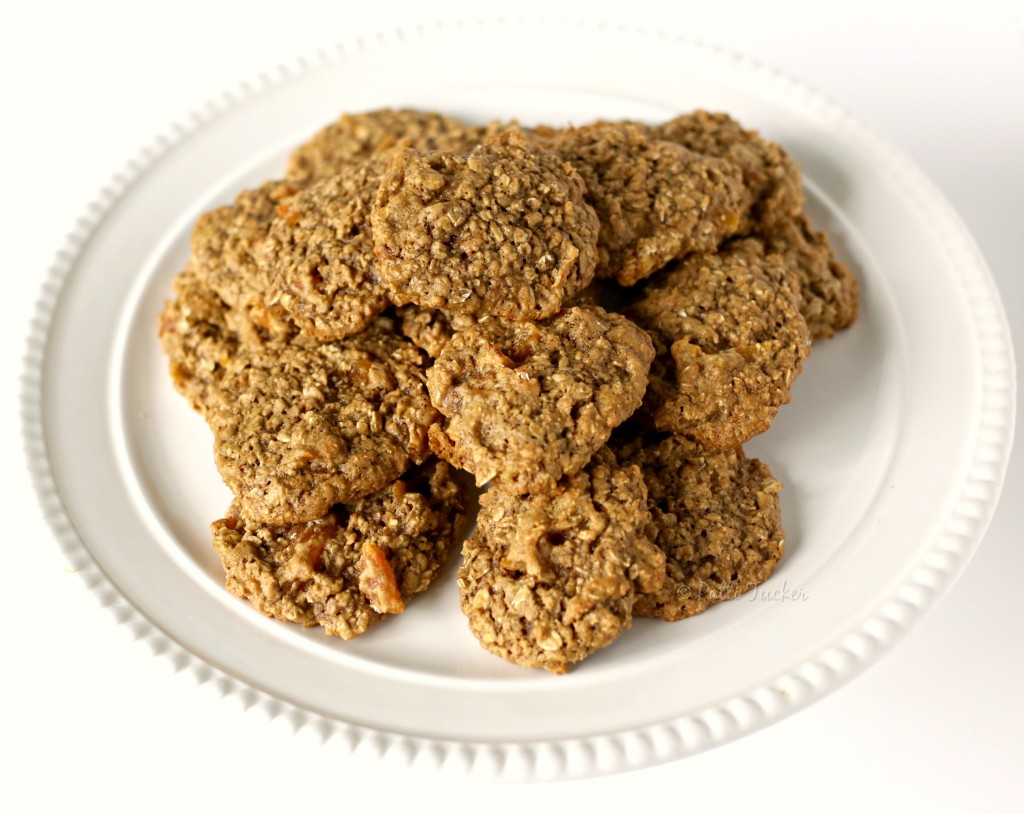 Happy Baking, my babies!
Let me know how you liked them.
~ A gentle reminder: OMT! uses Amazon referral links at no cost to you. ~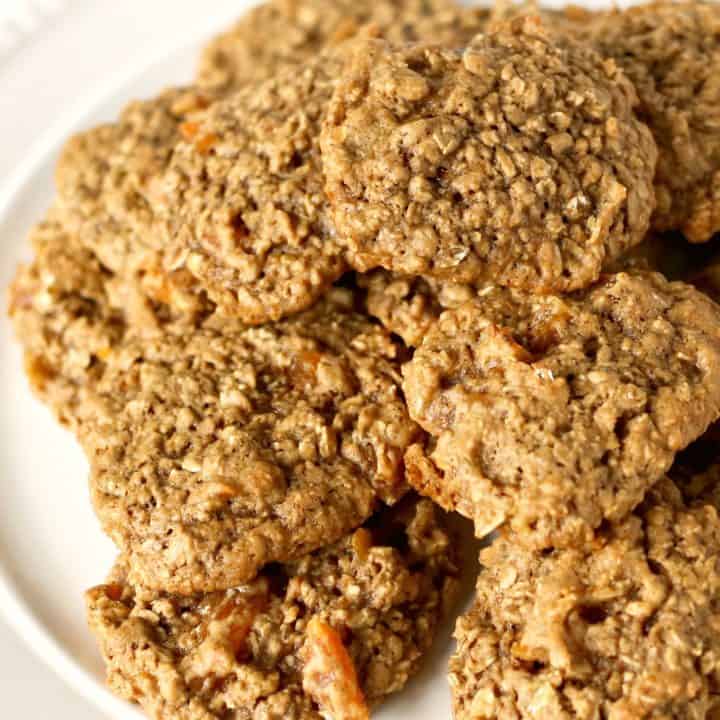 Perfect Oatmeal Cookies with Dried Apricots
Yield:
3 1/2 dozen 3-inch cookies
Additional Time:
5 minutes
Homemade oatmeal cookies warm from the oven are amazing - add dried apricots to the batch and you've discovered oatmeal cookie heaven.
Ingredients
1 3/4 cups all-purpose flour
3/4 teaspoon baking soda
3/4 teaspoon baking powder
1/2 teaspoon salt
1/2 teaspoon Siagon cinnamon
1/2 teaspoon freshly ground nutmeg
1/2 lb butter, softened
1 1/2 cups brown sugar (light or dark)
1/4 cup sugar
2 large eggs
1 1/2 cup dried apricots - diced
3 1/2 cups old-fashioned rolled whole oats
Instructions
Preheat oven to 350°F.
Whisk together thoroughly flour, baking soda, baking powder, salt, cinnamon, and nutmeg.
Beat butter, brown sugar, sugar, eggs, and vanilla.
Combine flour mixture into butter mixture until well blended.
Stir in diced apricots and oats.
Drop by spoonfuls, about 3 inches apart, onto cookie sheet lined with parchment paper. (1)
Bake at 350°F for 6-9 minutes. (2)
Remove cookie sheet and let stand for a minute or two until cookies are slightly firm, before transferring cookies to wire racks to cool.
Notes
1) If you've never used parchment paper, DO NOT BE AFRAID!
Go get some (handy link below) and use it, my babies. It is wonderful.
Clean up consists of wadding up the paper and tossing!
The best part though, is that the cookies bake more uniformly when you use parchment paper.
Get some; bake like a boss!
2) Purists will tell you one sheet of cookies in the oven at a time.
Recommended Products
As an Amazon Associate and member of other affiliate programs, I earn from qualifying purchases.
Nutrition Information:
Yield:

21
Serving Size:

2 cookies
Amount Per Serving:
Calories:

301
Total Fat:

10g
Saturated Fat:

6g
Trans Fat:

0g
Unsaturated Fat:

3g
Cholesterol:

41mg
Sodium:

194mg
Carbohydrates:

34g
Fiber:

1g
Sugar:

23g
Protein:

2g
Nutrition information isn't always accurate.
Post updated March 30, 2021. Originally published May 23, 2016.
Tired of searching for a popular OMT! recipe?
Rest yer weary fingers.
Except to click on the image.
You still have enough strength for that.
COME ON!
YOU CAN DO IT!