Cinnamon Rolls. Those two words conjure many a memory for most of us. Throw in a vanilla twist and, oh, momma!
Divine!
I originally saw this recipe at Mel's Kitchen a few years back (she tweaked the recipe from another) and made them almost immediately. They were just as you'd hope a little piece of heaven would be: sweet, tender, cloudlike, and if you listened close enough, you could hear the angels singing.
I mean, LOOK AT IT!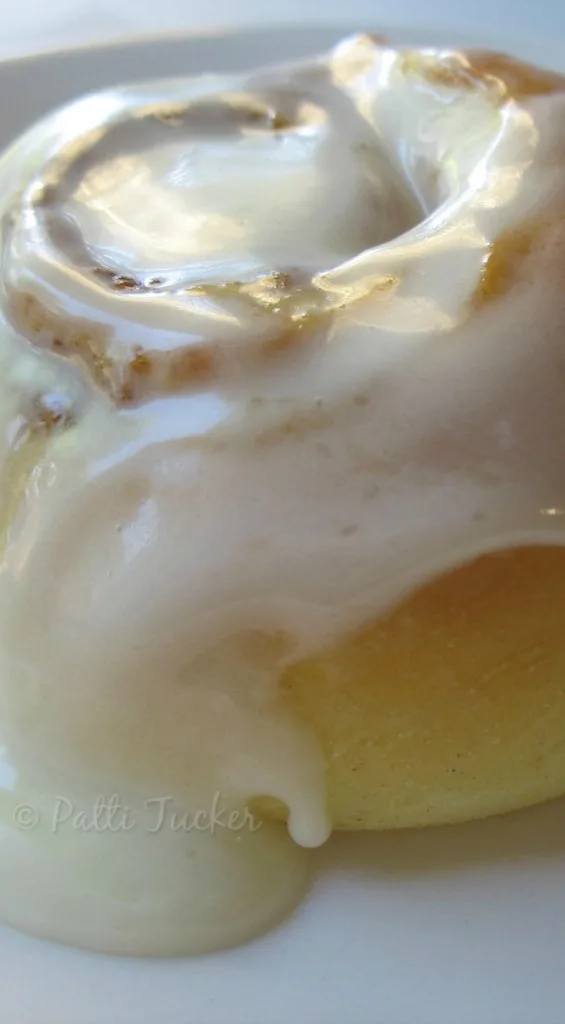 So beautiful; so delicious.
Now it's your turn. Go. Bake. Love.
Vanilla Cinnamon Rolls
Ingredients:
Rolls:
½ cup warm water
2 tablespoons active dry yeast
2 tablespoons sugar
3 ½ ounce package instant vanilla pudding
½ cup butter, melted
2 eggs
1 teaspoon salt
6+ cups flour
Filling:
1 cup butter, softened to room temperature
2 cups brown sugar
4 teaspoons cinnamon
Frosting:
8 ounces cream cheese
½ cup butter, softened to room temperature
1 teaspoon vanilla
3 cups confectioner's sugar
2-3 tablespoons milk
Directions:
In a small bowl combine water, yeast and sugar. Stir until dissolved. Set aside.
In large bowl, take pudding mix and prepare according to package directions. Add butter, eggs and salt. Mix well.
Add yeast mixture. Blend.
Gradually add flour; knead until smooth. The dough should be very soft but not sticky.
Place in a greased bowl. Cover and let rise until doubled.
Then, roll out on floured board to 34 x 21 inches in size. Take 1 cup soft butter and spread over surface.
In bowl, mix 2 cups brown sugar and 4 teaspoons cinnamon.
Sprinkle over the top.
Roll up very tightly. With knife put a notch every 1 1/2 inches. Cut with thread or serrated knife.
Place on lightly greased cookie sheet 1 inch apart. Cover and let rise until double again.
Bake at 350 degrees for 15-20 minutes.
Remove when they start to turn golden.
Frost warm rolls with cream cheese frosting (combine butter and cream cheese and mix well, then add vanilla and sugar and mix again, then add milk for desired consistency).
Makes about 24 very large rolls.
~~~~~
[Tweet "Cinnamon Rolls. Go. Bake. Love."]
The only thing I would say about this recipe is that I used more than the 6 cups of flour for the rolls. Yes, you do want the dough very soft and not sticky, so use what you must in order to gain that softness.
These are wonderful Sunday brunch cinnamon rolls or company rolls or you've-had-a-hard-week-and-deserve-something-delicious rolls.
Thanks, Mel!
Happy Baking, Y'all!
~Please feel free to Pin, Tweet, Facebook or otherwise share this post. OMT smooches!~