Man, oh man, was I ever in need of a stick blender. Can you believe I went old school before this?! After the first use, I slapped my forehead in a D'OH! moment.
~ A gentle reminder: OMT! uses Amazon referral links. When you do your shopping through the Amazon links on this page, you support the blog at no cost to yourself. It's much appreciated!~
Look at this beauty: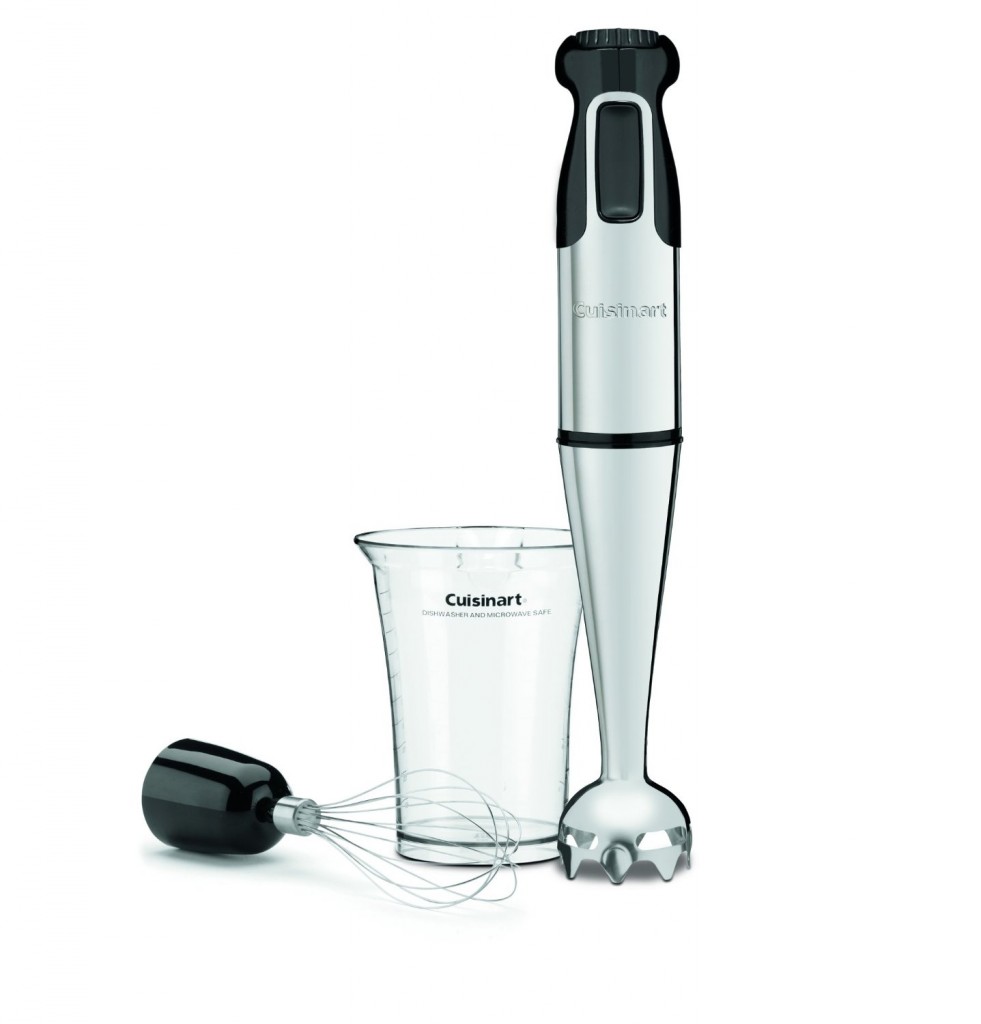 (source: AMAZON)
Product Deets:
Variable Speed Control

Polished Stainless Steel Housing

200-watt Motor

Blending and Whisk Attachments – 16 oz. Mixing/Measuring Beaker – BPA Free

Comfort Grip Handle
Product Description:
The Cuisinart Smart Stick hand blender is equipped with a powerful 200-watt motor and has a variable speed control. Control speed from low to high simply by turning knob on top. Blends in pots, pitchers, blending cup and bowls. Blend and whisk, with 200-watts (max motor) of power.
This stick blender is everything I hoped it would be: powerful, easy to use and easy to clean. The reviews back me up. Out of over 400 reviews, this product gets 4.5 starts on Amazon. OMT likey!
[Tweet "This stick blender is everything I hoped it would be: powerful, easy to use and easy to clean."]
My stick blender's inaugural use came when I was making Cream of Broccoli soup. After throwing in the allotted amounts of veggies (broccoli/carrots/celery/garlic), I let them cook until tender, then plunged my stick blender into the pot (off the stove, naturally). This baby has some power to it, so make sure you keep it in an upright position when blending things, especially hot burny things!
It made quick work of pulverizing the veggies, blending everything perfectly. The best part was I ended up omitting the cream portion of the recipe because of the fabulous consistency and thickness of the blended veggies. Bonus!
I still can't believe it has took me this long to use a stick blender. Old dog = learnin' new tricks.
I haven't used the container to whisk anything yet, but when I do, I'll let you know how that goes. I'm thinking a small batch of whipped cream for waffles.
If you haven't used one yet, don't wait as long as I did.
Happy blending, y'all!