As a writer (and not-so-closeted office supply hoarder), I'm always on the hunt for the perfect pen.
I think I have discovered them, in Tul.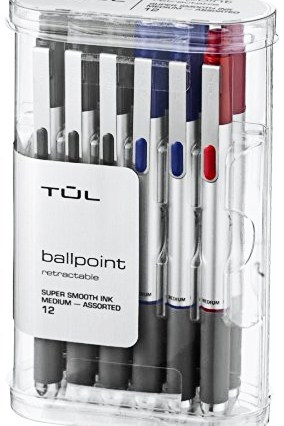 (source: AMAZON)
Product Deets:
~ Rubberized grip provides writing comfort and control
~ Retractable tip protects from unintentional marking
~ Stainless steel clip secures to pockets and notebooks
~ Medium, 1.0mm
~ 12 Assorted colors (6 Black, 4 Blue, 2 Red)
Product Description:
Accuracy and control in an ergonomic design super smooth and longer lasting ink.
Engineered for optimal balanced writing comfort.
Retractable tip protects from unintentional marking.
Pack contains 6 Black, 4 Blue and 2 Red pens.
A Tul pen is almost effortless to use.
The ink flows perfectly. The cushioned pad keeps you comfortable for long writing sessions. The colors – well, those are just a fun bonus!
At the bottom of this post, I'll link the ballpoint pens and the colored ones. Cause, if you're like me, you can never have enough pens.
MORE, PLEASE!
I've used the colored pens on regular printer paper, colored paper, and receipts (y'all know how hard it is to find a pen that can write on a receipt) – all effortlessly.
The cushioned grip is key for me, as I write notes continuously.
So. Many. Notes.
When I find a pen I love, I pray the company keeps producing quality stock.
So far, Tul has not disappointed.
If you're in need of MORE MORE MORE office supplies for that bulging desk drawer – or you're looking for a fun and much appreciated gift (stocking stuffers!), you can count on Tul to deliver.
I have them in black, blue, red, purple, and green.
I plan to get the highlighters next (I'll keep you posted in a review – but I'll link those too in case you NEEEEED them pronto!).
Happy Hoarding Shopping, Y'all!
Now that you're done shopping for fun pens, it's time to build your fun site.
Make it colorful, just like yer pens!
I swear – YOU CAN DO IT YOURSELF!
OMT! has a PDF for that.
Click the image for more details.