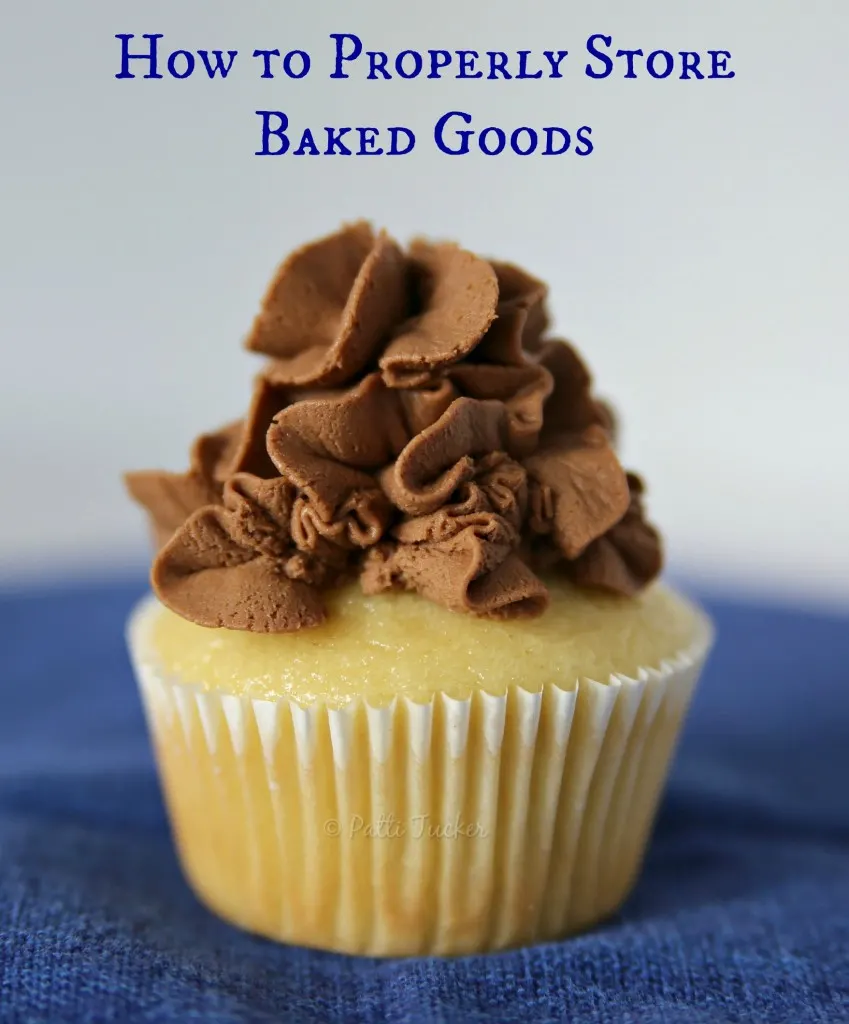 A year ago-ish, I posted this list on how to properly store baked goods and it's worth a second look, especially with the holidays thisclose (yes, I know it's only September…but soon to be October…then HOLIDAYS!)
Go on, y'all take another look at the list and make sure your baked goods get the storage they need to stay all kinds of yummy.
* Frosted cakes can be stored at room temps for 4-5 days, unless they have a buttercream or cream cheese frosting. The latter can be stored in fridge.
Before you serve, let the cake come to room temps, or if you're like me, eat it cold! I'm not picky.
* Once you cut a cake and store in fridge, the countdown to stale cake has started, unless…you either frost that cut portion (don't look at me that way…you know you wanna) or you cover it tightly (the exposed cake portion) with plastic wrap. I'm going with door #1.
CAVEAT: If you live in a humid and hot environment like I do, leaving a cake out can result in frosting slippage, causing your cake to dislocate a hip.
So wonky!
Worse yet, bacteria loves them some warm sugar to feast on.
* Store at room temperature if cupcakes will be consumed within a day of baking.
* Cupcakes that will be eaten the next day can be stored in the fridge (this is controversial because they dry out so quickly), especially if they have cream cheese or buttercream frosting, but not so much in Tupperware (personal preference, because it's not as airtight as I would like).
This is how I do it: put the cupcakes in a cupcake box, then wrap that box tightly with plastic wrap like you're trying to prevent the world's next pandemic from escaping.
Role playing in the kitchen is fun!
You can also wrap like this and leave on the counter for next day consumption, but if it has a delicate frosting, I'd personally put in fridge.
* Who stores cupcakes?!
* Store at room temperature.
If the pie is cream or custard-based or has a meringue topping it goes in the fridge.
Basically, if it jiggles, it's stored in the fridge.
* Patti Fun Fact: I have been known to store a covered pie in the microwave overnight.
Why?
I have no idea. I just do.
* Always the fridge, unless you're storing it in your belly.
Cause that's a good place too.
* Most folks go with room temperature. I'm not most folks. I store ALL my cookies in the freezer, with the exception of a few left out for Garry to eat as they come out of the oven.
Why?
I actually have a reason for this one!
#1) It's easier for me to resist eating my weight in cookies if they're safe and sound in the freezer. I know they won't go bad in there, so I can relax my cookie gluttony. Know thyself, baker!
#2) I love foods with crunchy hard textures. Frozen cookies = I'm in heaven.
#3) It allows me to have a stash to give to folks on an as needed basis.
* Store at room temps, tightly covered with plastic wrap.
* Just like pies, if the bars are cream or custard-based, put 'em in the fridge.
If not, cover with plastic warp and store on counter.
* Store at room temperature in an airtight container or Ziplock bag.
* Again, who stores muffins?! GET IN MAH BELLY!
* Store in fridge covered tightly with plastic wrap.
See how easy this is? Storing your baked goods is the last step in creating perfect baked goods.
Happy Storing, Y'all!
Tired of searching for a popular OMT! recipe?
Rest yer weary fingers.
Except to click on the image.
You still have enough strength for that.
COME ON!
YOU CAN DO IT!