Cliff Notes of a DIY Fire Pit Tutorial = chop down a big ash tree, have the stump properly shaped for burning, then burn ALL THE THINGS!
The DIY fire pit post is one of my most popular.  Who knew so many of you were looking to make a hobo pit like us!
When I first broached the idea to Husband, he gave me the look I usually give him.  You know the one: You cray-cray, Hoss!  Yet, once we talked about it and researched the safety of it, it was the perfect solution to the question: How are we going to get the stump out of the ground?  Bore?  Dig?  Hope it comes out, roots and all, with the tree?
NO!  Let's pretend it's a built-in fire pit and leave it there!
At first glance, right after the tree was felled, even I had my doubts.  The area was so barren, but Dexter didn't mind: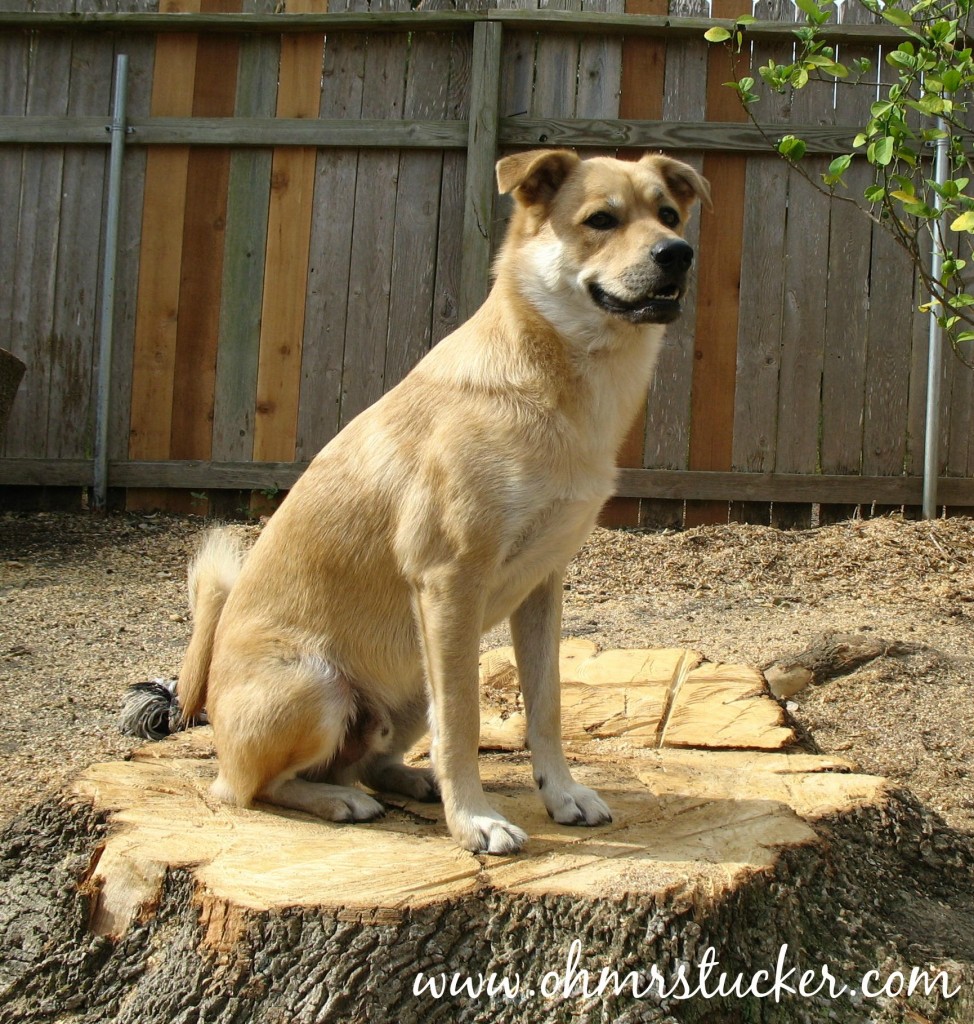 Then we built our first fire and both of us were hooked.  All Hail, Tiny Fire!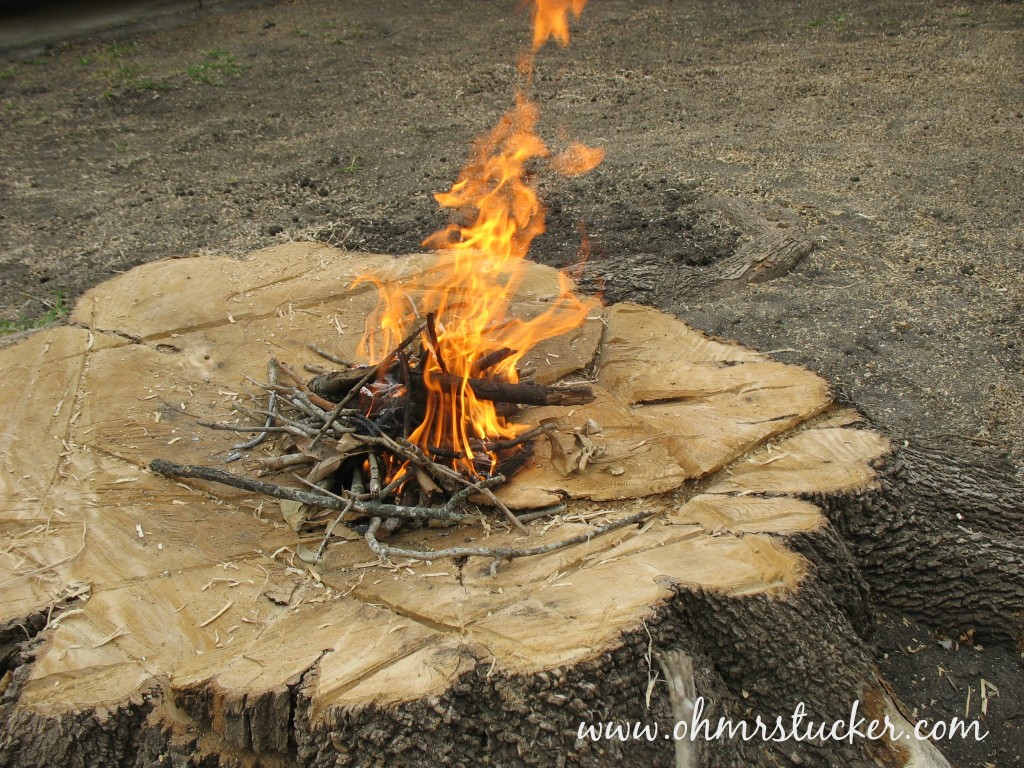 Now?  Now we use that fire pit frequently (even on hella hot days) and love that we didn't pull the stump out.
Since these first pics, we have sodded the area and had many many fires.
Although, Dexter's enthusiasm has waned; he's not too happy with our choice.  He hates when we have a fire.  We've bribed him with treats, but no-go.  He refuses to sit with us.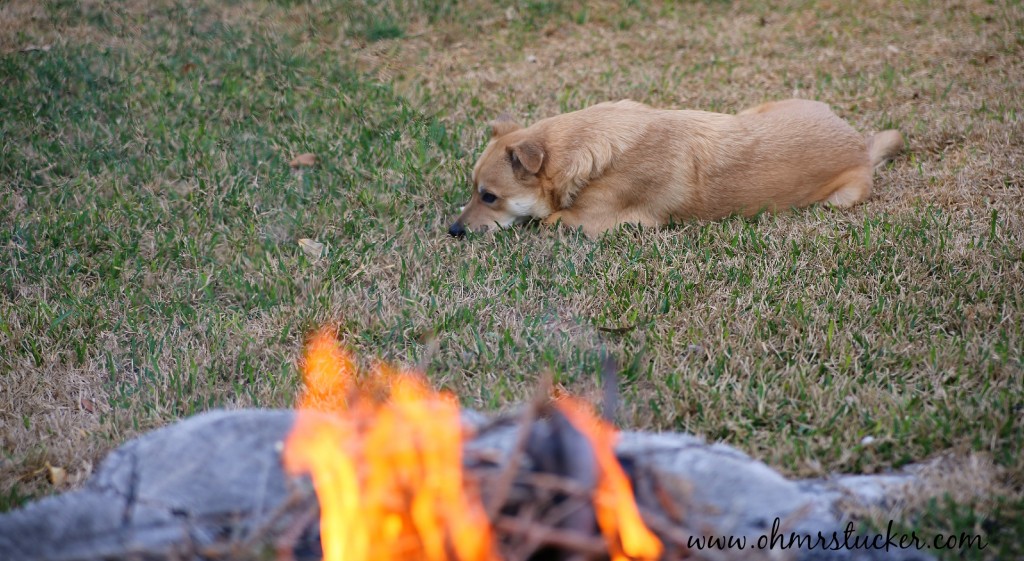 We've come a long way since that tiny first fire.
This is what our fires look like today:
Build it and OMT! will come!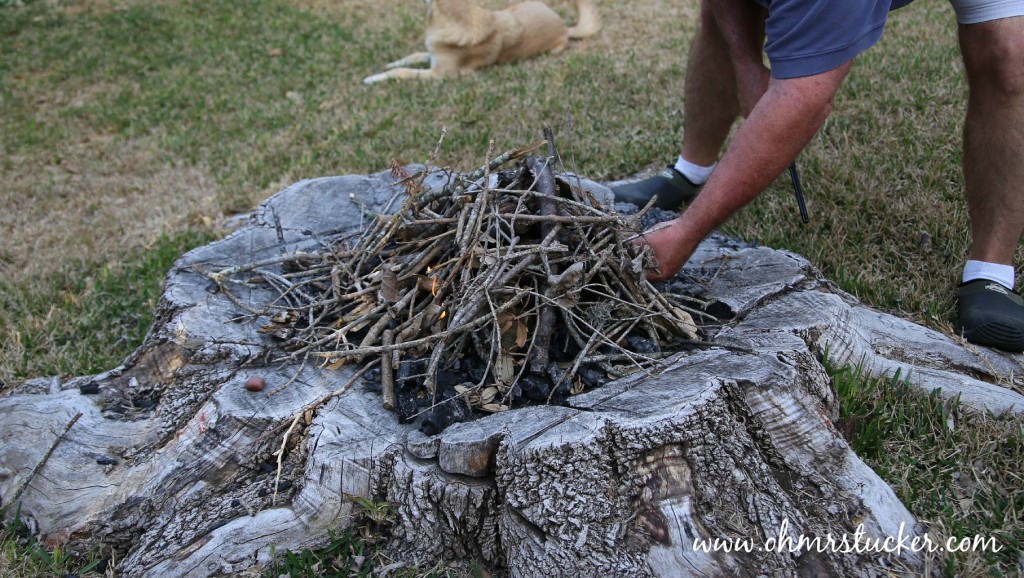 Grab a drink and let the fire get started: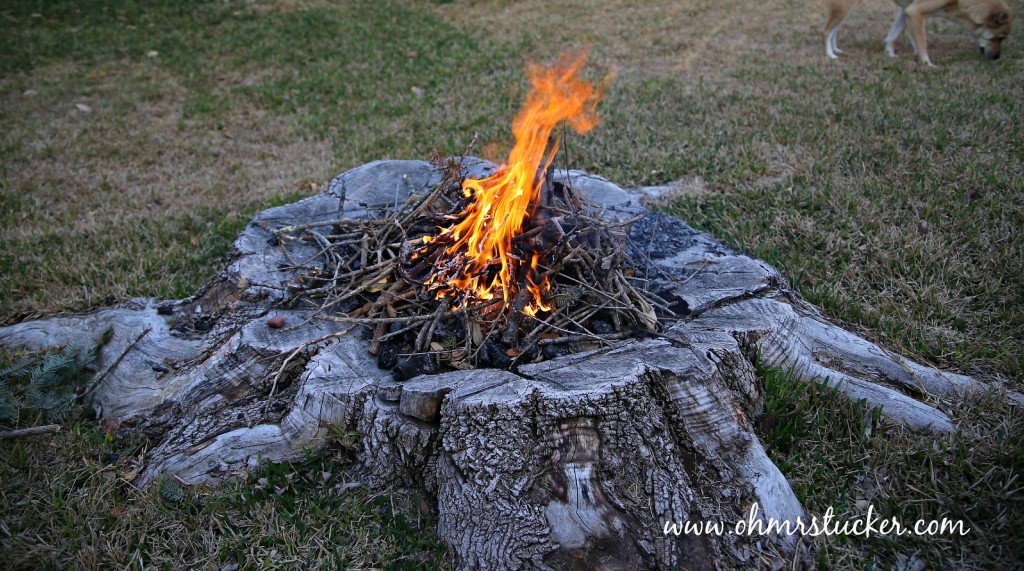 FII-YAH!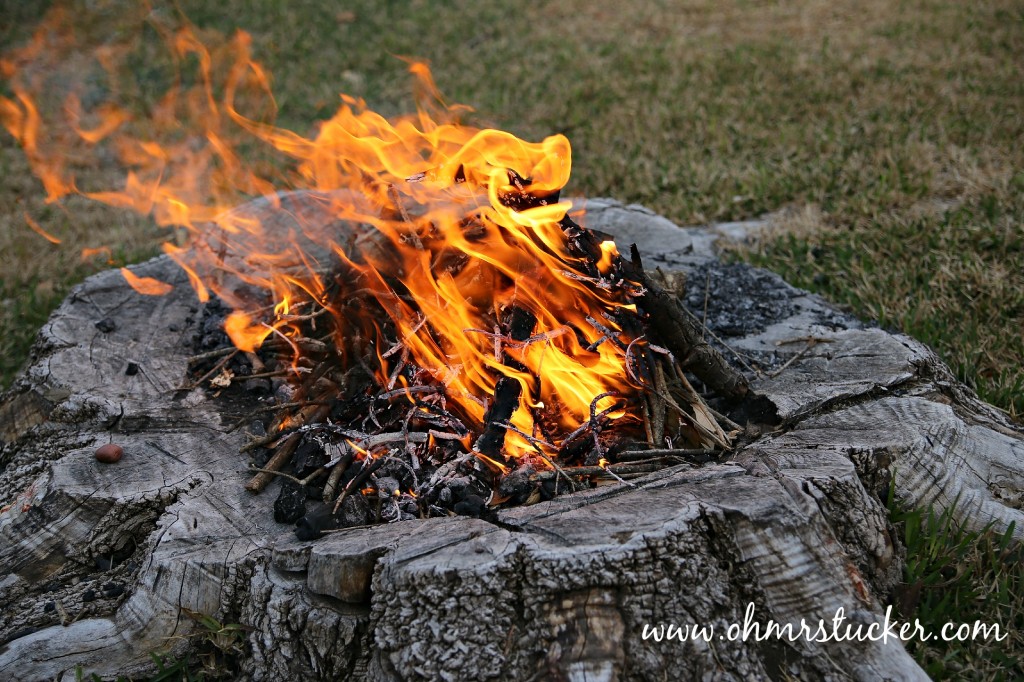 This is livin', yall.
We keep going until either the wood is spent: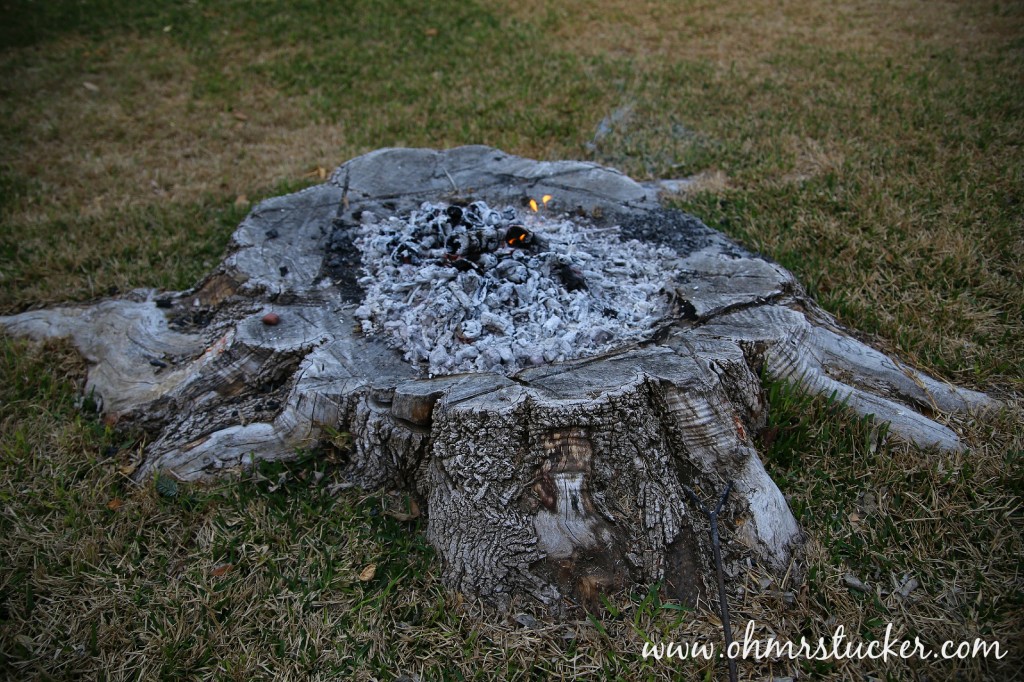 Or the drinks are: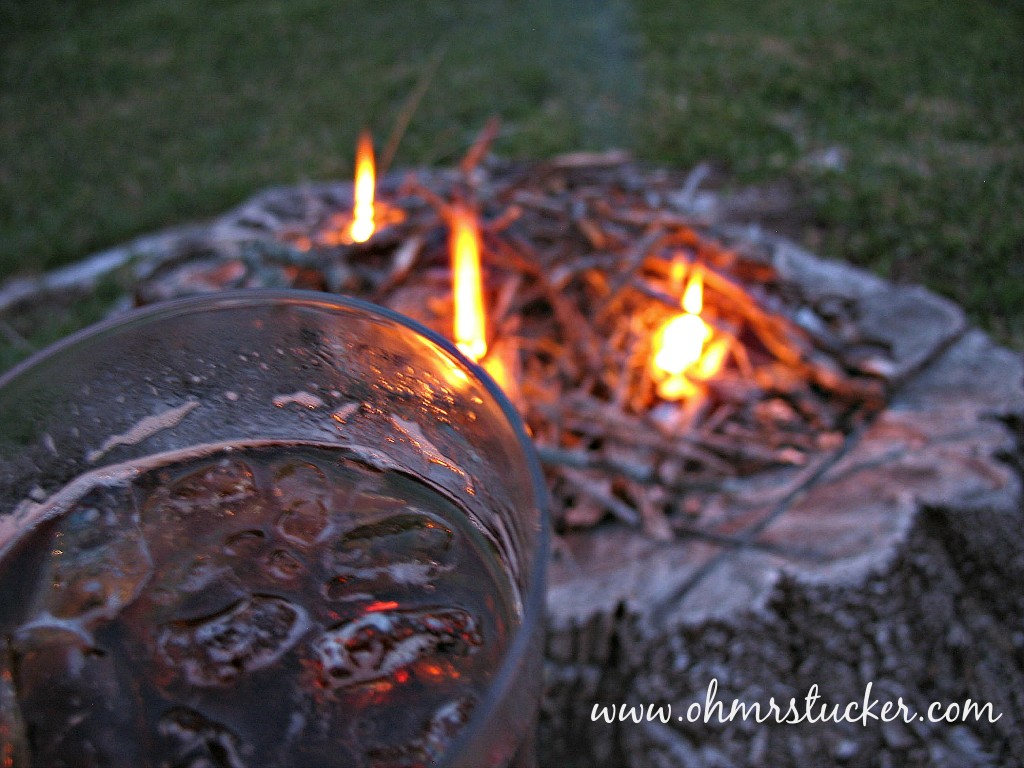 We're thinking of adding a fun modification, since Sweet E will be hanging out with us at the pit.  Husband is going to find/build a grate with legs that can be attached to the pit when we want to grill a few hot dogs and a small pot of chili.
Brilliant!
I've heard from some of you who are concerned that by using the old stump that we might accidently ignite a fire in the root system.  #1) The tree was green when we cut it and it hasn't been a problem.  #2) We extinguish all fires with copious amounts of water from the hose after we are done having our fun.  #3) If we ever conclude there is a danger, which we monitor closely, we'll proceed from there with a new plan.  So far, so good, but as for you and your stump pit, err on the side of caution. If you think there is a danger to igniting anything other than the stump, don't do it!
This is what the pit looks like today, sans wood.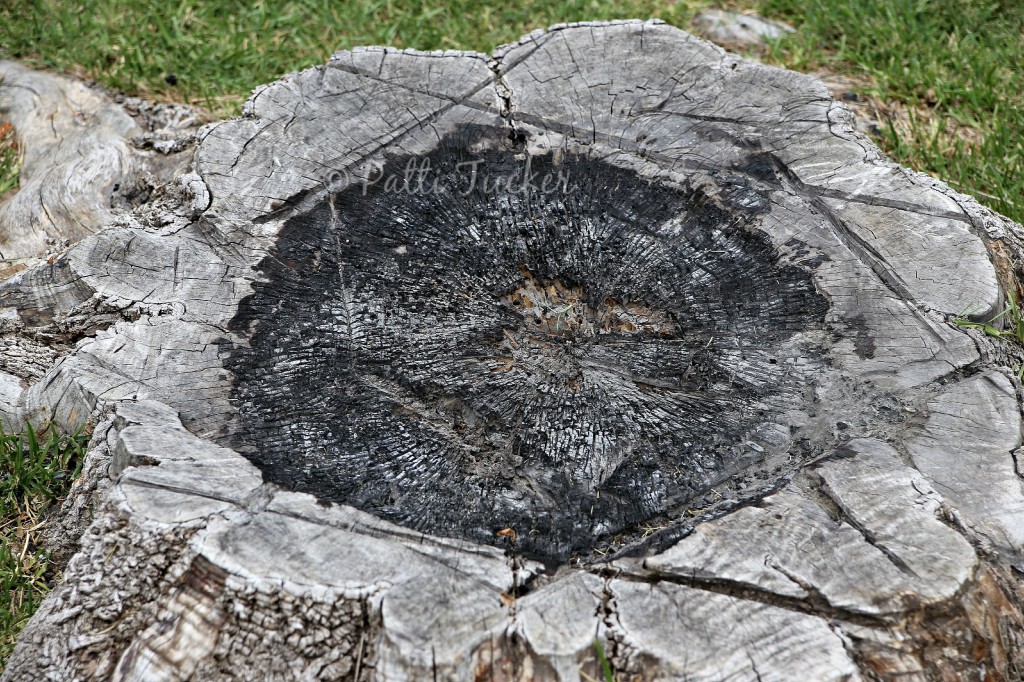 As you can see, we're making progress, but since the tree was green when we started very little of the stump has given way.
This has been one of my favorite projects.  It's great to have a unique fire pit to have a drink by at the end of the week or to start the week.
Can't wait to get the grate and make some memories with Sweet E.
Like Husband said, "We had so much fun as kids by the fire when we went camping."  To which I added, "The difference this time will be that we'll have the luxury of bathrooms and soft beds."
Yeah, I'm not so much a camper…
Happy DIY, my babies!
~I am not a professional fire-pit maker, so know that this tutorial is purely my experience of what we did. Proceed with caution and safety for your situation.~
Please Share on Your Favorite Social Media! ~ OMT thanks you! ~